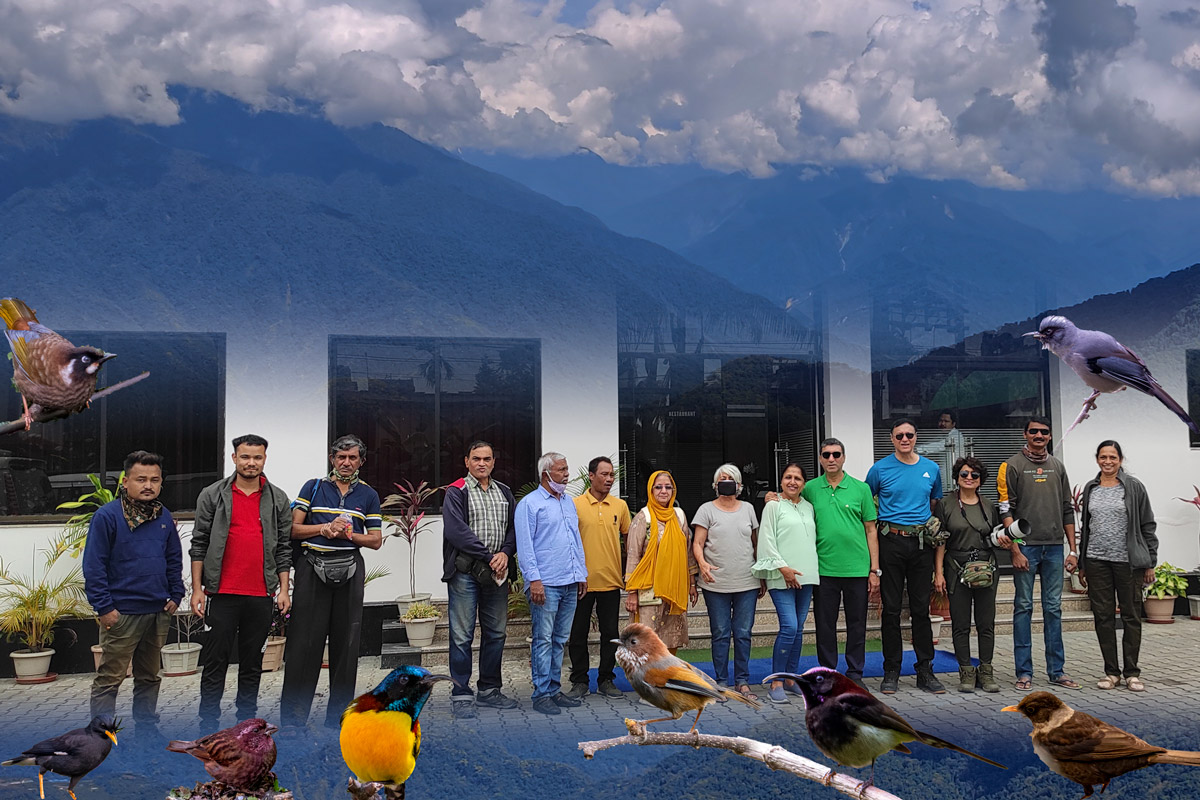 &nbsp Team Collage &nbsp
About the trip ...

From the birding point of view, the North-East Indian region has its own charm. In December'21, Clara (one of the organizers) asked me if I was interested in joining their Mishmi outing in March. My answer was a tentative yes but all hinged on my father's health.

We did not discuss this topic again till February (when I was on tour with JungleHike to TalChhapar) but in the meanwhile, she had already included my name for the permits required to visit that place. So although the seats for the trip were full, my name was already there. So the decision was already made, I had to just book the flight tickets now.

Beginning of March, I started enquiring about the places we were going to visit. Tried to find out the likely set of birds as well as the weather there. Just then, the trip-specific WhatsApp group was created and some tricky facts were shared gradually with us participants.

Out of the 7 nights we were to spend in Arunachal/Assam, 2 were to be at the Coffee House at Mayudia Pass. Being at the altitude of 8,700 feet weather was going to be cold (super cold if you are from Mumbai). The place did not have electricity (yes, you read it right). But they would keep a generator on for a couple of hours that we can use for charging our devices. Most important, charge the camera batteries. I read up a bit more about the place to realize that this was a very old structure (possibly built in the British era), lots of spooky stories about it, and there is no human presence within a 4-5 km radius. The rooms are chilling cold, with no chance of hot water….. this goes on and on… but everyone who visited there was saying, birding is good there!!

And if that was not all, we were also asked to carry Leach-socks as the rainy weather in Dehing Patakai is likely to have lots of leeches too.

As we neared the dates, Avinash informed us about some schedule changes. Instead of going to Mayudia first, we were now keeping it in the middle (better idea to get acclimatized with the things and then visit Coffee House 😜).


Day 1: Destination Digboi

Four of us were traveling from Mumbai, 1 from Delhi, 5 from Nagpur, and one more from Mysore (but he was already in Manipur on a solo birding trip, so he was reaching from there). Delhi, Mumbai, and Nagpur guys got to meet at Delhi airport. I was already aware that 4 of them were doctors and not much used to birding trips. But all of them were amazing co-birders.. they never complained about the facilities (or lack thereof) and were always smiling (plus they always had handy snacks ready 😃).

Air travel was smooth and we started our journey to Digboi (where we were going to have a 2 nights stay) at around 3 pm. It was a short journey (about 90 odd minutes) but being in the Eastern region means the Sunset occurs early, so the light drops by 5/5:30. We were a total of 11 of us in 3 vehicles. I was fortunate to be with Shivprakash Ji (who was coming from Mysore). There in the journey, I realized that he was the most experienced birder in the group, and has been doing it for the last 30+ years. On the way, we saw a lot of tea plantations on both sides of the road (what else would you expect in Assam) but also happened to see the Indo-Chinese Roller and Oriental Pied Hornbill. We did not have our cameras ready but it was not possible to stop on the road for photos anyway. So had to be content with seeing the lifers. And this turned out to be the norm for the next 7 days!! The birds in this region are so shy, they just do not come out of the clutter and even within the leaves, they keep hopping from perch to perch. The video here is a representative sample of what we experienced throughout the trip. Needless to say, this also means that the photos that I am sharing here aren't that good 😔!!
We planned to reach the guest-house in Digboi town but on the way, our guide Palash thought of making a small detour to the Maguri beel (I think beel in the local language means wetland) and that turned out to be a very good one. The light was low but we managed to see a few new birds within that half-hour.

We got down from the vehicles and quickly got out our cameras. It was a small road on higher ground and both sides were full of tall grass. As we all settled on the road, Palash pointed us to a bird on perch at some distance. It was the striated grassbird. A shrike was also visible nearby, just as I was about to overlook it (thinking it to be the long-tailed shrike that is common even in Mumbai), Clara alerted saying it is the Grey-backed Shrike.

We could hear some rustle in the nearby grass as well but nothing was visible. But my attention was drawn to a small bird with some chestnut coloration. Just had enough time to point my camera and take a shot, it was the Chestnut-capped Babbler.

Suddenly we had seen 3 lifers (lifers = birds that one sees or hears for the first time in life). There were some common birds on the way as well. Palash then took us inside the grass as he could hear some calls. At a distance, we saw the Ruddy-breasted crake playing along the water body (away from us). But just then our attention was drawn to a nicely perched Chinese Rubythroat. What was unusual was, unlike the other birds, it kept to the same perch for the next few minutes allowing all of us to take enough photos. We were also able to see the Yellow-bellied Prinia and the Striated babbler (but could get their photos only on the last day of the trip).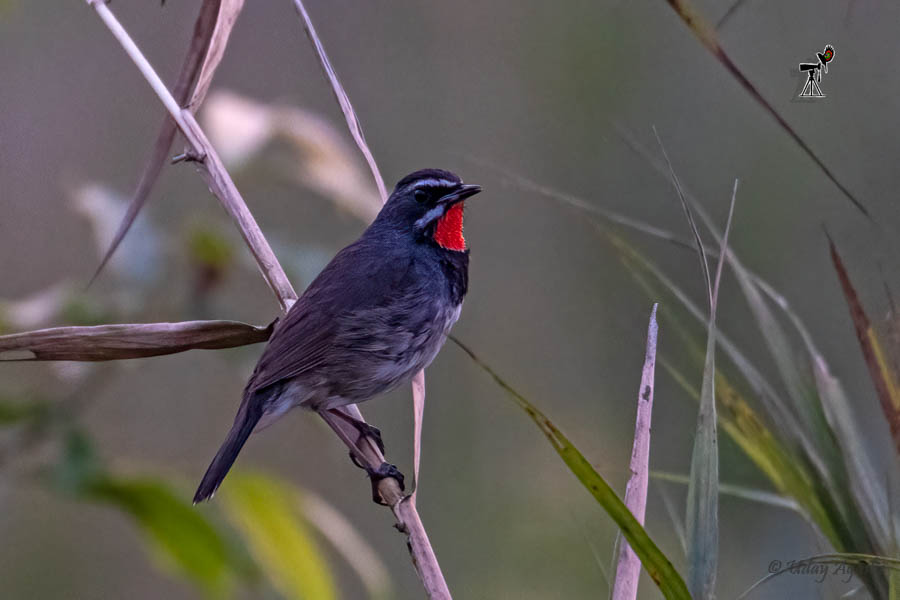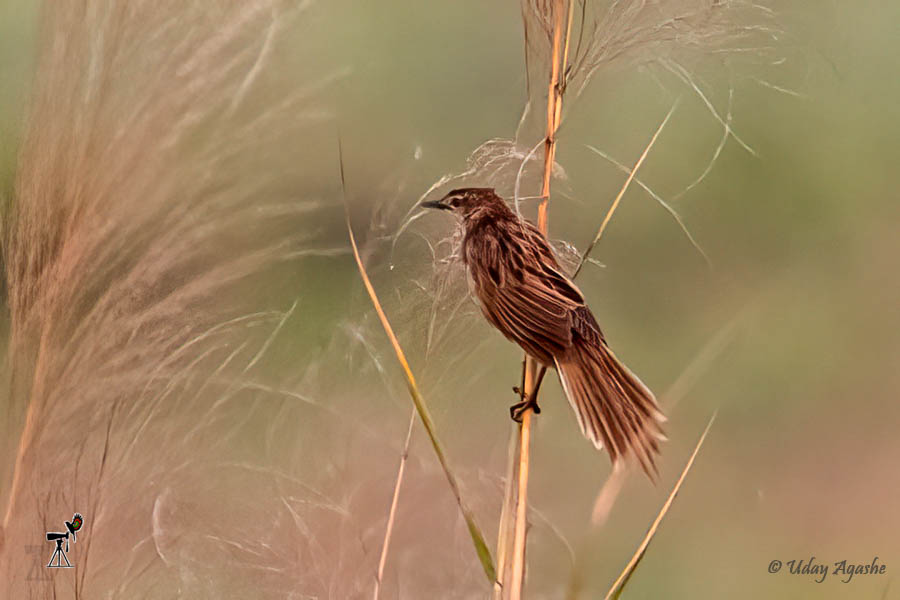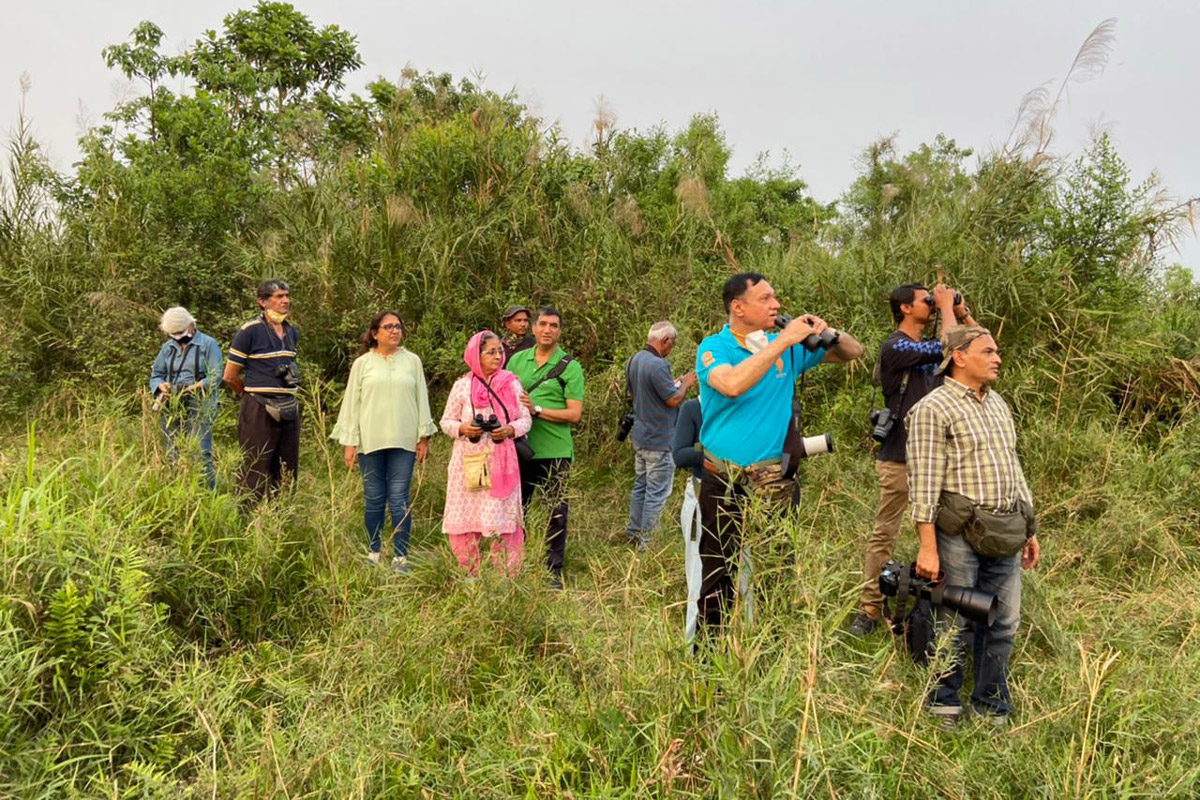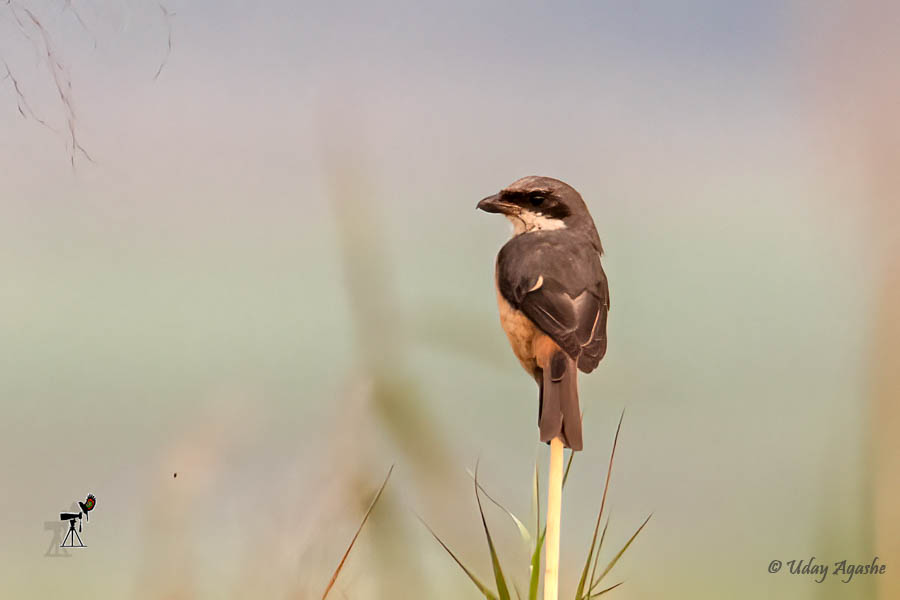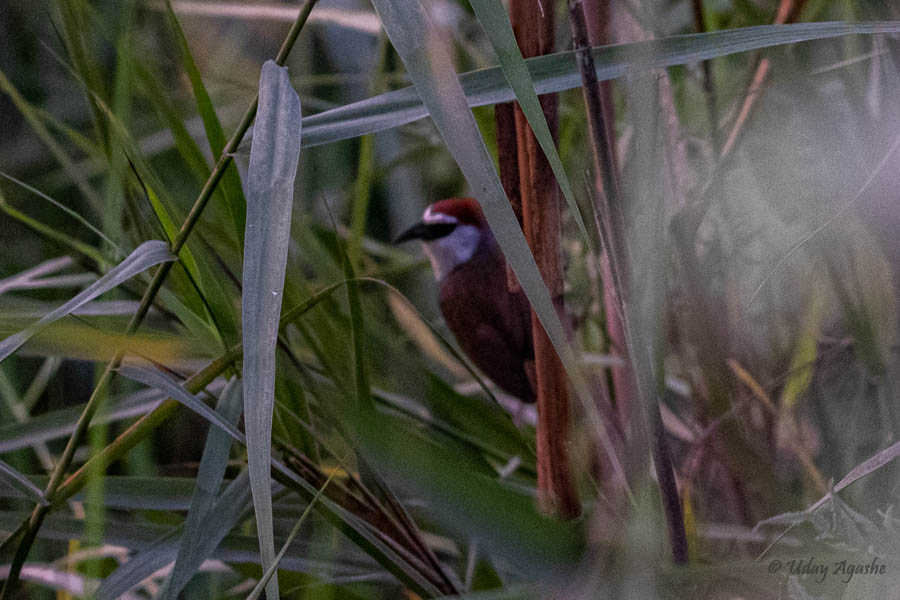 With the dropping light, we decided to move to our stay place but before that Palash wanted to quickly search for owls. The Brown Boobook could be heard from the road itself and soon we were able to see it as well. We did not spend much time there as all of us were tired from the long travel (I had got up at 2 am that morning to catch the early morning flight) and we had about an hour's drive to reach Digboi.

On reaching the guest-house, we got to our rooms and were immediately served a nice hot tea (that was much needed). We had reached by about 7 and dinner was at 8, so we had time to freshen up and unpack our bags.

After dinner, we had the regular JungleHike session on listing/identifying the birds we saw as well as some formal introduction of all of us (as many of us were traveling first time together).


Birding in Dehing Patakai Natioal Park

For the next one and half days, we were planning to spend in the Soraipung range of the Dehing Patakai National Park (the park has another region called Jeypore but most of the habitat is similar). On day 2 we started at 5:30 and had a quick tea on the way to the park.

The first bird of interest today was the Great Myna. It was seen on the outskirts of Digboi. Similar to the common myna we see in the city but they have a nice crest on their head (and are a little bigger).

These days, the park had a group of active wild elephants and there were stories of one of the elephants killing humans. So we had to be careful and considering the not-so-young group of ours, we had to be extra careful (I mean, with the average age of about 60, we couldn't think of running fast). So the moment we entered the national park, we were given 2 armed guards for protection. The primary purpose of the guns was to scare away the elephants if we happen to cross paths, but the forest guards were experts in sensing elephant activity from distance (and hence alert us and move out quickly). Most of the distance was covered in vehicles but every few minutes we were getting down and taking short trails for birding.

Little inside the jungle, we got down and started walking on the path. The helmet bird (long-tailed broadbill) was there to welcome us all. Some Minivets were also seen in the vicinity. Avinash then asked us to look at a bird that was perched on a branch of a tall tree right above us. It was the plaintive cuckoo. The Greater yellow nape woodpecker also made its presence known by drumming on the bark. Right on the road (but far from us), we also saw the Kalij Pheasant. Avinash quickly told us to observe more closely as this is a different subspecies from what we normally see in places like Sattal (it is much darker).

Then we went in search of the elusive Streaked Wren-Babbler. Palash took us inside the jungle, carefully taking steps as we went down into the valley. We could hear the constant calls but the bird was not to be seen.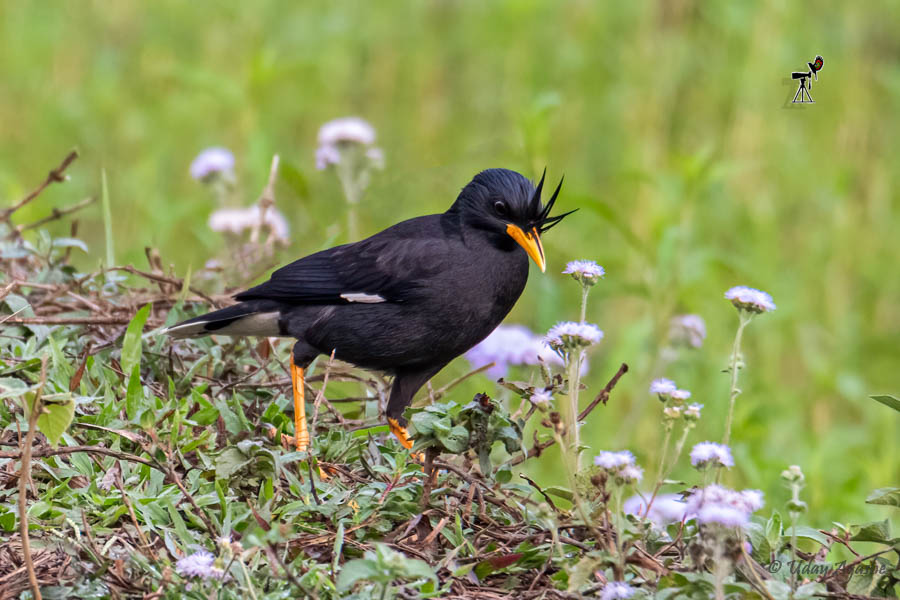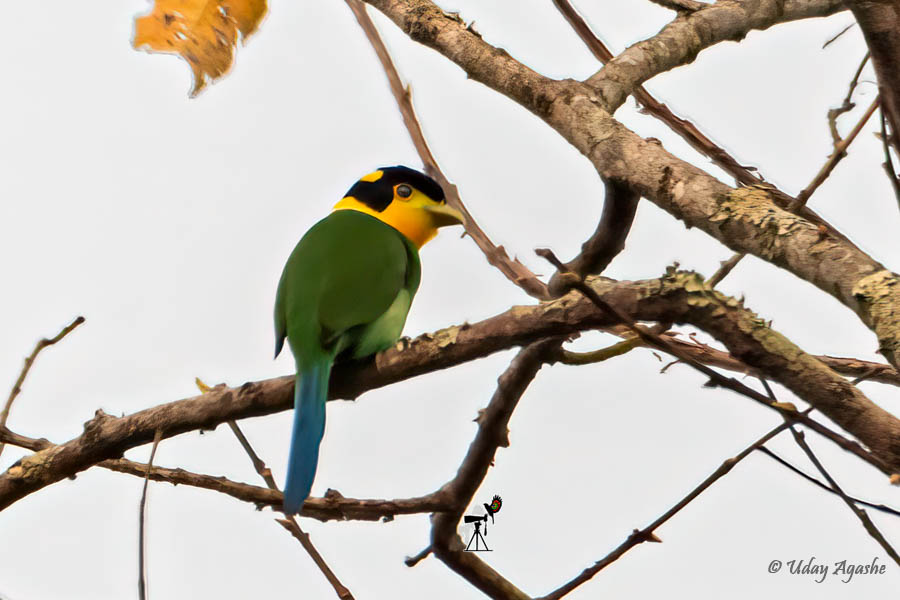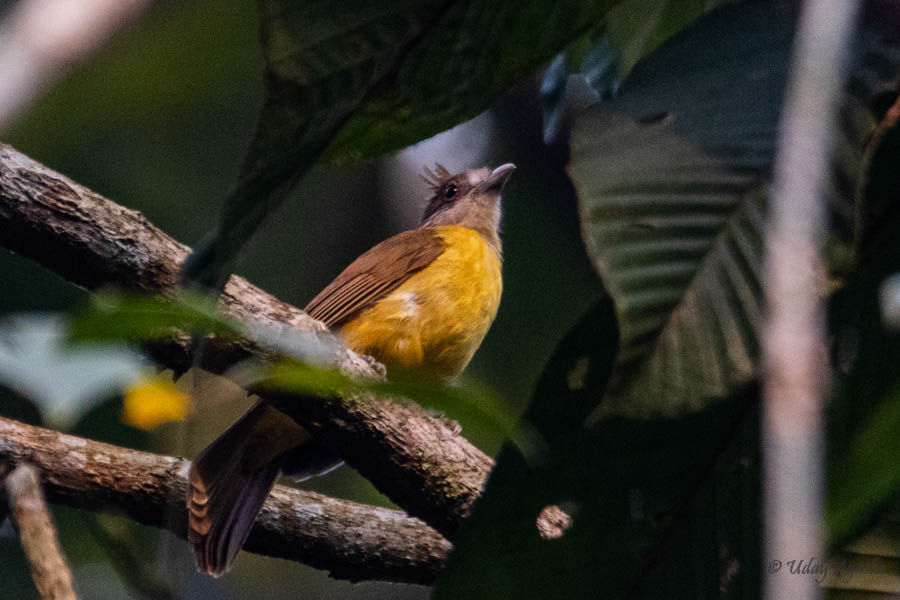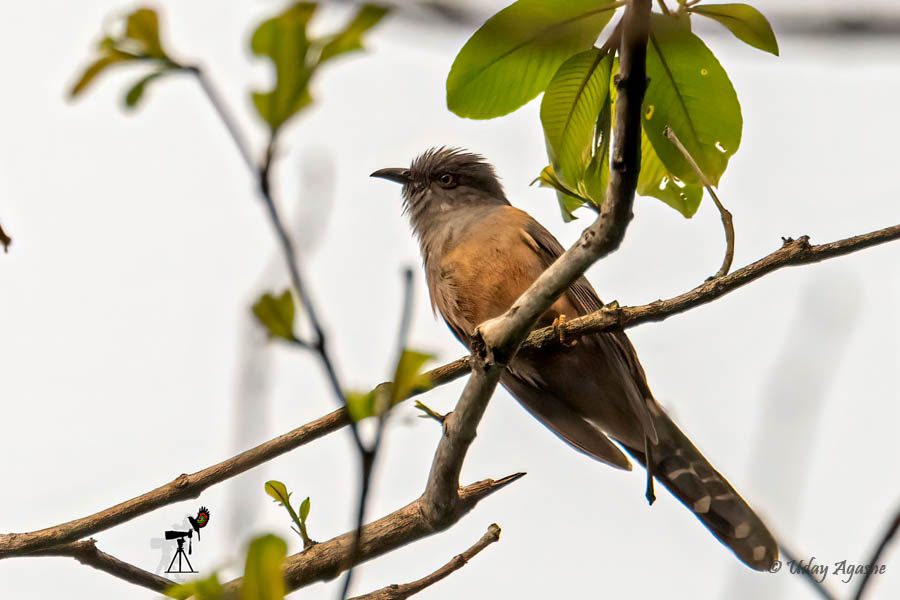 During the next couple of hours, we kept seeing a lot of birds like White-throated bulbuls, and Blue-throated flycatchers but the showstopper was the Sultan tit. They were in a small group and they kept on moving from branch to branch enticing us to take more photos (never actually coming out completely open).

Just before that we also another Hornbill variety that is endemic to this region and a very rare bird, the Brown Hornbill. It was a pair, they were high up on a tree and did not remain there for long but enough for us to identify it correctly.

Our next target was the Rufous-throated Fulvetta as Palash had heard its call. It was another skulker that kept moving between the bushes near us (it was always there around but hardly seen in the open). We kept struggling to find it for the next 20 minutes and just barely managed to get a record shot.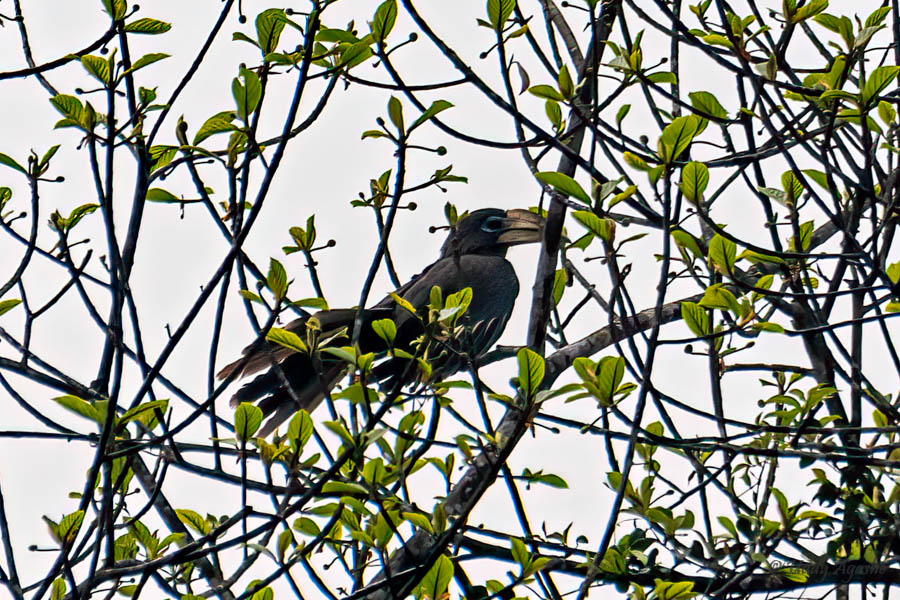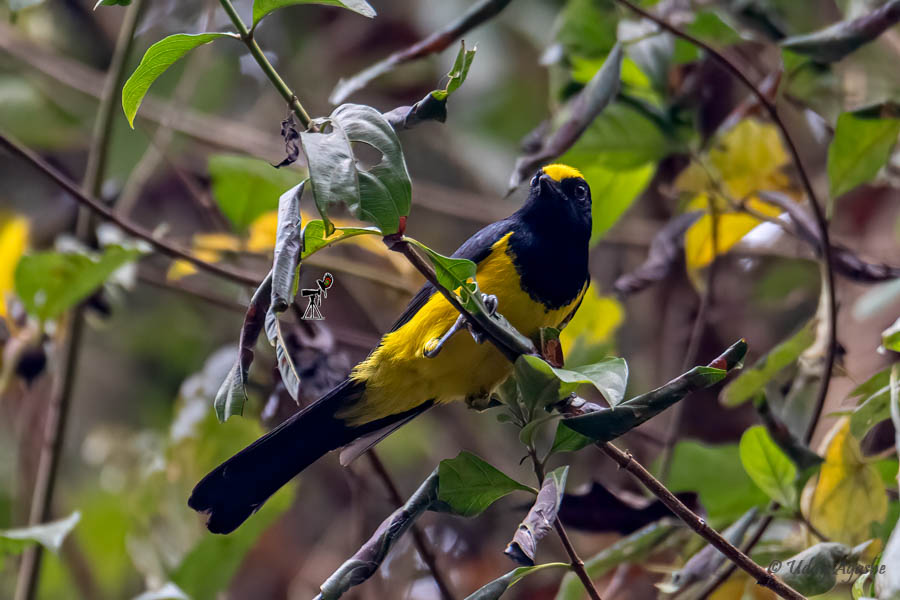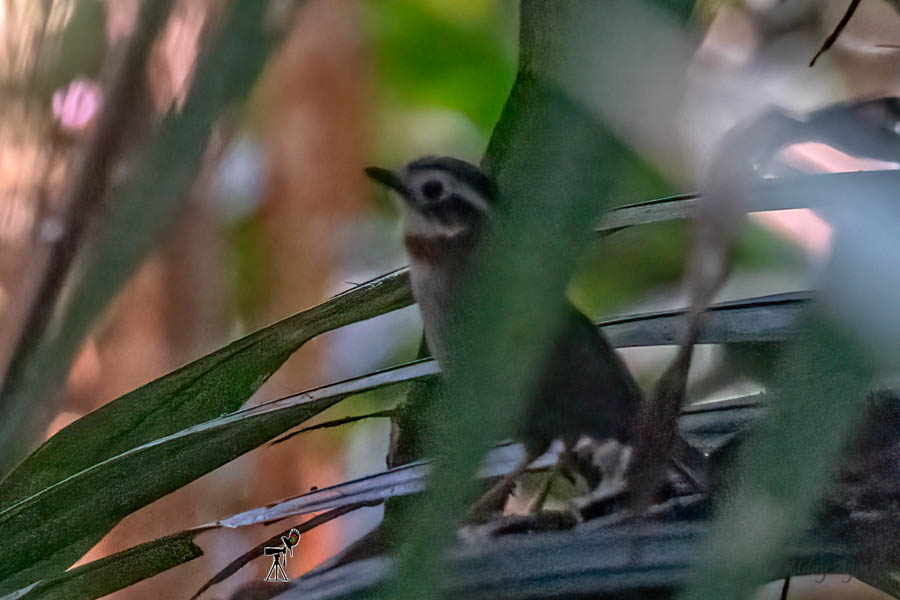 As I had mentioned earlier, we were covering longer distances by vehicle and at one point, we came across a small concrete bridge. The joint of the concrete slab and the road was damaged because of the rains (during the night). Our resourceful guides/drivers then literally got their hands dirty and filled the gap using some wood/sand.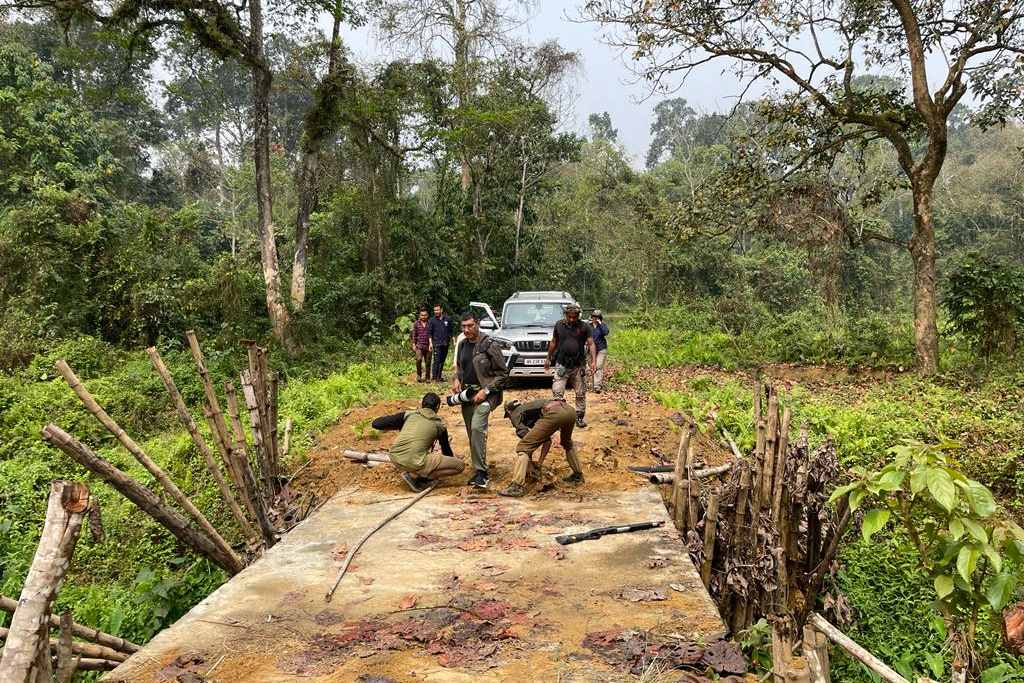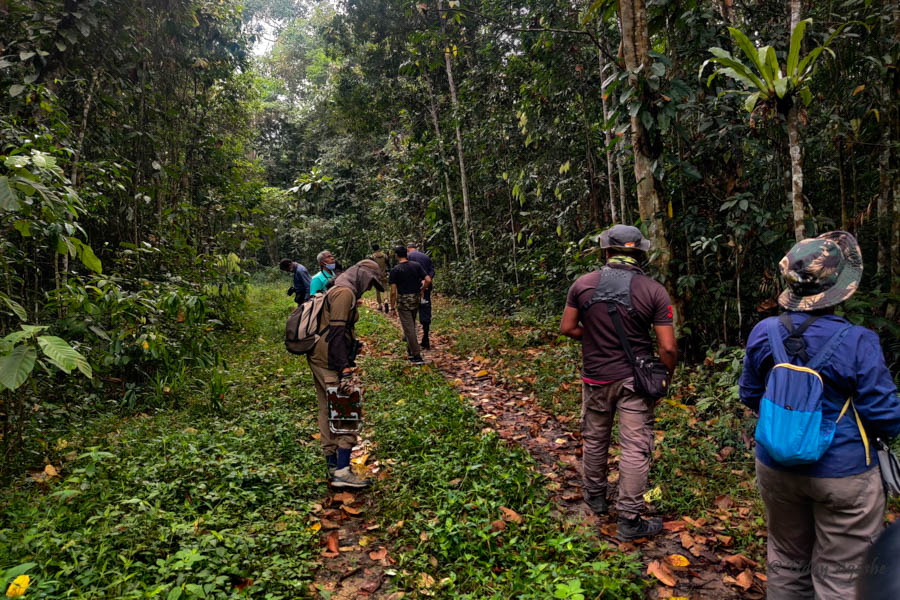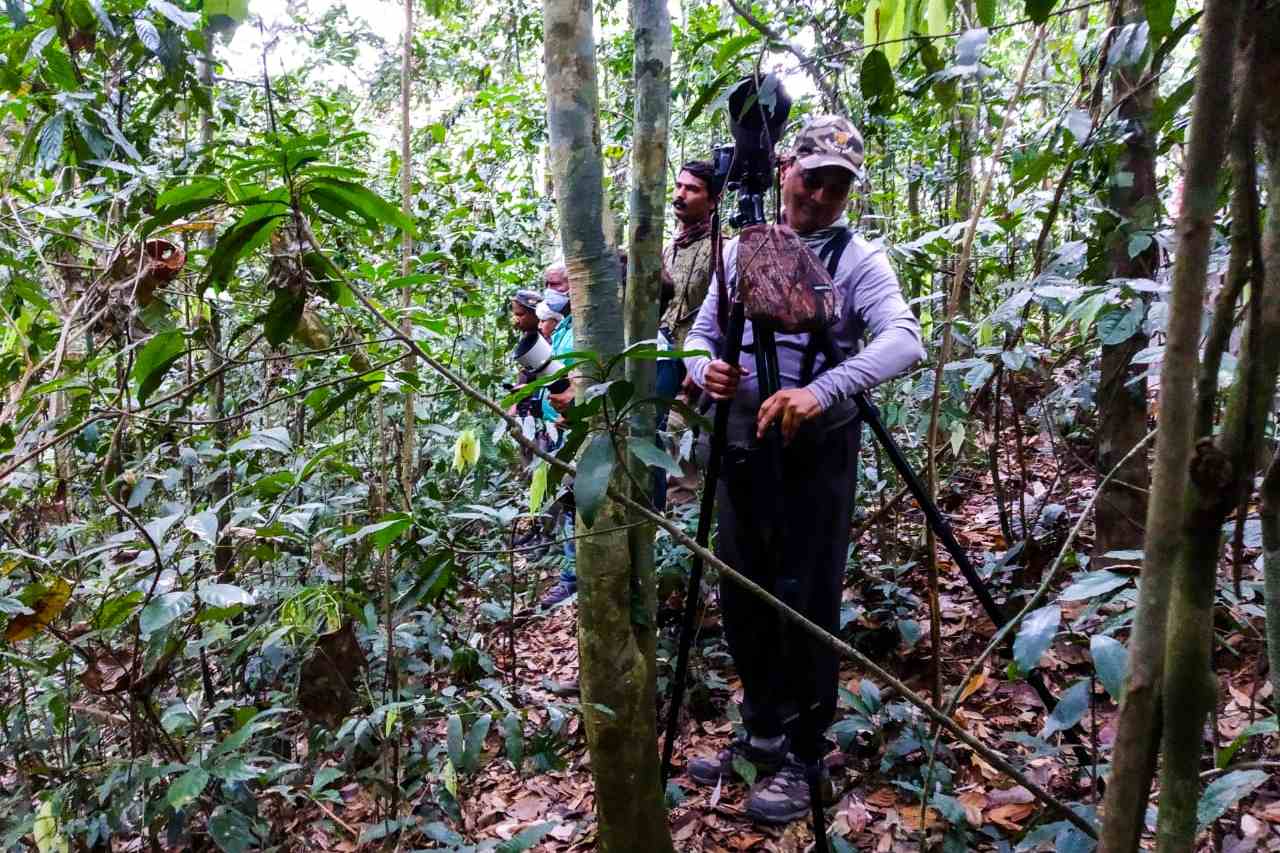 By now all of us were hungry (oh, by the way, we had carried bread, butter, and eggs with us and had the breakfast in the jungle itself). The lunch plan was to have local food and for that, we reached a nearby village. Palash, our lead guide had already arranged it, so we could relish the local delicacies without any wait.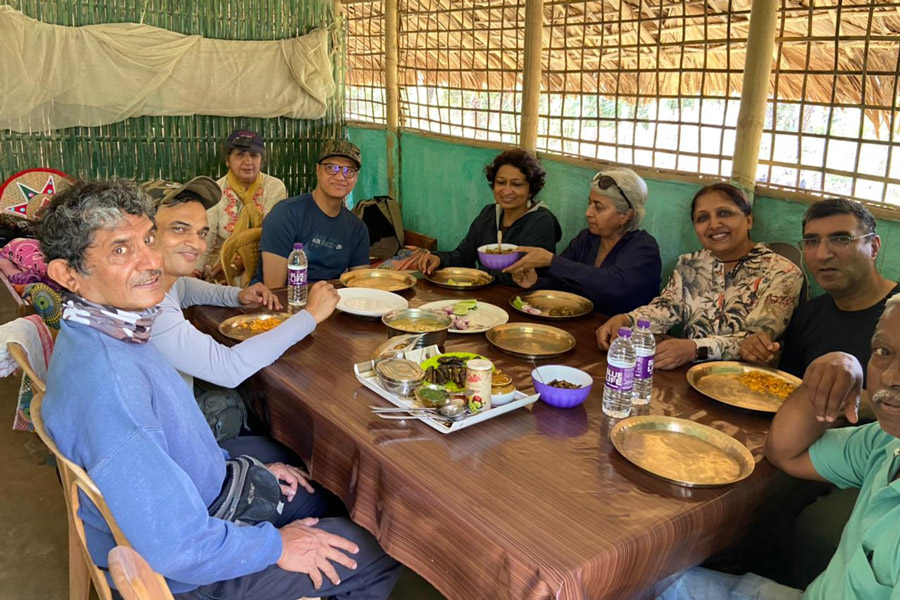 After lunch, we headed straight for the White-winged wood duck. An endangered species of duck that is very rare to see. It feeds during the night and is very secretive in general (possibly due to the rampant killings in the past, it has adopted this). We drove to the waterbody where these ducks were seen recently. As we reached near, we got down from the vehicles and started our descent into the valley. The bird is seen in the waters well-hidden in the valley having forest cover all around. So after going down a few meters, Palash asked us to wait there and then he went alone to check if the ducks were there today.

We had to wait for about 20 odd minutes but in the jungle, it appeared to be more than that. Based on my experience earlier in Latpanchar (where I somehow managed to avoid falling into the valley) I was a little doubtful about going down, but looking at everyone's enthusiasm I decided to take it.

With Palash's positive signal, we started moving ahead. We had strict instructions for zero noise (no talking part was fine, but he even asked us not to step on dry leaves… check the video to understand).
Slowly we were making our descent (not knowing how far and where we are going). After some time we could see a water body (barely visible thru the trees). From there we stopped going down but moved horizontally instead for another few meters and finally, we could see Palash waiting. He then asked us to sit/stand wherever we can and just keep quiet. There were 2 ducks that he had seen but they seemed to have moved away from our line of vision (whatever little was visible thru the leaves.. check the photo).

There I realized that some of us had decided not to come (and had stayed back near the vehicles). It was a long wait and I was sort of prepared for it (Thanks to Clara for making the pre-trip call and making us aware of such trails). I was carrying a small plastic sheet that I put on the ground and sat on it (there was barely enough space). The overnight rains meant the increased danger of leeches but we had no choice there and had to take support from the tree branches.

It was a long wait (close to an hour) and we had almost given up at one point. But suddenly some of us who were on the extreme right sensed some movement (they had gone further ahead but it was like a dead end and we could not join them). Palash suggested that the ducks may now come out in the open so we once again became alert and excited. In the next few minutes, even I could sense some movement. I quickly got on my feet and raised the camera but just at that moment, the tripod vertical bar became loose, and then I had no time to adjust it. Just barely managed to take a few photos. By then others had also seen the duck, and all of us struggled to see it (photographing was too difficult).

After all the wait, finally, we had seen it! That feeling was just amazing. Such moments are like lifetime memories. Everything cannot be captured on camera but the mind's eye retains those images for good.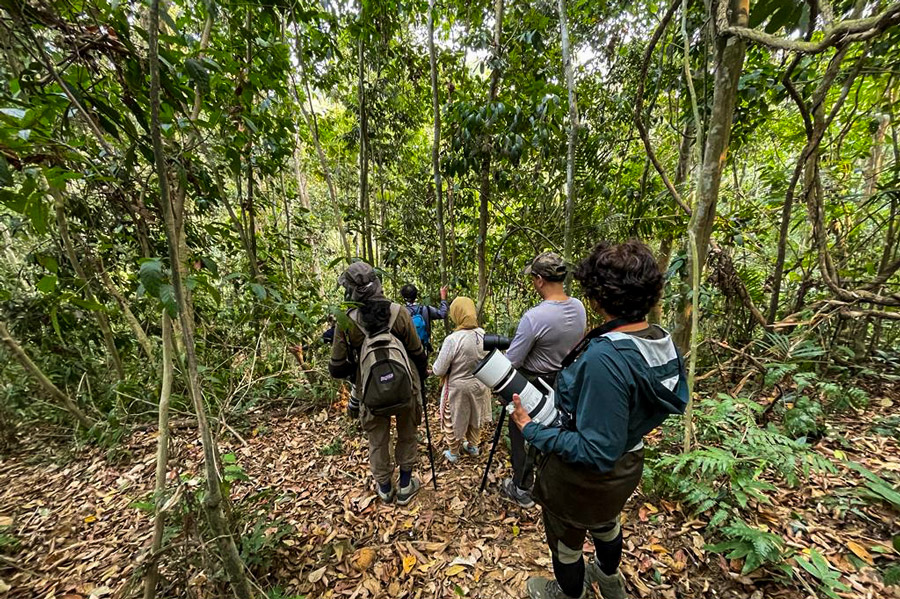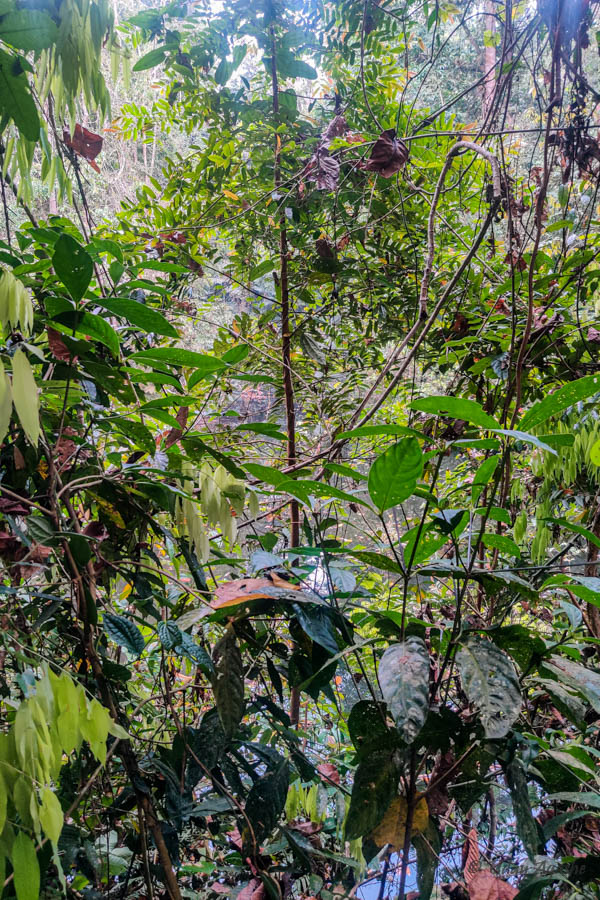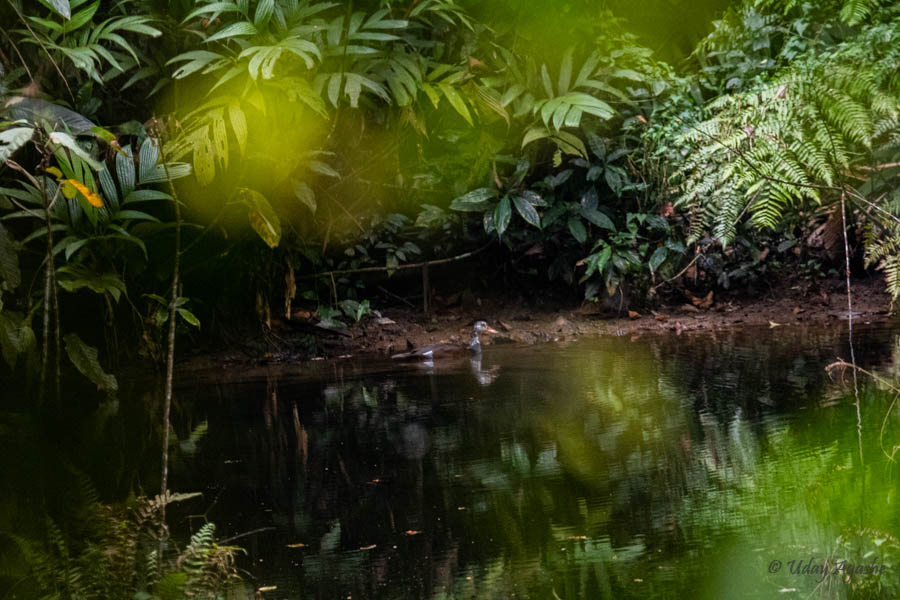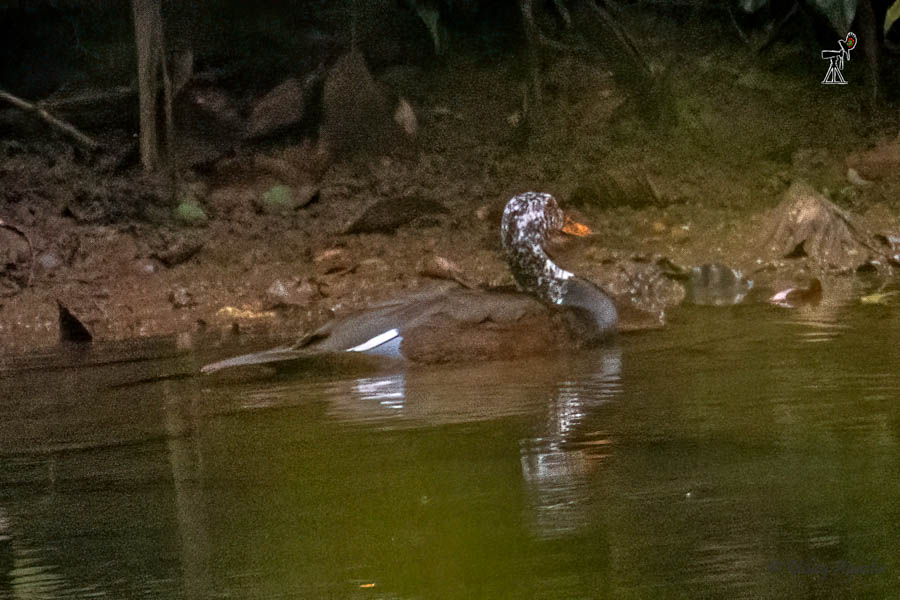 By then it was evening time (4 o'clock there is like 6 in Mumbai), so we decided to come out of the jungle. On the way, we waited for tea at a local market (it was called Maya Bazar). Over snacks, we talked about checking for owls. But because of the elephant problem, our guides did not want to go into the jungle but we decided to take a chance by moving around the periphery of the jungle (on the highway itself). As it became dark, we got our torches ready and moved towards the jungle. We searched for some time but other than a stray call of White-cheeked Partridge (it was possibly searching for a roosting place in the jungle) there was no bird activity.

We then returned to our guesthouse, satisfied with the day's birding (especially the duck). On reaching the room, I was going thru the photos and suddenly something struck me. I had not seen my Memory-card box in the bag. I frantically searched all my baggage (including the waist-pouch compartments) but it was not there!! What a terrible blunder I had made. Coming on a long birding trip with just one memory card (thankfully that was there in the camera)! Either I had forgotten it at home or missed collecting it at the airport (during security check, one has to take out all camera accessories from the bag). Either way, I had a problem. Immediately called home to check, got confirmation that I had kept it at home only!! On alerting our tour leads, Clara said not to worry. She had a spare card plus had her laptop as well (so I can download all images onto that and reuse the card if required).

But with that, I decided to restrict my photos and also not to take any videos through the remainder of the trip (also deleted all videos from earlier in the day).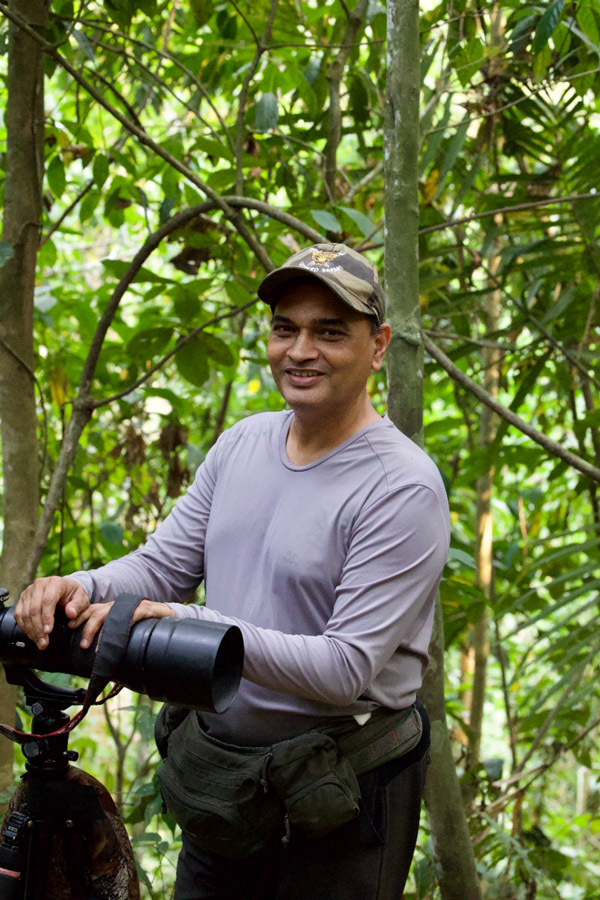 On Day 3, we decided to start at 5 am itself and didn't even wait for tea (not to miss out on precious morning hours of birding). We were carrying hot water today along with the tea bags (so the tea can be made in the jungle itself).

Today, our target was the beautiful Grey Peacock Pheasant and that meant another trail inside the jungle (but this was not as hard as yesterday though). And today, we were joined by another group of birders. Frankly, our group size of 11 itself is a little big one for birding, so additional 5 members meant the chances of disturbing the birds are that much more.

And today happened to be a rainy day (luckily yesterday there was not much rain issue) but today's forecast was not good either. It was a small drizzle when we started the trail. Anyway, we all walked thru it and once again waited on the edge of a small cliff (not deep). Immediately on settling there, we could hear the calls of the Pheasant from distance. Our guides then played a few calls and the bird was responding to them.

We kept waiting but there were no signs of the bird coming forward, gradually even the calls stopped. The rain was continuing unabated, so we decided to abandon the trail and move back to our vehicles.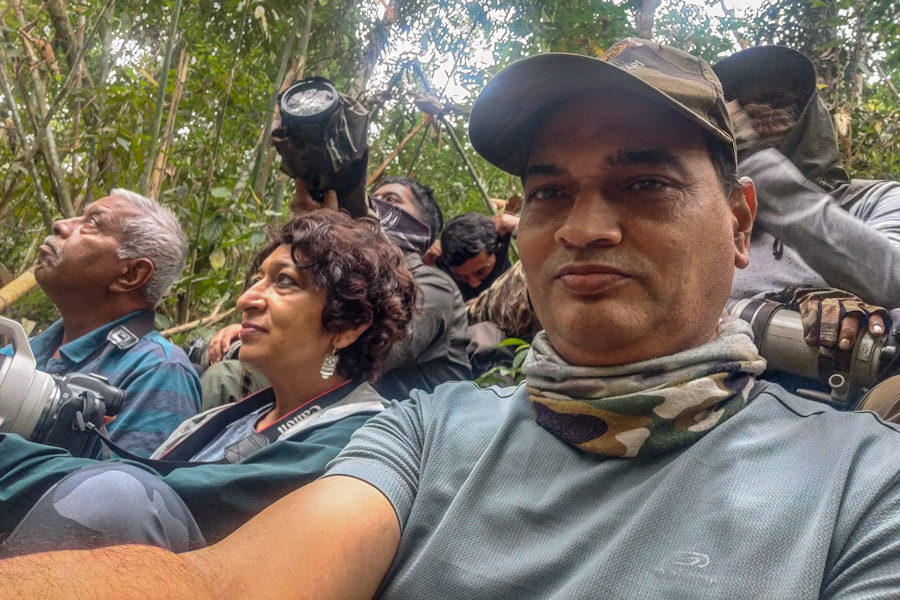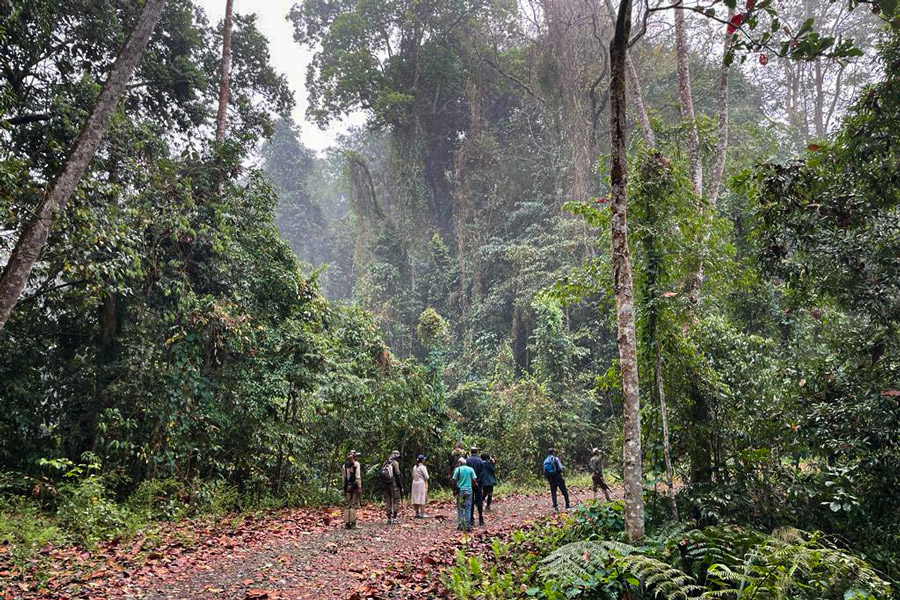 Our next target was to look for a few pigeon species. But as we had started a little earlier, we thought of having early breakfast. The forest officer allowed us usage of their office for breakfast (as it was raining, having breakfast in the open was not possible).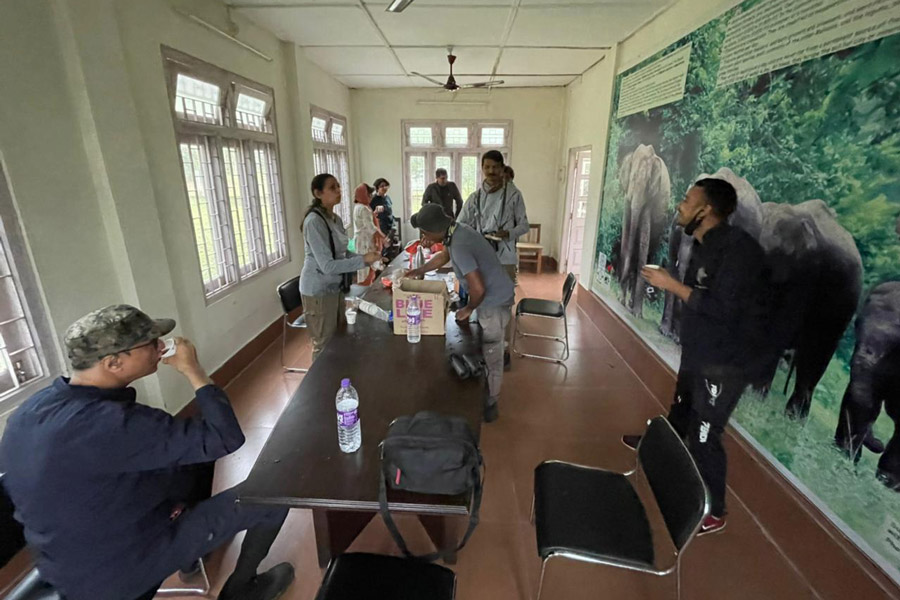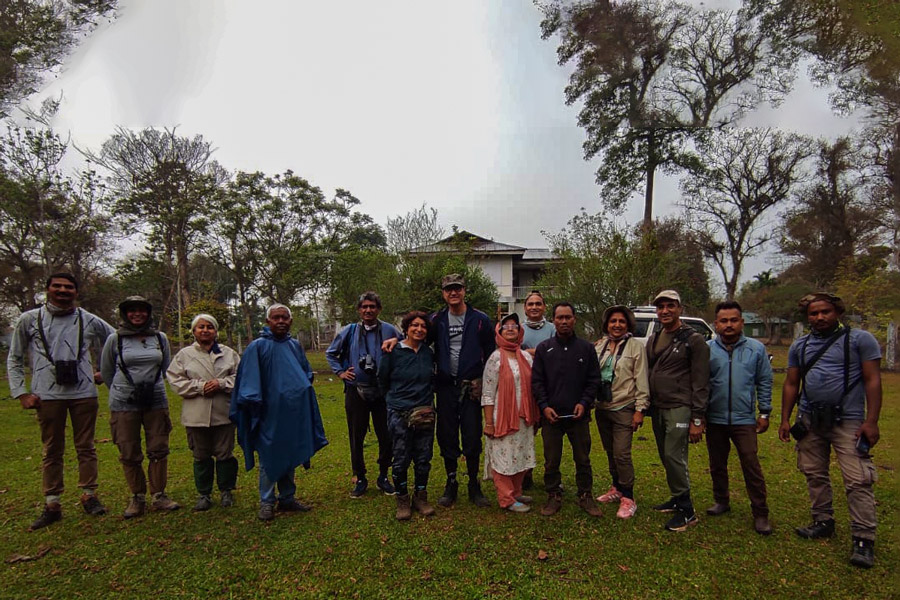 After breakfast, Palash took us to the spot where he had earlier sighted the pigeons, and with the rains, he was hoping for them to be flocked on the trees together. This was another treacherous trail (making it further difficult due to the rains) but we all moved ahead. We had to cross a few water-streams on the way (with the help of wooden logs and sticks). But after all this, we once again had a no-show. There weren't any pigeons there at all (not even the omnipresent Rock pigeons). Looked like the rain had played spoil-sport and ruined our entire morning session.

Today we had to go back to the guesthouse by 11 and then start our journey to Roing town, so we had only a couple of hours left.

Palash was still hopeful and he decided to take us to another pigeon spot, the trail here was much easier and fortunately, we could see the pigeons. Not just that, some of us were also fortunate to see 2 varieties of forktails nearby (although I could not see them as the rain had increased by then, and I did not want to risk my camera… so I stayed under a tall tree for cover). In all, we could see the Pale-capped pigeons, Green imperial pigeons, Thick-billed Green-Pigeons, and the Pin-tailed Green-Pigeons.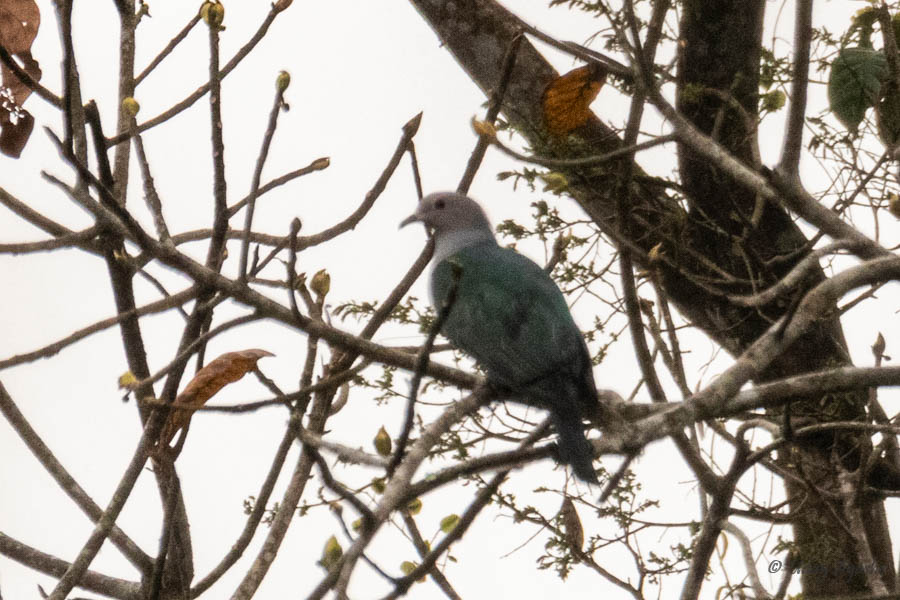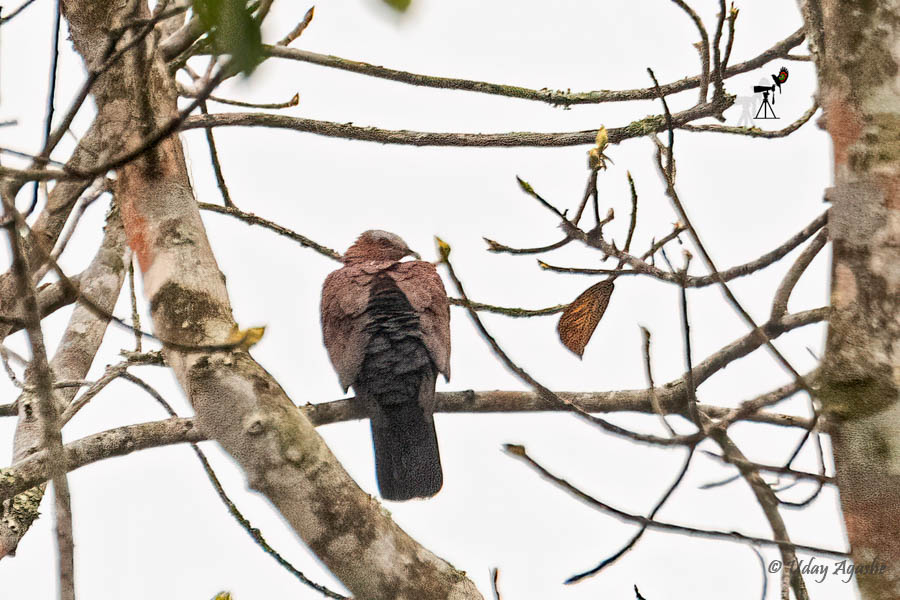 By now even the rain had reduced a bit (not stopped though). As we came back from the trail, we could hear a lot of bird calls. Suddenly we started seeing them coming out in the open. The first to come out was the Dark-necked Tailorbird. And then suddenly a lot of birds were out in the open, so much so that we had difficulty in deciding whom to go after. I ignored some of them like the violet cuckoo (as I had seen it recently in Andaman). But I could not ignore the pin-striped tit-babbler as it came right in front of us. Some of us by then had moved away a bit in search of the trogon. As we moved in that direction we came across the Golden-fronted leafbird, Black-throated Sunbird, Lesser Racket-tailed Drongo, Yellow-vented flowerpecker, and Ruby-cheeked Sunbird, Chestnut-tailed starlings, Ashy Bulbul, and so on. Within the span of 30-40 minutes, they all just rushed in to make up for the missed birding in the morning session. Could not photograph them all, but it was interesting to watch them as the rain stopped for some time.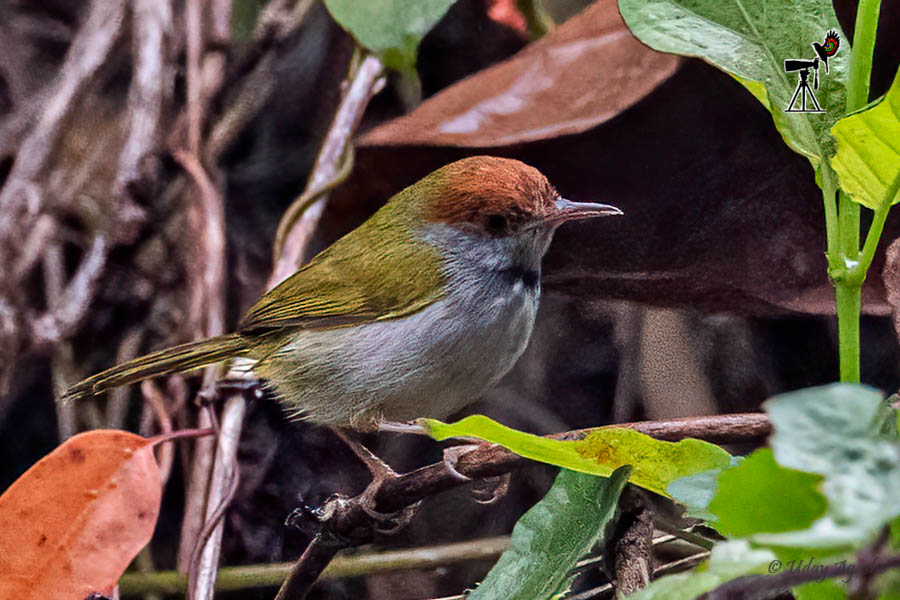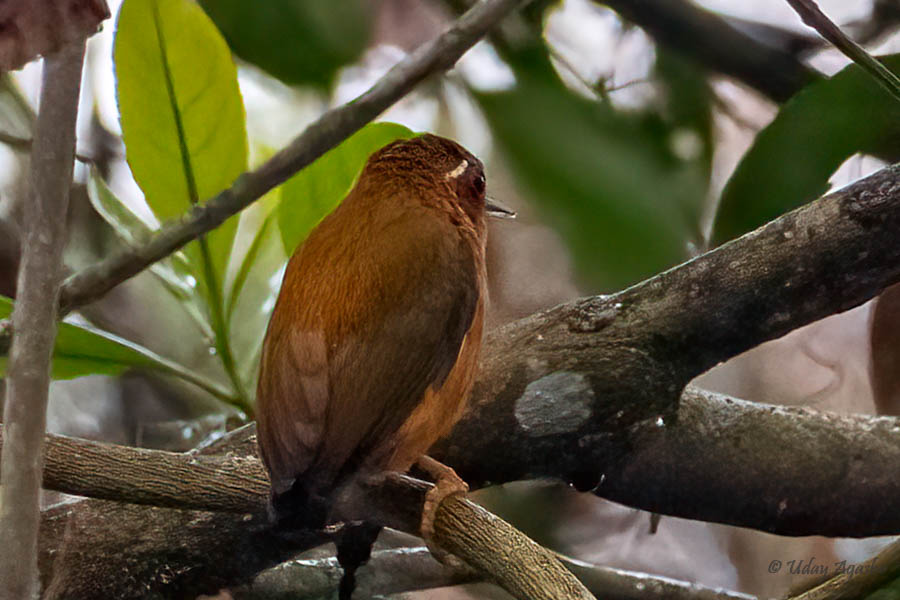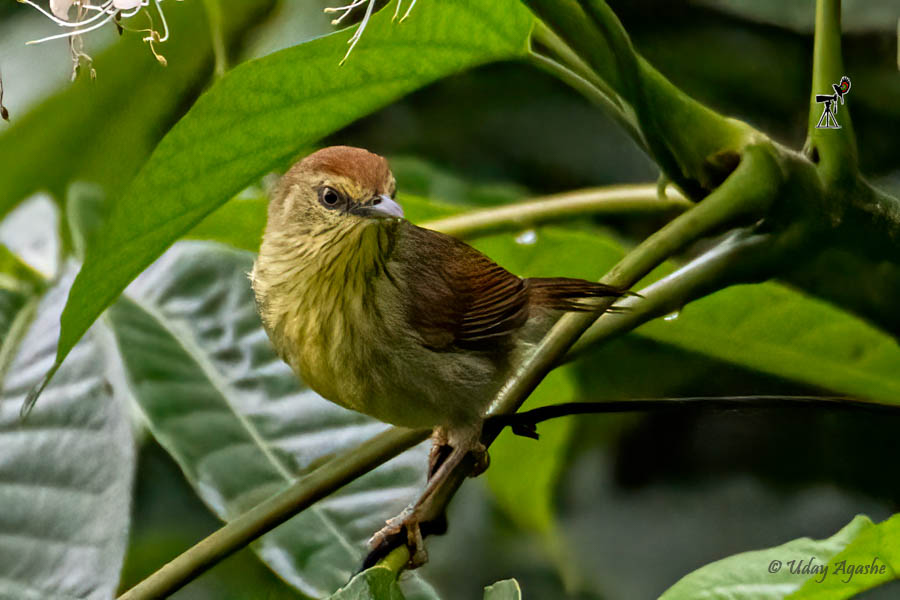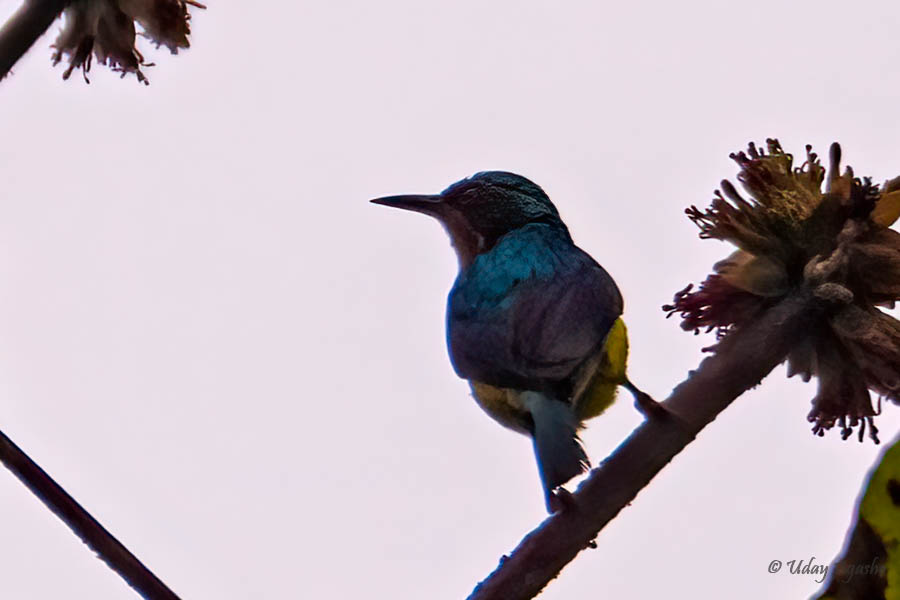 Our happy group then returned to the hotel, packed our bags quickly, and were out again towards Roing. The remainder of the day was anyway expected to be spent traveling so the additional rain did not matter to us. The roads from Digboi (in Assam) to Roing (in Arunachal Pradesh) were in good condition all through and we also could see the beautifully made Bhupen Hazarika Setu (bridge) on the way. But before that, we had a lunch stop within Assam itself.

The restaurant provided decent Assamese food. As you can see in the picture we all enjoyed a nice cup of tea after lunch. But little did we know what was in store for us. Although we finished lunch quickly, we could not move from that place for the next one hour. And the reason was not heavy-rains, just that one of our vehicles got locked (while the key was still inside).

No one was prepared for this kind of problem so all of us became innovative and started suggesting ideas (but none seem to be working). We tried to search for a mechanic from a nearby garage but he was out for lunch. The second key of the vehicle was in Tinsukia town (2 hours away from our location).

Don't know how it worked, but one stranger offered his help and somehow managed to open the passenger side door

Drive from there on was uneventful. The Bhupen Hazarika Setu is a 9+ km long bridge (the longest river bridge in India) over the Lohit river (a major tributary to the Brahmaputra) that connects northern Assam with Arunachal Pradesh (saving a lot of travel time).

We had to cross the state border on the way but that process was also smooth, we just had to show the original ID proofs at the counter.

We reached the Yatri Niwas in Roing a little late (the stop in Roing town to get the breakfast essential for the next day took a long time as most of the shops were closed) so there was no birding possible that day.

But the rain reduced a bit by 7 pm, so we decided to try our owl luck. This time we also had the Hodgson's frogmouth on our agenda. We went towards the ghat section and kept driving little by little (stopping at various spots to look for the owls/frogmouth). We covered about 20km that evening but there was not a single bird seen (although reduced, the rain had not stopped which may have contributed to their absence).

By dinner time, we all were so tired that we even missed the routine JungleHike session covering the day's proceedings.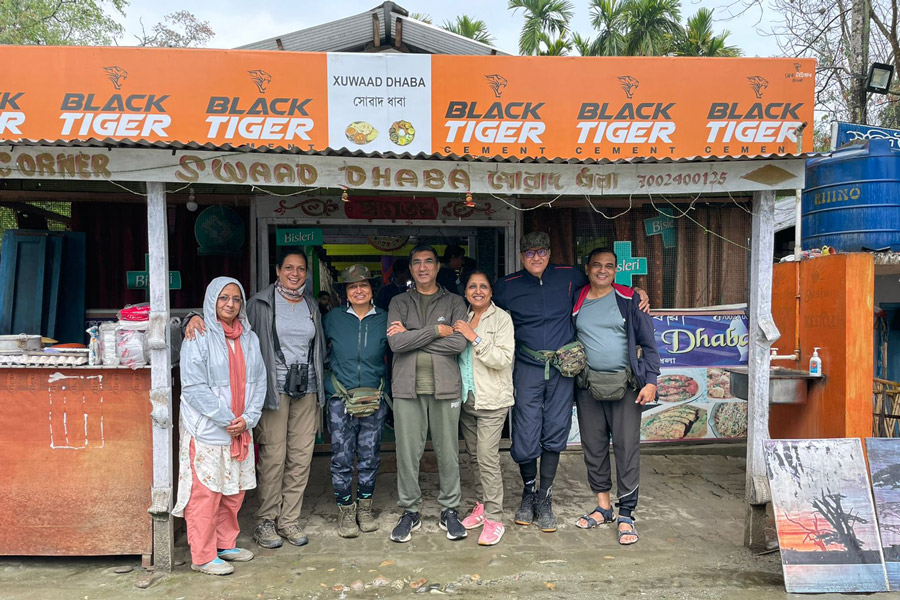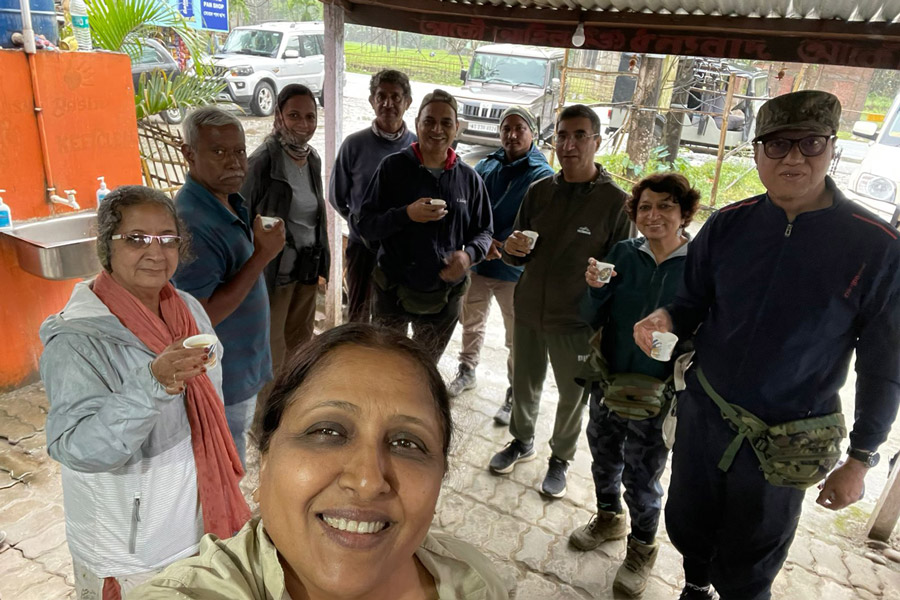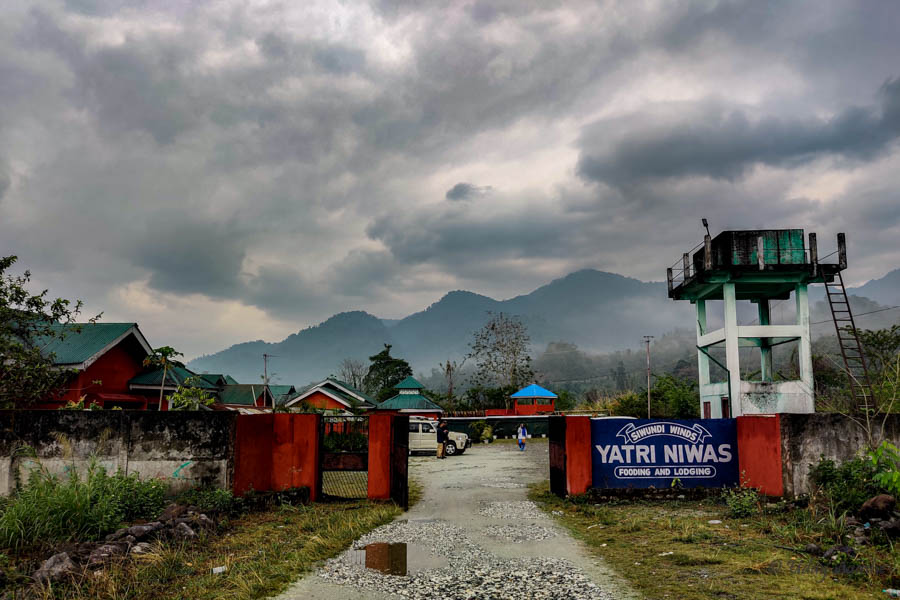 Mishmi Days (Day 4 to 6)

We started at our usual time of 5 am and before proceeding to the ghat section (Mayudia Pass), we went for the Jia grasslands. Here instead of going into the grass, we were observing it from a bridge that was passing over it.

We had reached there at daybreak and because of the rain clouds, there was not much light (but we could hear bird calls for sure). Avinash immediately sighted a Daurian Redstart on a tree. Next was a pair of Rufous-necked Laughingthrush. They were at distance but a nice spectacle from binoculars. As we were observing the distant birds, a common iora decided to come and perch on a branch close to us. Avinash by then had moved ahead and called us to see a small group of Black-breasted Parrotbills dancing from branch to branch (most birds were hopping constantly, never settling on a perch for long). From the other side of the bridge, Palash then showed us the small warblers (Smoky Warbler and Dusky Warbler). We could see the Ashy, Bronze, and the Lesser Racket-tailed Drongos too.

The bridge was nicely made and thankfully there was not much traffic (all of us were crossing it now and then, as if that was our backyard).

We spent about an hour on the bridge (managed to catch a few lifers) and then headed back to Roing town. On the way, I also saw the Eurasian tree sparrow.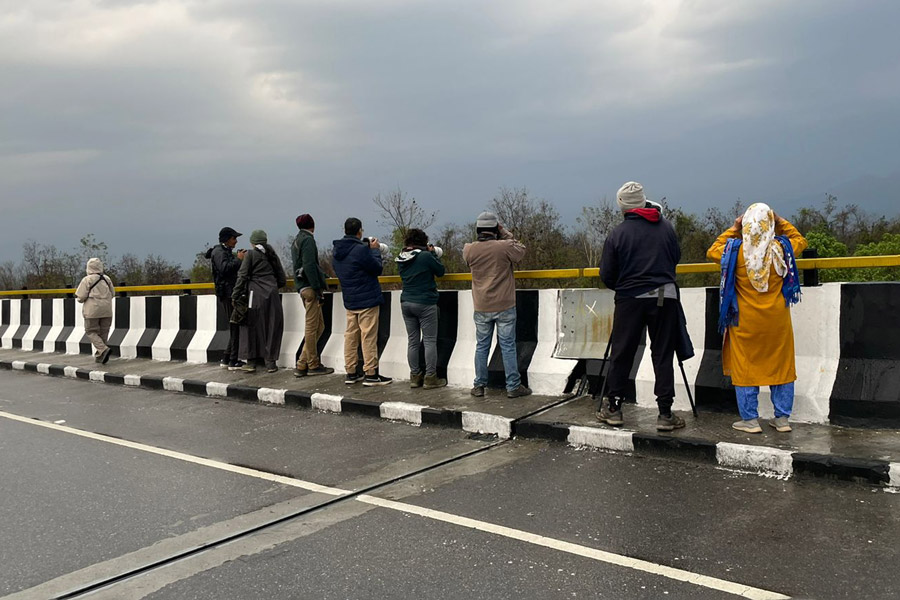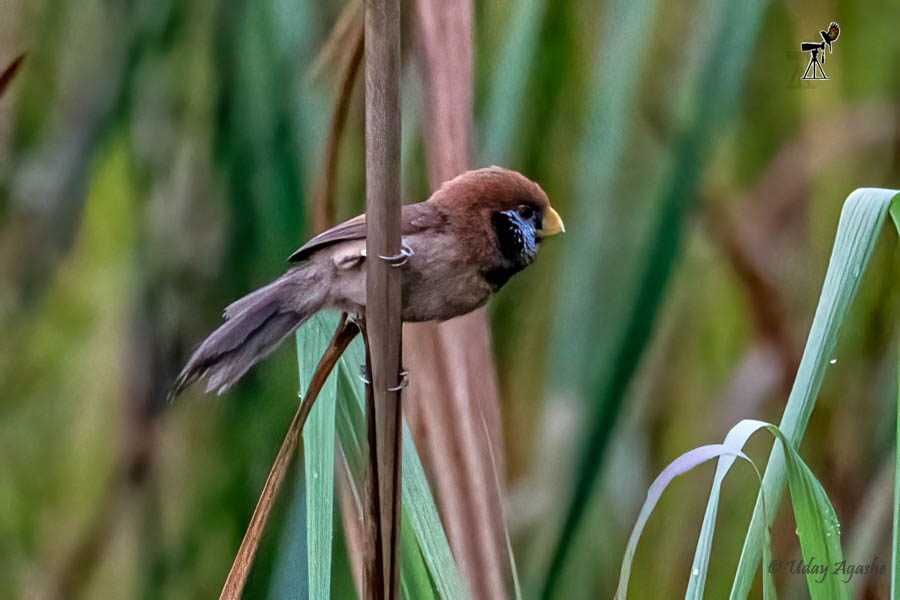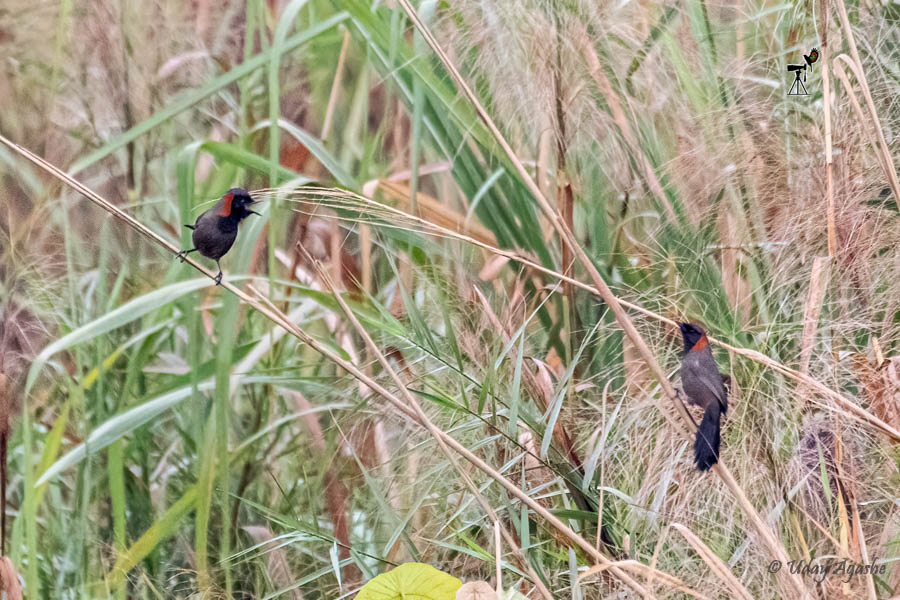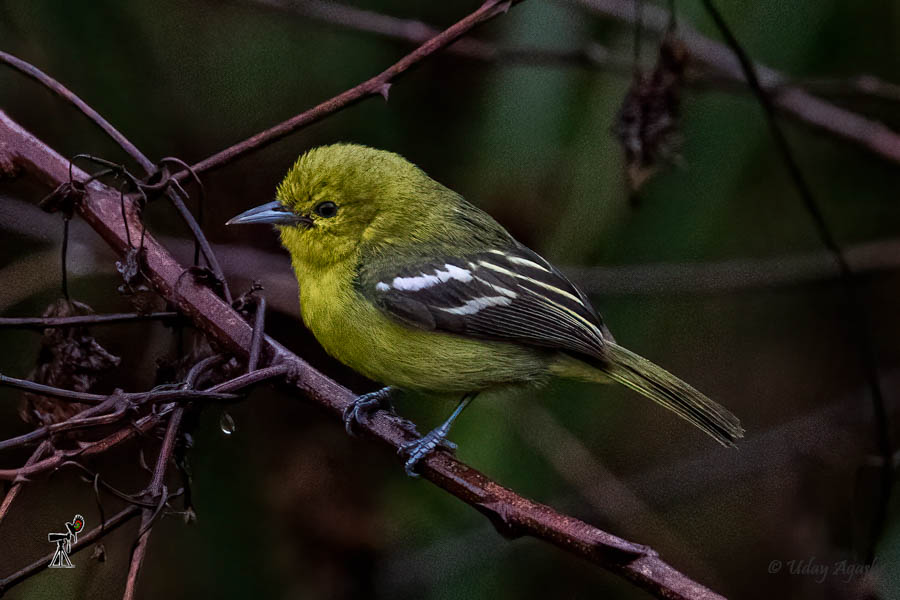 By 9 am we started our journey to Mayudia pass. The rains continued today but there were few minute gaps now and then. The distance was about 56 km but considering the many birding breaks we were likely to have, we expected to reach Coffee House (our stay place) by lunchtime (for late lunch that is).

Our first stop was within 5-6 km itself. We all got down from the vehicles and started walking along the roadside (it was a highway but traffic was not much.. occasionally one could see military vehicles as well).

We were overlooking a valley and there was some action on the other side of the valley that was noticed by our guides. So we all got into action and started straining our eyes, cameras, and binocs but nothing was visible for some time. Gradually our eyes got accustomed and we started seeing a few small birds thru the dense leaves. I could then see a small bird (like a ball of cotton), got the name (White-hooded Babbler) from Clara. Then we could sense some action nearby. These were the Beautiful Sibia, followed by their cousins the Long-tailed Sibias.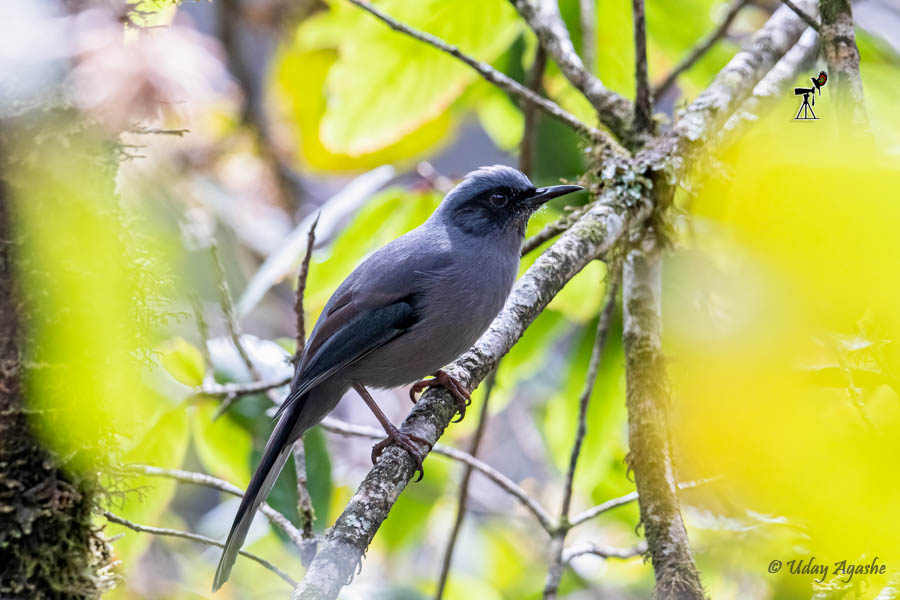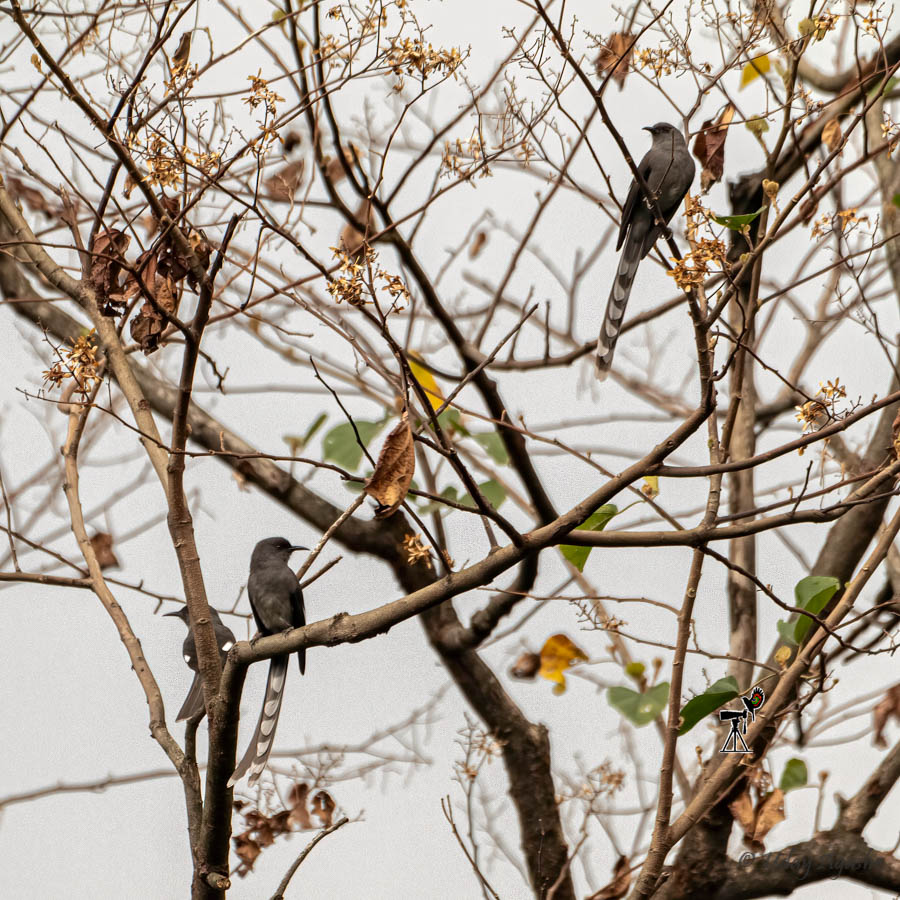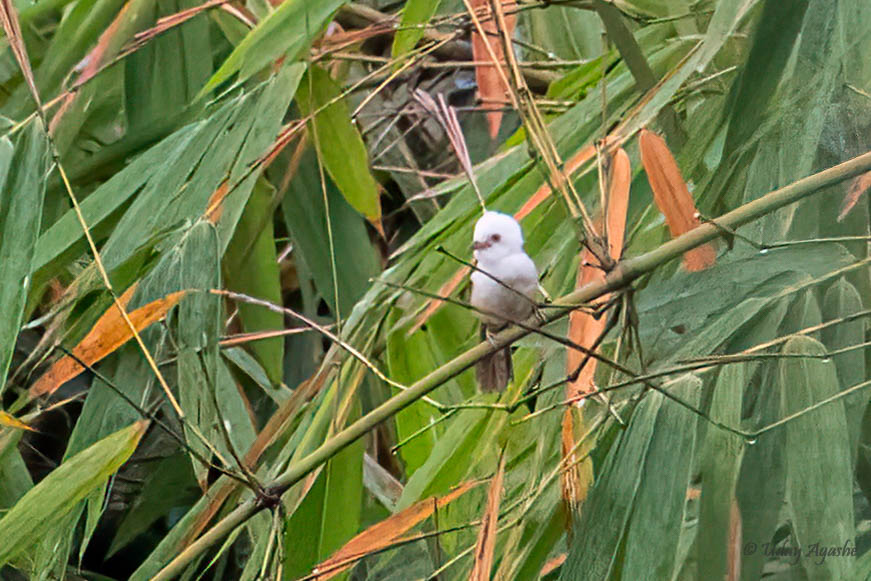 For the next 2 to 3 days (while we were in the hills), we came across the term "mixed hunting party" repeatedly. I had heard about it earlier but here the birds were in action. It is a kind of bird wave where a flock of insectivorous birds of different species join together and go on a foraging spree. Here these parties seem to be moving from higher altitudes to lower ones. And earlier when our guides mentioned birds at the other end of the valley, they had sensed the presence of this hunting party. The group here included White-hooded Babblers, white-breasted parrotbills, some warblers, and yuhinas.

At some distance, there was a tree full of red flowers and we could also see a few birds on it through our binoculars. Palash suggested walking ahead about 100 meters and reaching the other end of the valley (from there the tree was a little closer). So while our other group members were busy observing the hunting part, I went ahead. Was pleased to see the Streaked Spiderhunter (my lifer) repeatedly perching on the same tree allowing me to take a few photos.

Hopping into our vehicles, we again covered a few kilometers till the second stop (this kept on happening almost till the Tiwari Gaon point, which was around 30 km from Roing). All the while it was drizzling, but thankfully it was not intense and we could come out of the vehicles for birding.

On the next stop, we saw the Grey-headed Canary Flycatcher, Yellow-bellied Warblers, a few more Sibias (both beautiful & long-tailed), and also the colorful Minivets. At one point the White-naped Yuhina chose a relatively clear perch, immediately all photographers rushed near it. Just then the Great Barbet made its presence felt, it is relatively bigger in size and a very colorful bird. As I had seen it in Sattal, I was not too keen to photograph it here but the barbet decided to perch alongside the spiderhunter making a nice spectacle (couldn't miss this opportunity).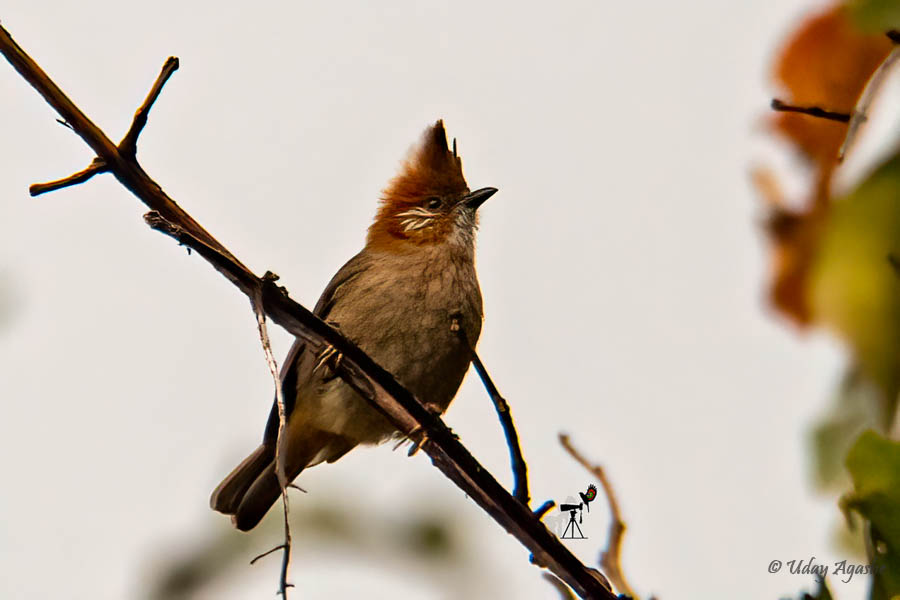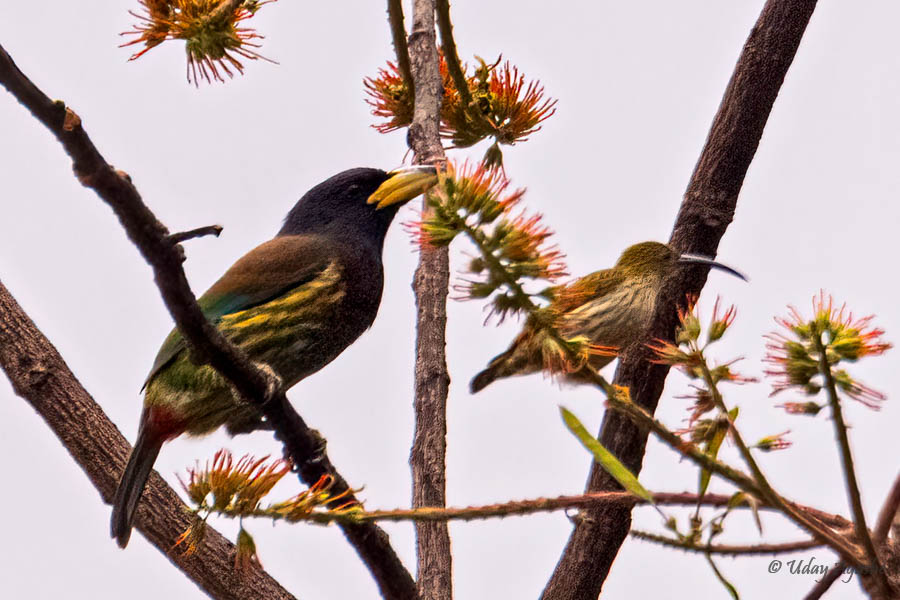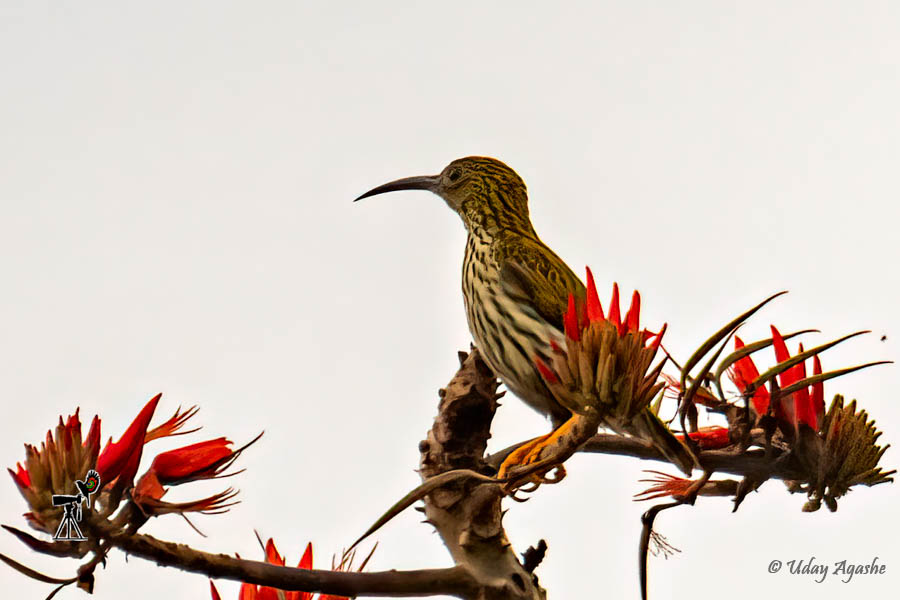 At every stop, we were able to catch some species of Minivet (Scarlet, short-billed, long-tailed, and even the Grey-chinned). At one point, both the male and female of the Grey-chinned minivet were seen nearby. Here I have created a composite image showing them together for comparison. At noon, we were just reaching the Twari Gaon area. By now the rain had increased a bit so our stoppages were reduced and we were hungry too. We had hoped for at least a tea stall in this village but there was none.

Although the birding stops had reduced we still were able to sight the Sibias, Golden-fronted leafbirds, Olive-backed Pipits, and Striated Bulbuls. There were 3 varieties of Scimitar babblers we could see. Scimitar here means a type of single-edged sword and the bills of these birds are having a similar shape (hence this common name). We could see Coral-billed, Red-billed, and Spot-breasted Scimitar-Babbler but I could barely manage to take a poor photo of the Coral-billed one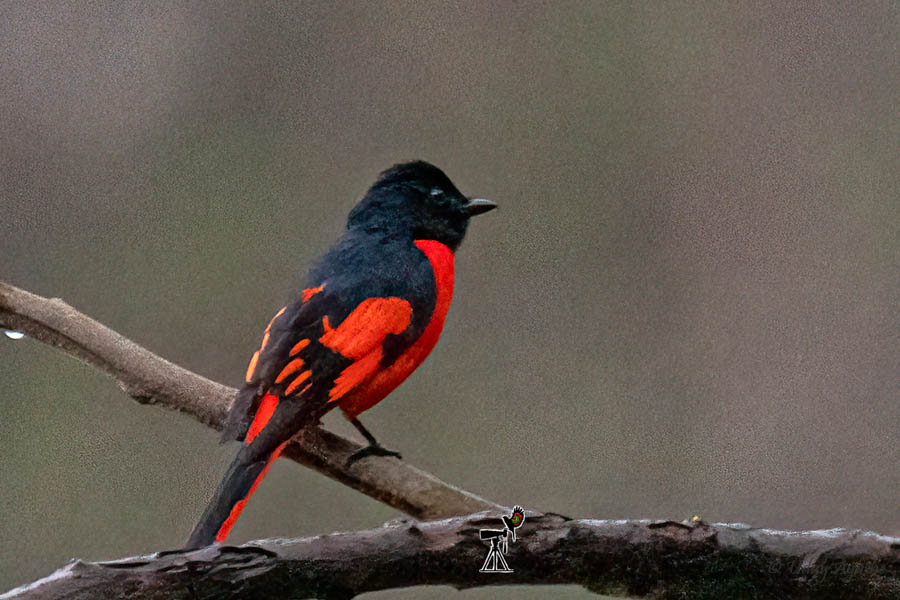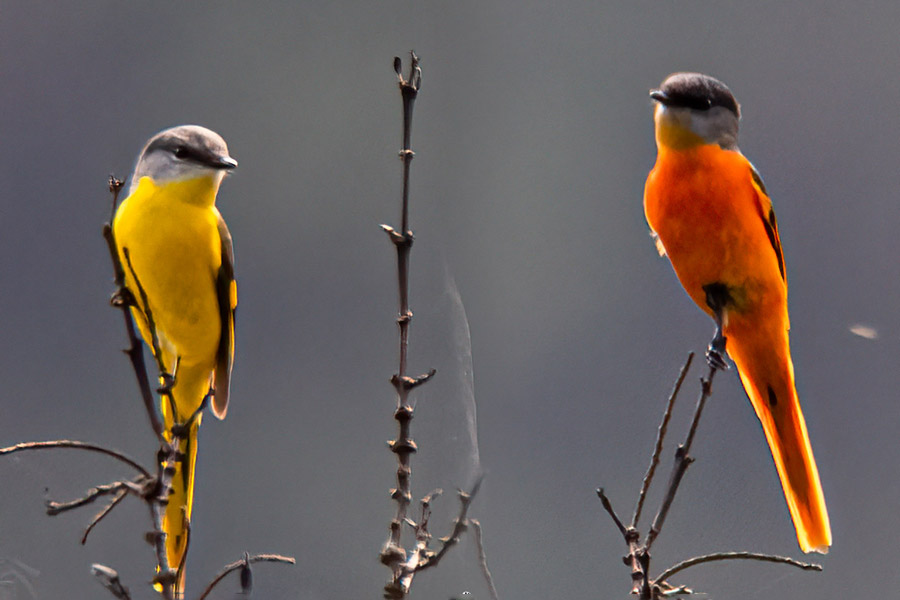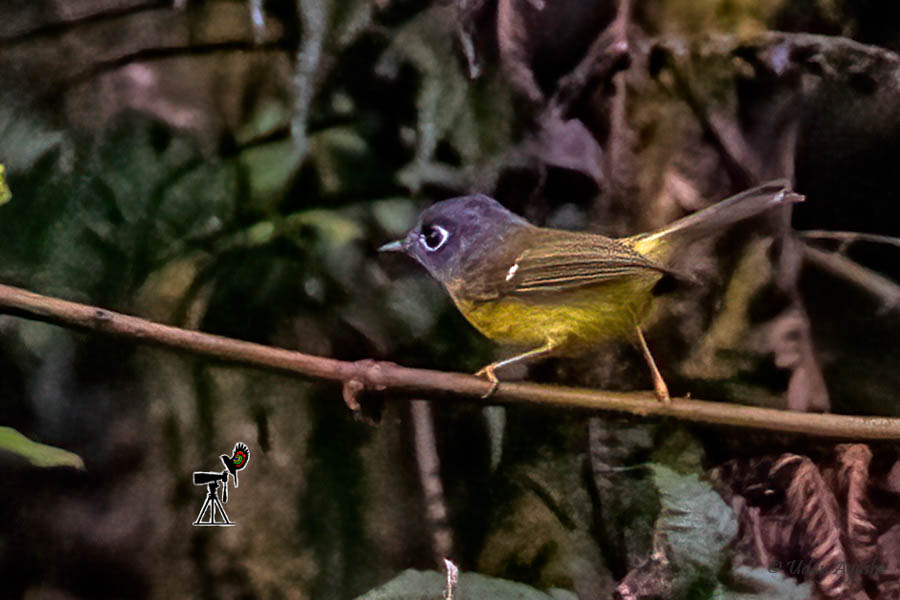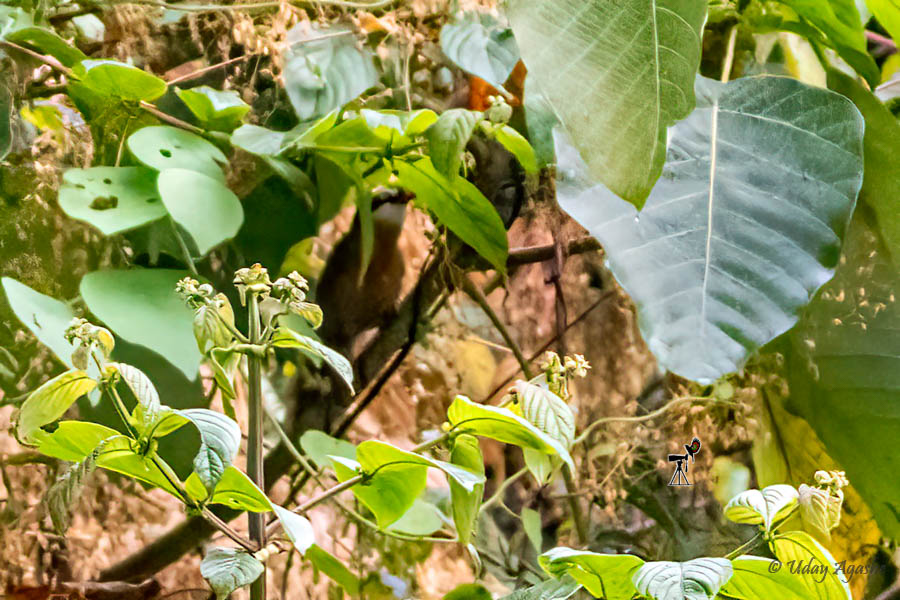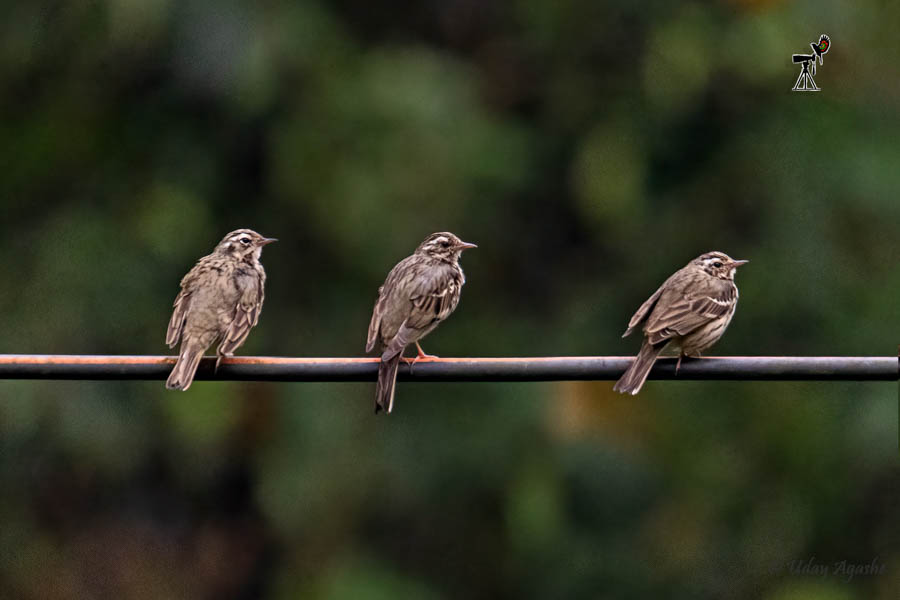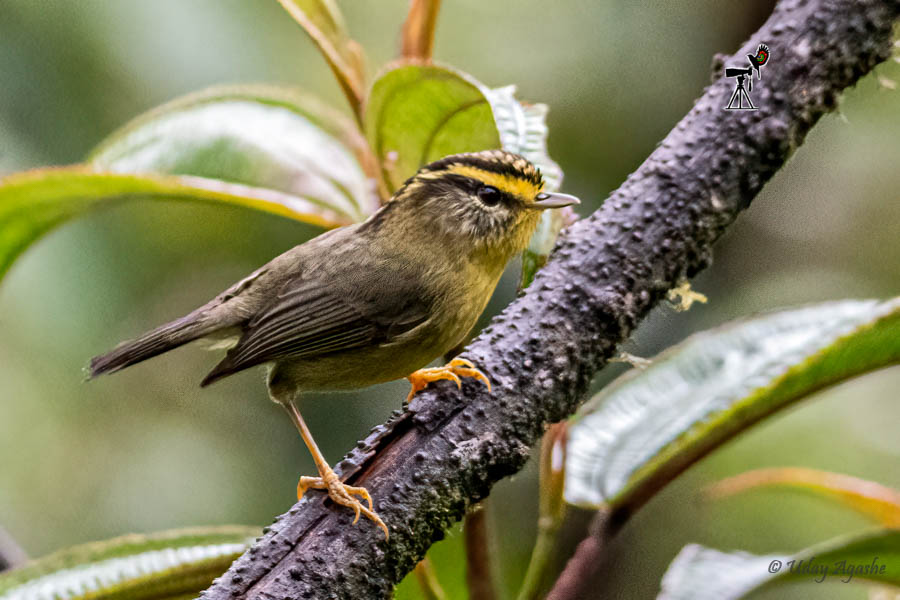 By the time we reached Coffee House, it was close to 2 pm. The caretaker there was waiting for us at the door itself. From Roing, we had also carried some provisions for them (that was the nearest town and there is nowhere else they can get any supplies from). From the outset, it looked like a beautiful place, right on the edge of the valley (due to the clouds, and fog we could not see the actual valley at that time). Besides that structure, there is nothing else in the vicinity. The structure seen in the picture here was our dining area and 2 rooms (plus the kitchen and dormitory). The rooms that we were staying in were behind it at a further height (close to 50 odd feet). The reason I am mentioning the height here is, that we had to carry our luggage all the way. And at that altitude, it was a task. Normally I insist on carrying my luggage myself but here I would have readily accepted some help (but none was available 😩).

Just by walking up a few steps, we were getting breathless. Carrying our heavy bags was even more difficult. Finally, I ended up carrying the bag on my head (like the Coolies do on railway stations) and reached the room with 2 stopovers to catch my breath.

But before that, we kept our bags in the vehicles and had our lunch. That simple menu of rice, dal, and potatoes tasted so nice. And not to forget, the hot coffee after lunch. It was so cold there that we even preferred to drink hot water.

A little rest later, some of us went out again for birding. It was raining heavily now but we hoped to at least go till Mayudia Pass which was about 5 km. We started but the rain was getting heavier, plus the fog had engulfed the air badly. In that weather, no birding was possible anyway so we decided to return (hoping to go for owls in the evening).

By 5, it was getting dark and we had the realization that from now onwards we will be without the electricity (barring a couple of hours of generator power for battery charging). There was nothing that we could do (no mobile signal – although specifically for this occasion I had bought a power bank). We then decided to go through the list of birds that we had seen in the last couple of days (we had missed the evening summary session for 2 consecutive days anyway). As can be seen in the picture, my torch was put to good use here.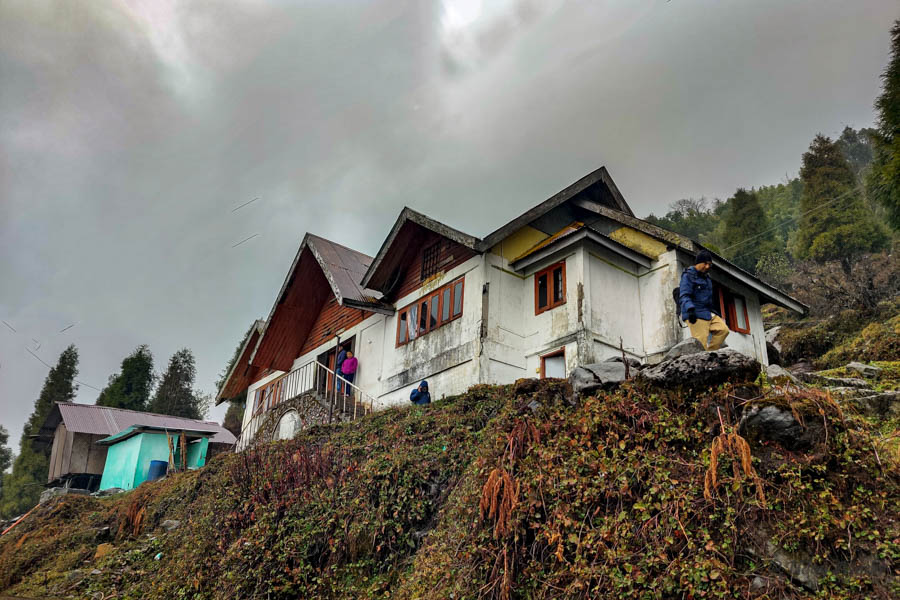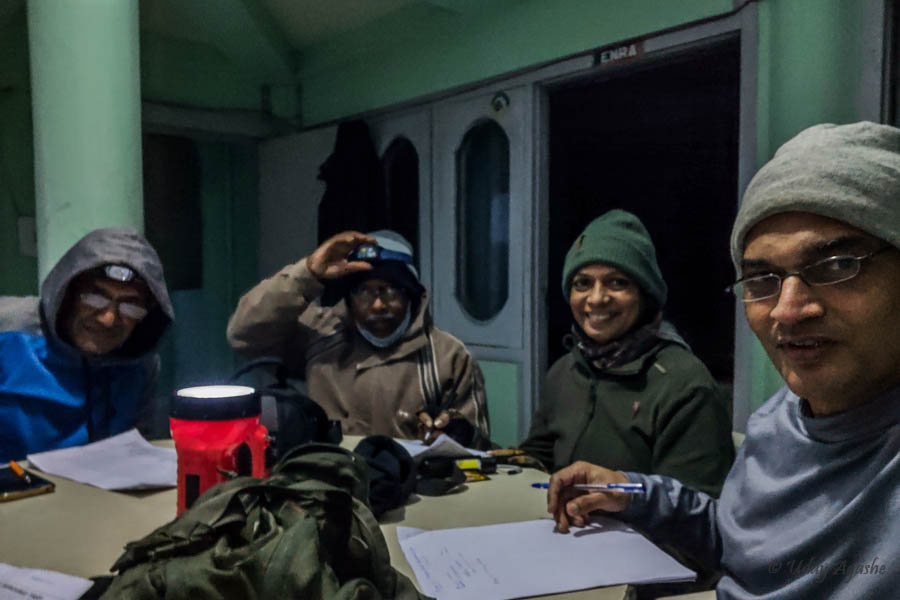 The alarm went off at 4 am and we managed to get ready in the dark (using the torchlight). There was no sound of rain and when we came out, the sky looked clear. This was a welcome change as the rains were non-stop for the last few days.

Our first target in the morning was to look for the Blyth's Tragopan. The known area for this bird was a little ahead of the Mayudia pass and the route was picturesque. The lovely snow-clad mountain ranges were saying good morning to us. Unlike in our cities, we could see the clouds below us.

We all got down from the vehicle and sat on the road itself (so as not to disturb the bird when (and if) it comes out in the open. Only Palash went ahead to check on the Tragopan. Soon he told us the bird is there we all could hear the calls. We waited with expectation for a long, but there was no sign of it coming up from the valley. We decided to move ahead and called our vehicles (as usual, we walk on the road but the vehicles are kept at some distance). As soon as the first vehicle arrived, we heard the Tragopan call again. All our eyes were down in the valley when suddenly some of us saw a shade of red about 20 feet below. Just a minute before, Palash took my camera saying he will be able to see it better. And guess what, I could see it in the open with no camera in hand. That's luck!! It was there only for a second or so and then moved inside the clutter. Thankfully, some of us did get a few record shots.

From there we moved further ahead towards Hunle town (this was the other end of the road from Roing). Little ahead we saw a green-tailed sunbird and Streak-throated Fulvetta.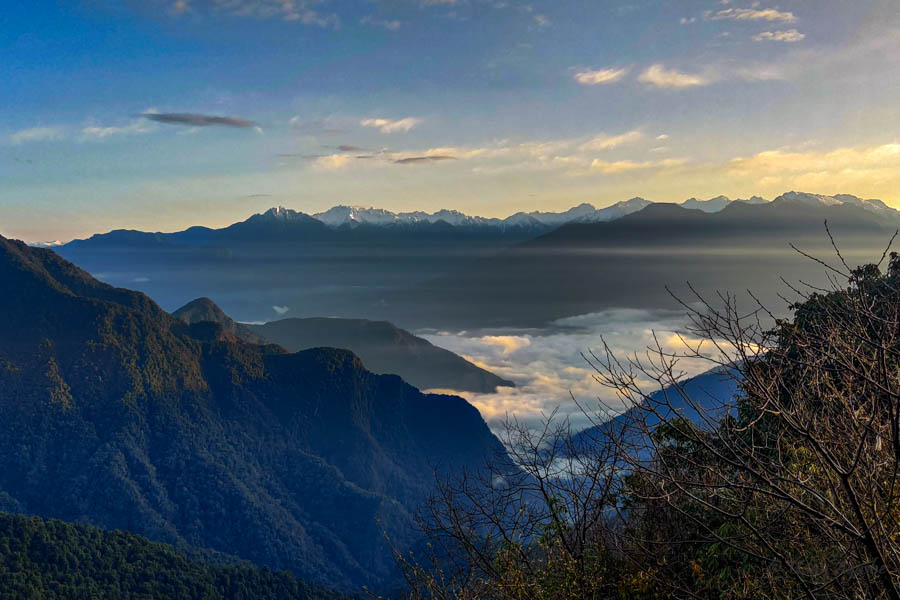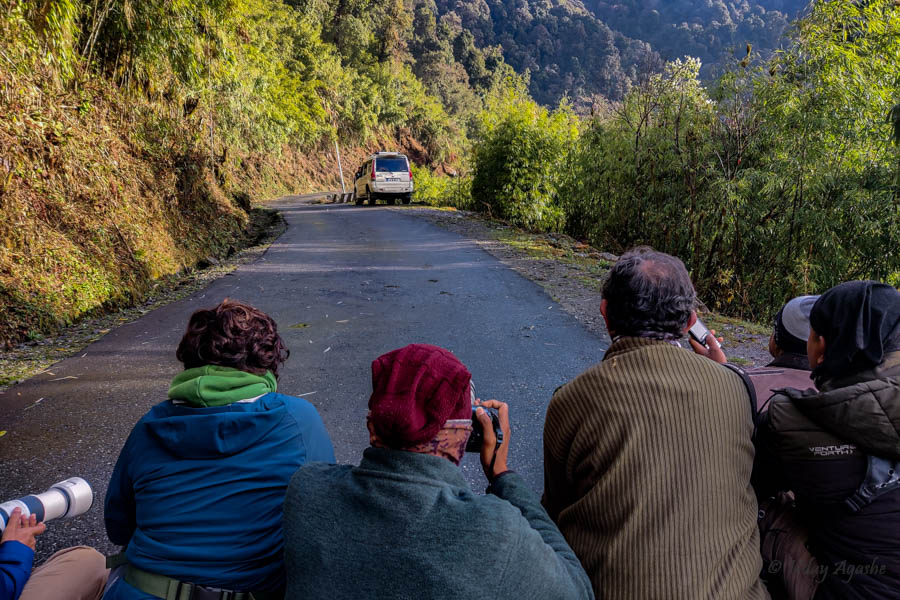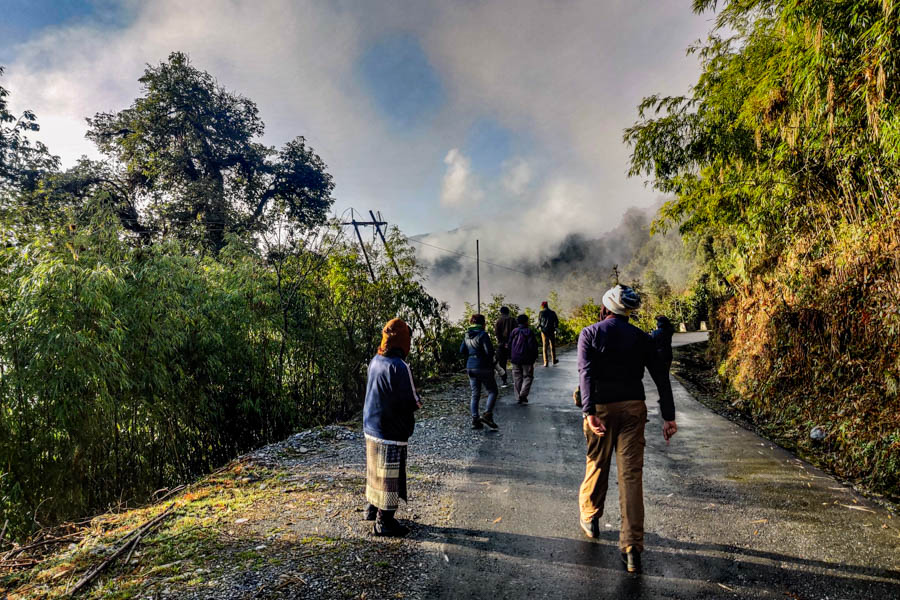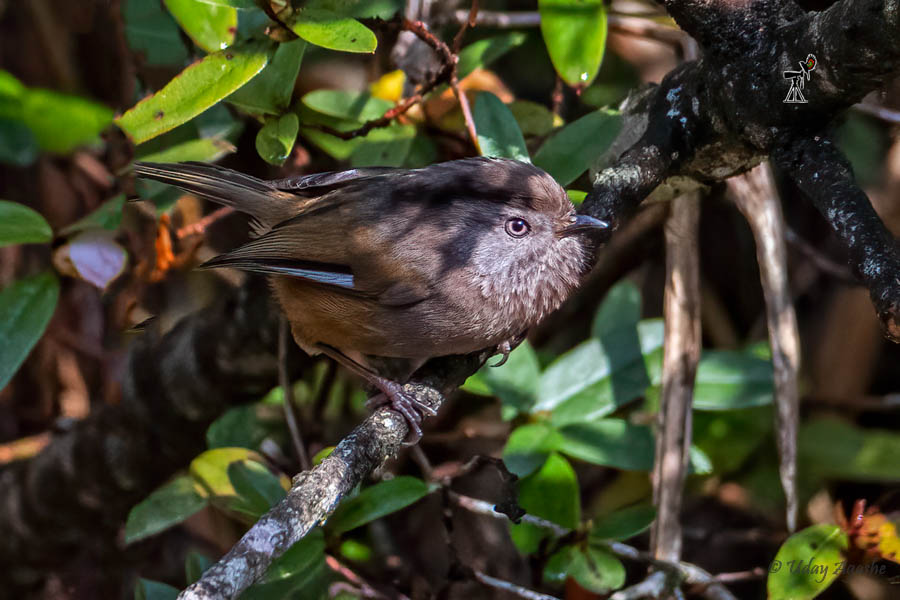 Little ahead we reached a place called 65 Kilo (got the name as this place is at 65 kilometers distance from Roing town). It was about 7:30 and this was going to be our breakfast (and lunch) place anyway. A small structure (Dhaba) that is very neatly maintained. The place is mostly frequented by birders and truck drivers. It is run by a few ladies and they were moving around quickly and the food was served without wasting any time.

The place has its charm for birding as well. The lone window overlooking the valley was also a birding window. As we peeped thru it, we could see a pair of White-collared Blackbirds. Being a lifer, I did not waste any time and quickly grabbed my camera. After the nice breakfast of Maggi+Omlette and Tea, we decided to scan the backside of the Dhaba for more birds and we were not disappointed.

As our eyes settled, we could see a Eurasian Jay, a few Black-faced Laughingthrushes, and Olive-backed pipits. Little later we also sighted the Eurasian Wren (which seems to be a rare one but we could see it on that village road itself). With so many birds, we ended up spending close to 1.5 hours there but it was worth it.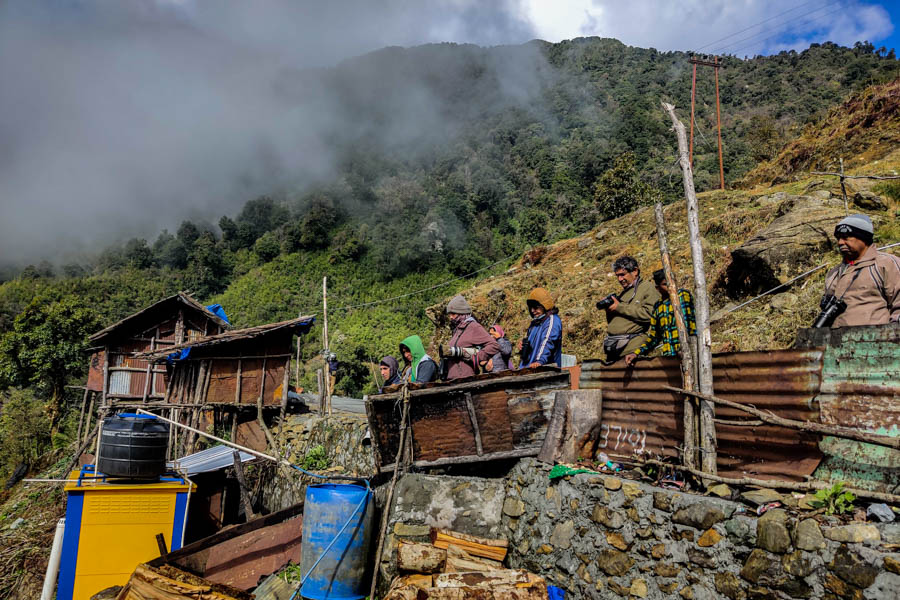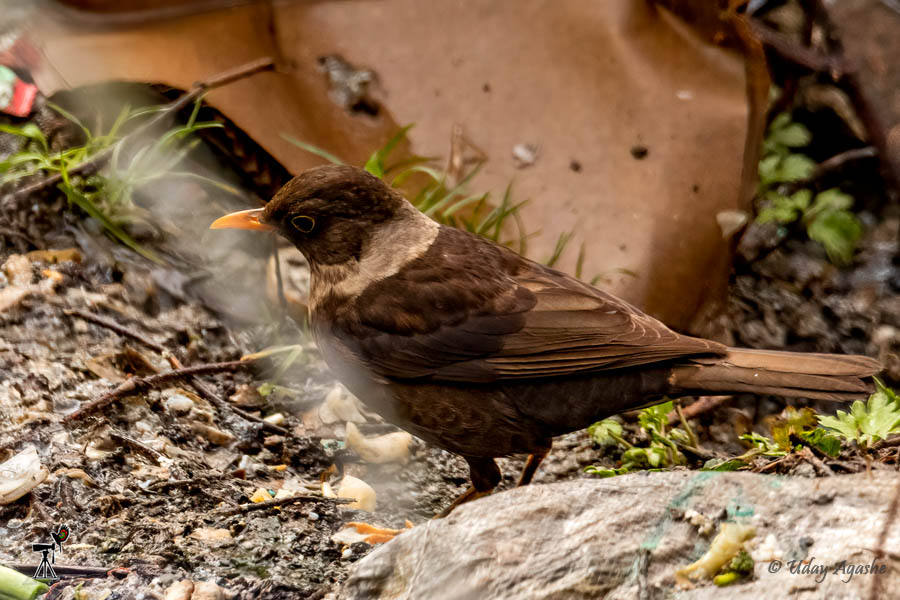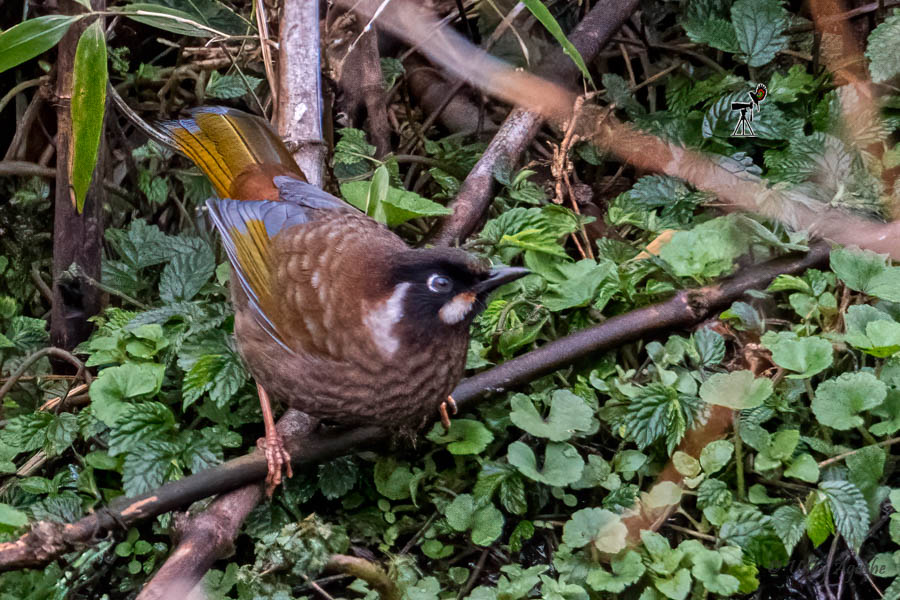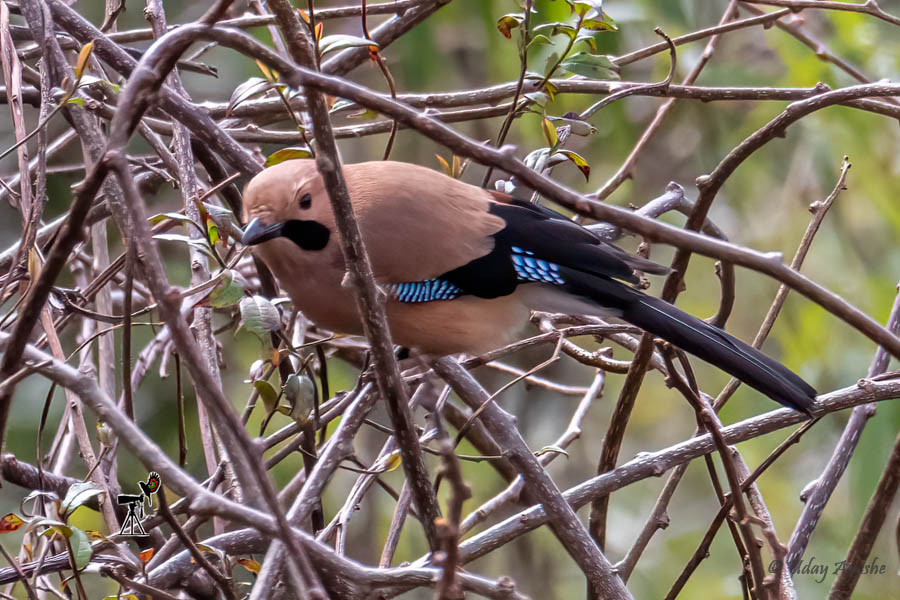 From there we moved further (towards Hunle), the views were so spectacular that at times, we waited to photograph the vista (instead of birds). If you look at the second picture, the zigzag roads can also be seen and we were planning to go down this same route.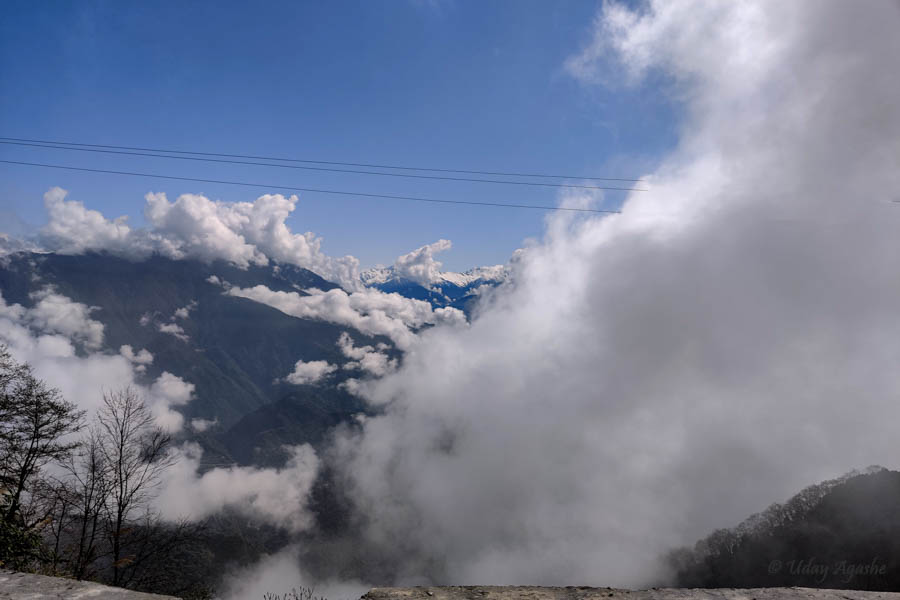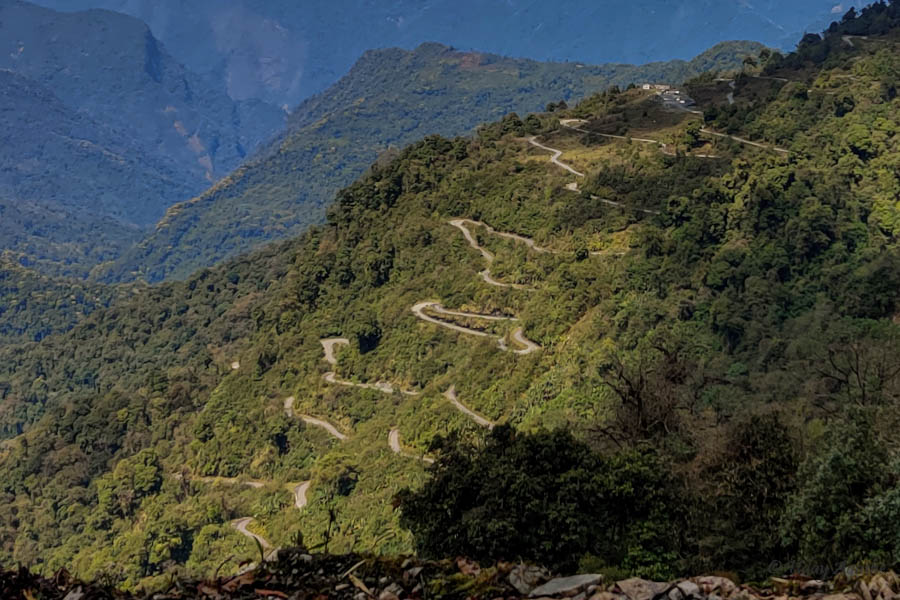 Today, the rain gods were with us and we moved around with as many birding breaks as necessary. The Sibias were relatively more common here. Then we came across the White-tailed Nuthatch. These nuthatches are typically seen on tree trunks but here it was seen in the open. It was hot and the light now was getting harsh (for the first time during this trip… all along we were complaining only of low light). As we were moving in the car, Avinash spotted some movement in nearby bushes. We all got down and started looking in that direction. Soon a little birdie showed up in the bushes. It was the Black-throated Prinia. As we waited there for some more time, we saw the Yellow-throated Fulvetta nearby.

From there we decided to turn back and head once again to the 65-kilo spot for lunch. On the way, we did see White-naped yuhina, Orange-bellied leafbird, Yellow-cheeked tit, and the beautiful Fire-breasted Flowerpecker.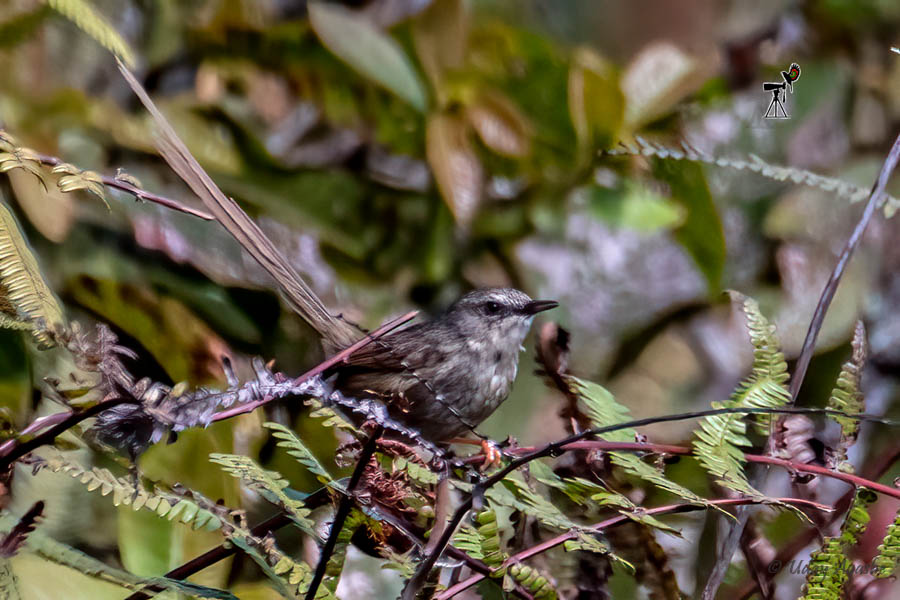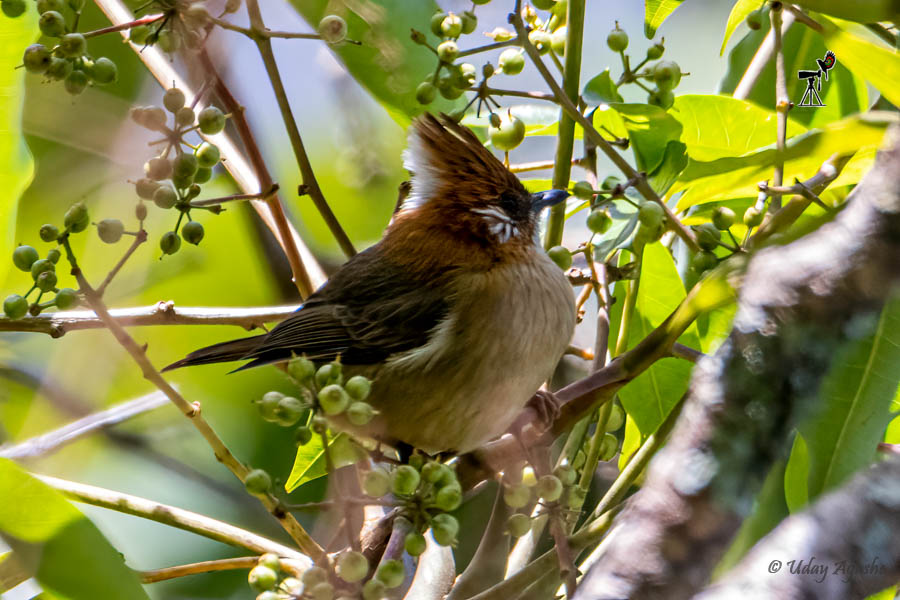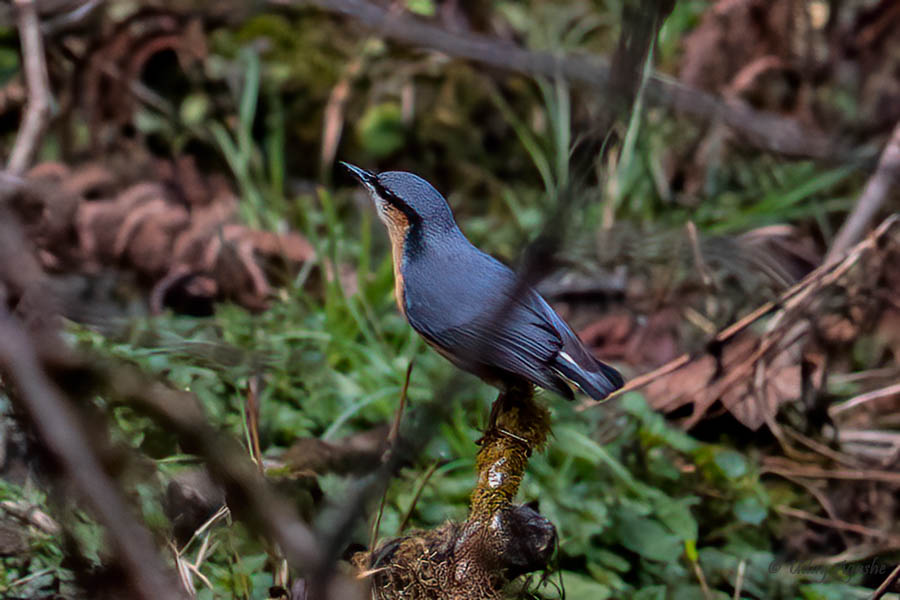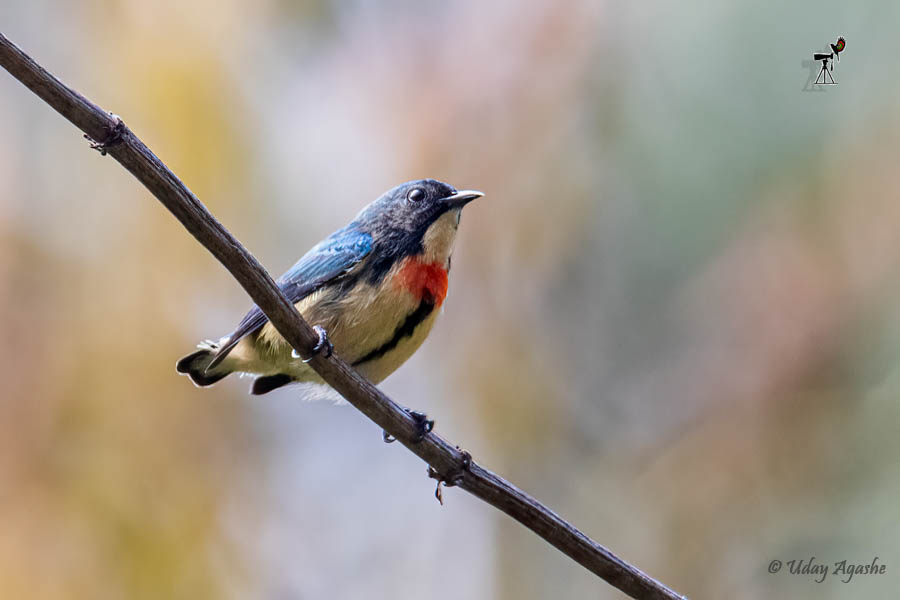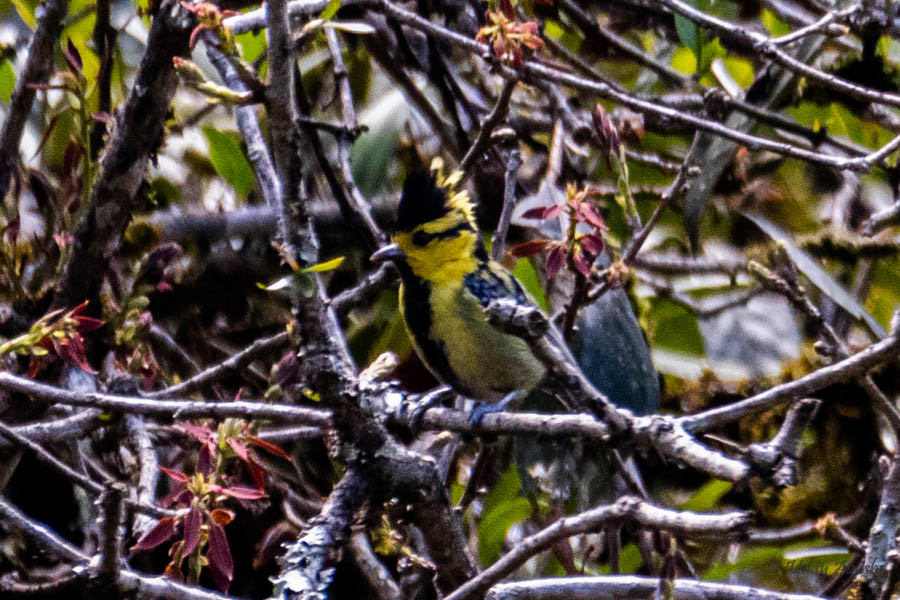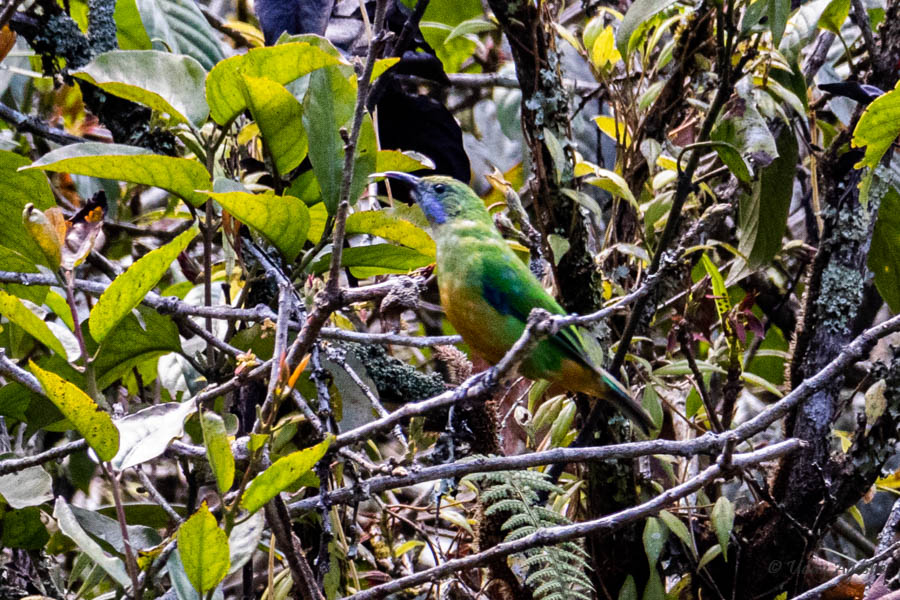 A relaxing lunch break later, we started our road journey and within a few meters found the two beautiful sunbirds close by. We spent a lot of time there are the sunbirds seemed to be very cooperative and remained perched in clear for a long.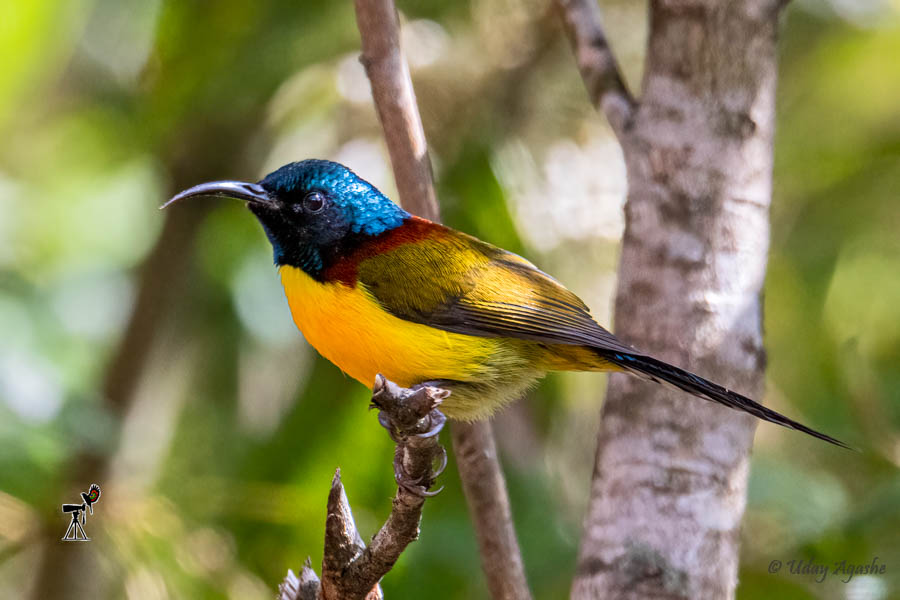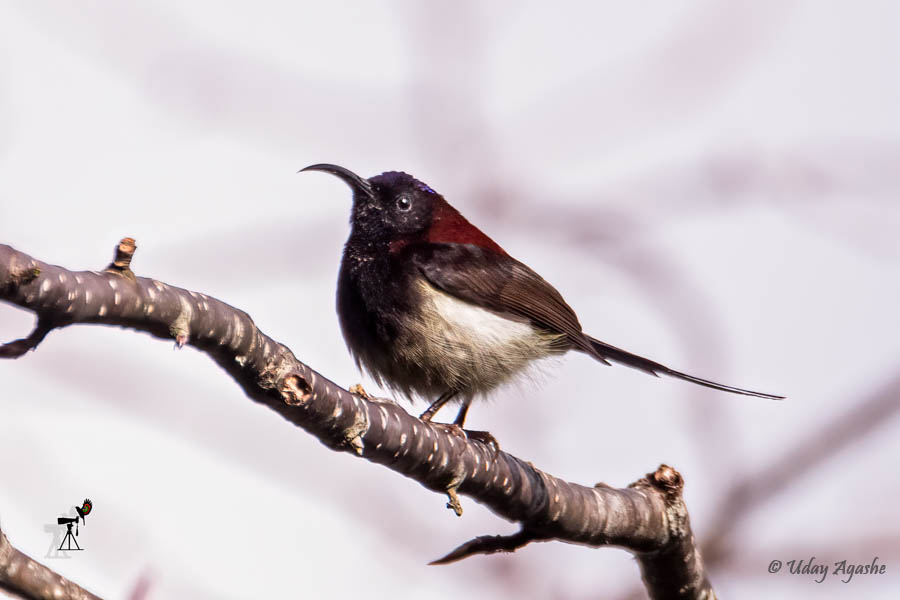 As we were moving back to our resting place, we came across a few birds that we had seen earlier but there were some new ones too. Notable among them were Rufous-gorgeted Flycatcher & Rufous-vented Yuhina. The Ashy-throated Warbler was also seen on the way.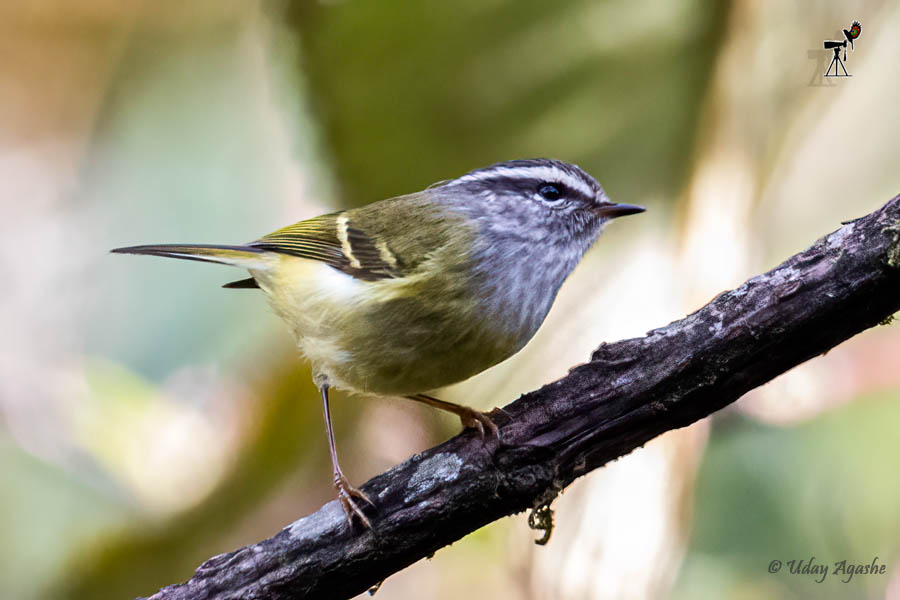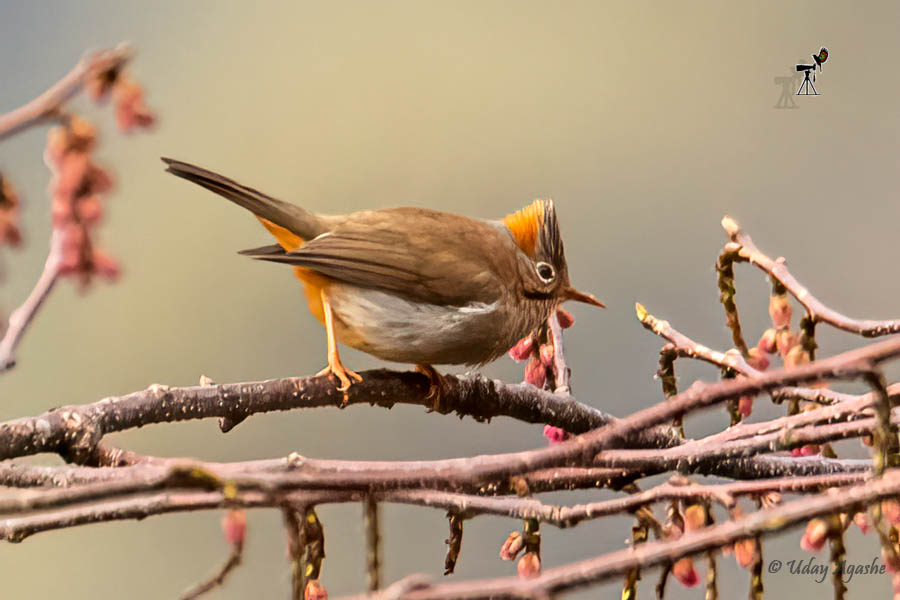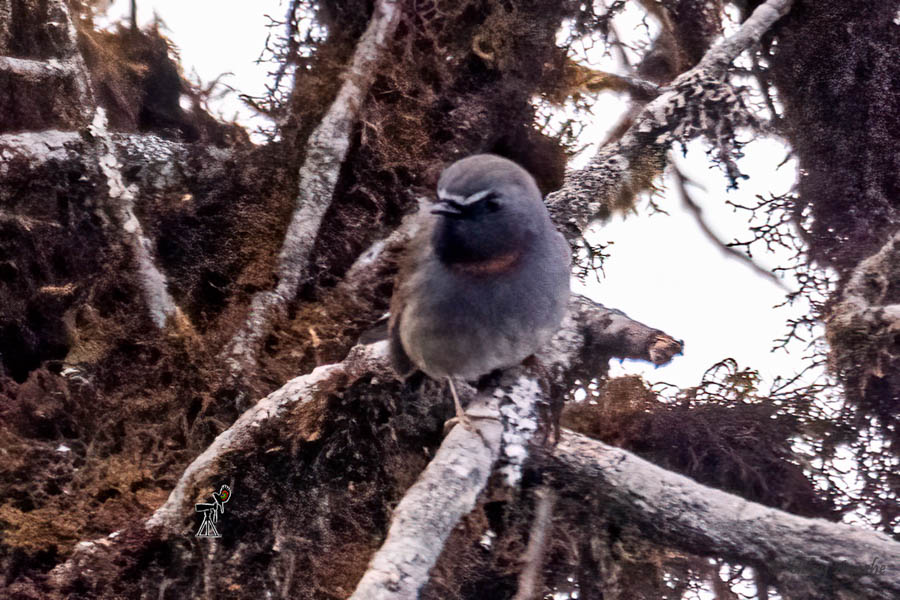 By the time we reached Mayudia pass, it was already 4 pm, time to close the day. But we managed to get a few birds there as well. First was a pair of Dark-rumped Rosefinch, they seem to be staying at that spot as we kept seeing them every time we passed that location.

The Ludlow's Fulvetta was the most beautiful. It kept coming out in the open now and then and every time our cameras kept clicking. After some time, we started saying "अब बस। .. लुड़ लौ को तो लूट लिया .." in Hindi. As it vanished into the jungle, the Chestnut-tailed Minla appeared in the scene. Then came the Bar-winged Wren-babbler, but this babbler preferred to remain behind the tree cover all the time.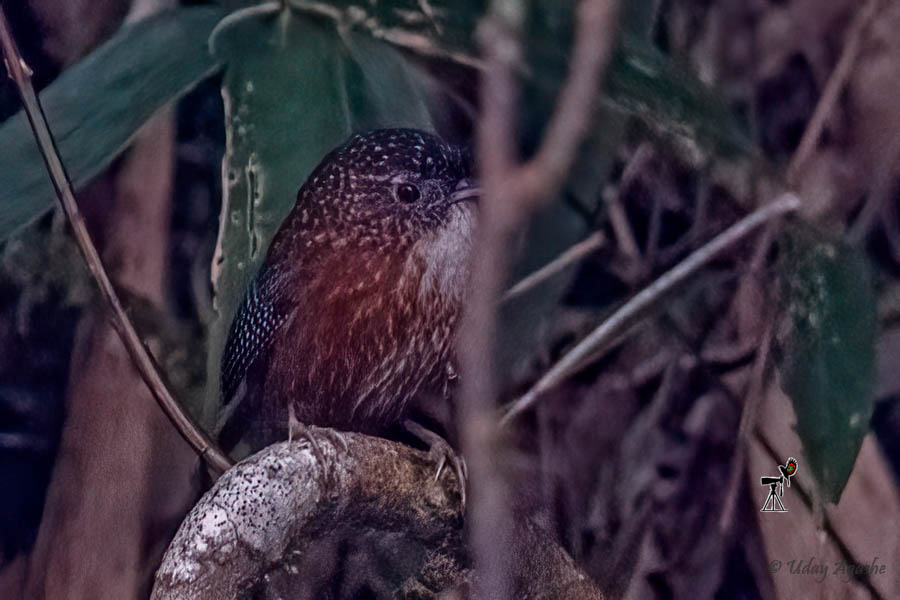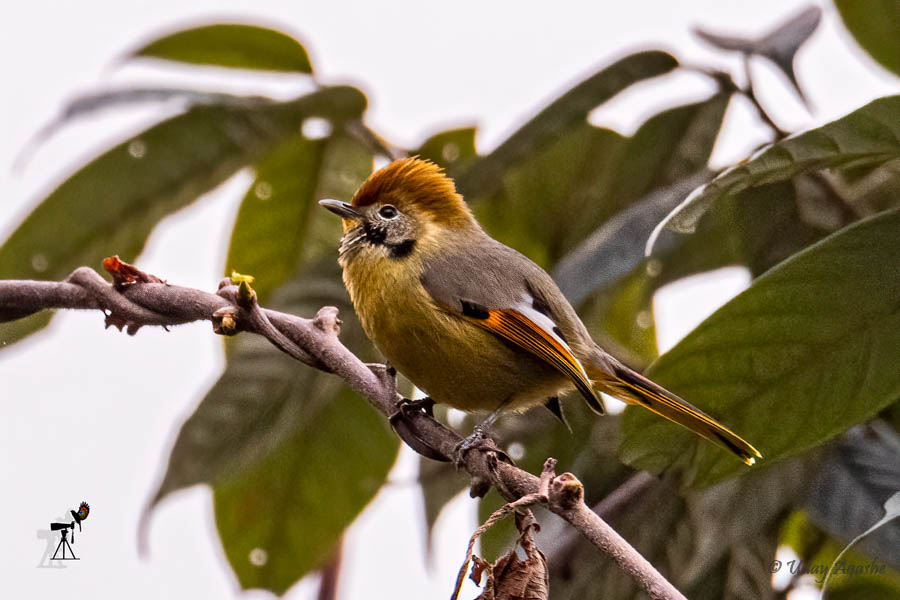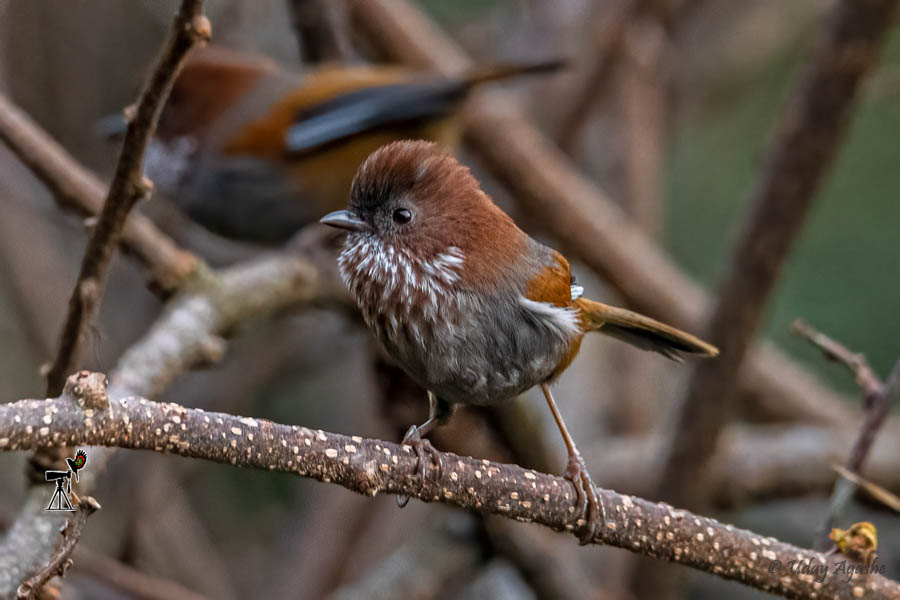 By 5:30 we were back to Coffee House, just in time for a nice cup of Hot Tea. Here in the picture, you can also see the structure on the upper side where we were staying.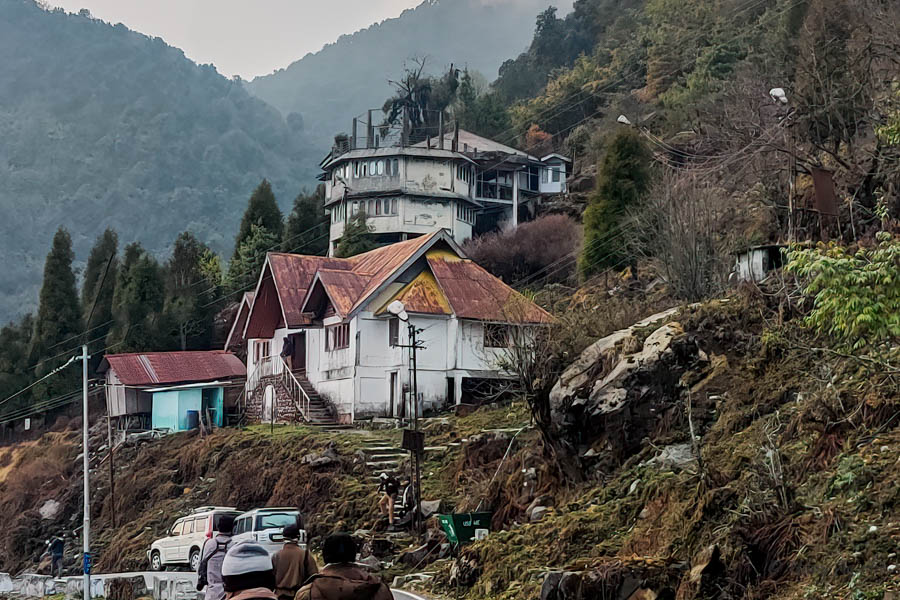 Once again we were ready to get into the darkness but today our Doctors worked their magic with the caretaker. By paying some extra charges, they agreed to provide extra 2 hours of power (one hour in the evening and one hour morning, for us to get ready).

Today as the day was clear, we decided to go for Owls. Spent about an hour searching along the roadside but our owl luck was still not working. Came back empty-handed. Here one of our drivers suddenly had altitude sickness and then Avinash had to take up driving that vehicle for some time.


Back to Roing

We started the day at the same time (5 am). And instead of directly traveling back to Roing, we decided to go again towards the 65-kilo area for morning birding and then come back to Coffee House for lunch/ check-out.

Once again our first target was the Blyth's Tragopan but this time, it did not pay any heed to us. Today the rains restarted thereby reducing our chances of good photography/ birding.

On the way, we saw another Hunting party so we waited (even though it was raining). Although the birds this time were far, we could see Rufous-winged Fulvetta, Black-eared shrike-babbler, and a few other species. Little later we saw the Green-tailed Sunbird, this time clearly showing its tail.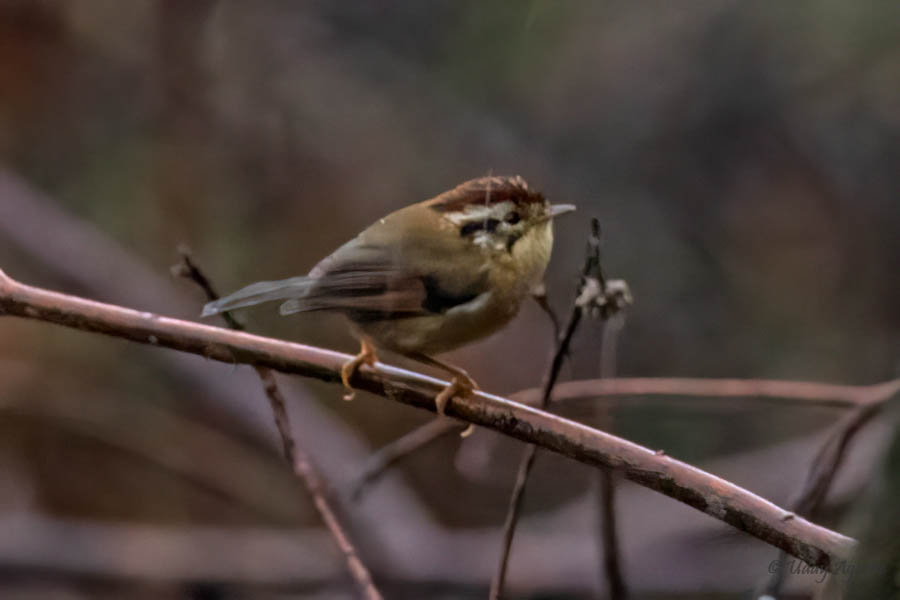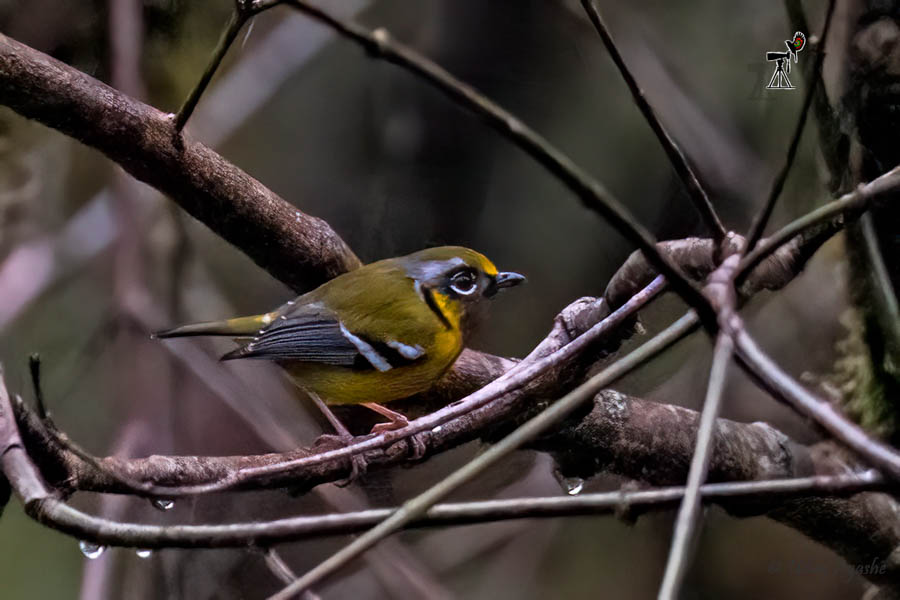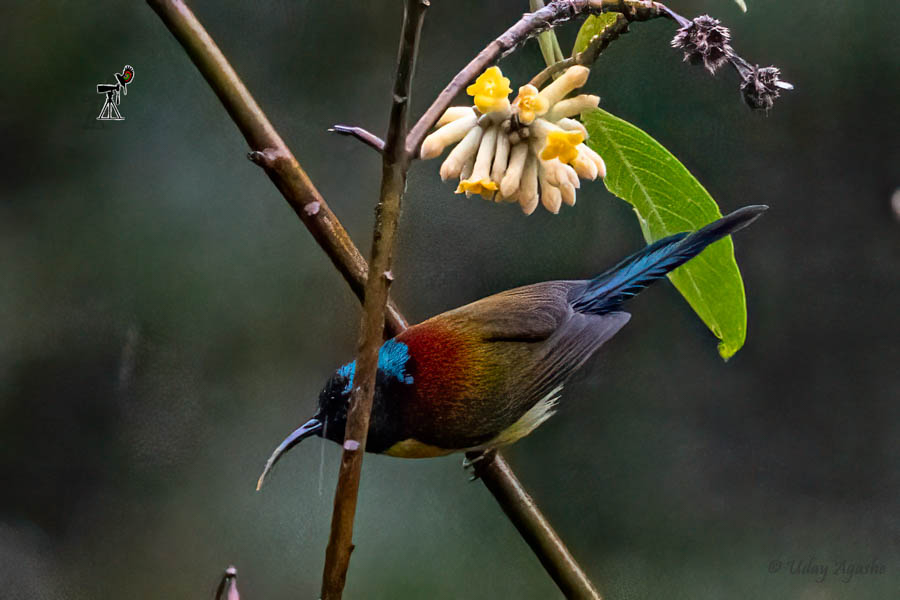 By 7:15, we were at the 65-kilo spot and today we decided to have an early breakfast. As usual, the Dhaba provided a nice roadside birding, so we stopped for that too. Here we were able to see the Maroon-backed & Rufous-breasted Accentors among other common birds.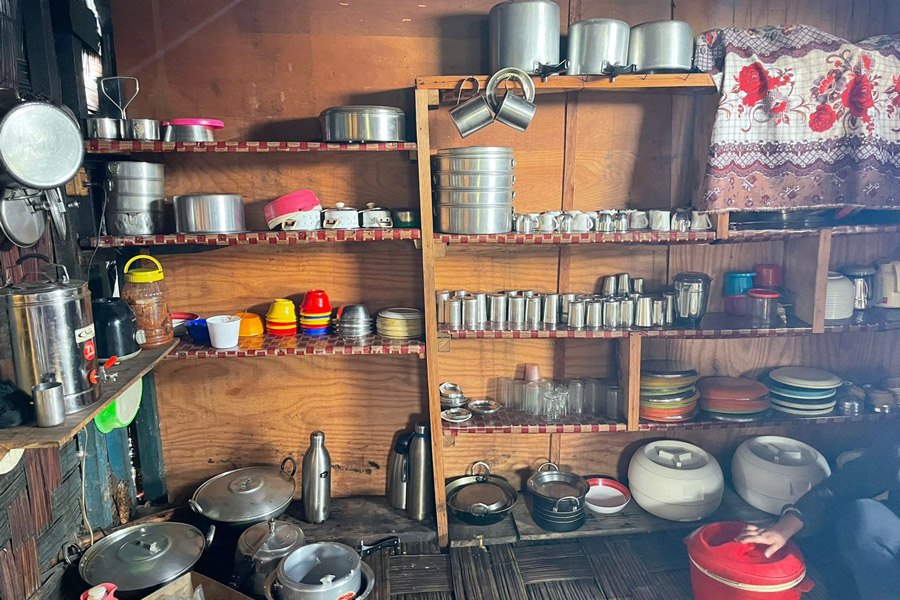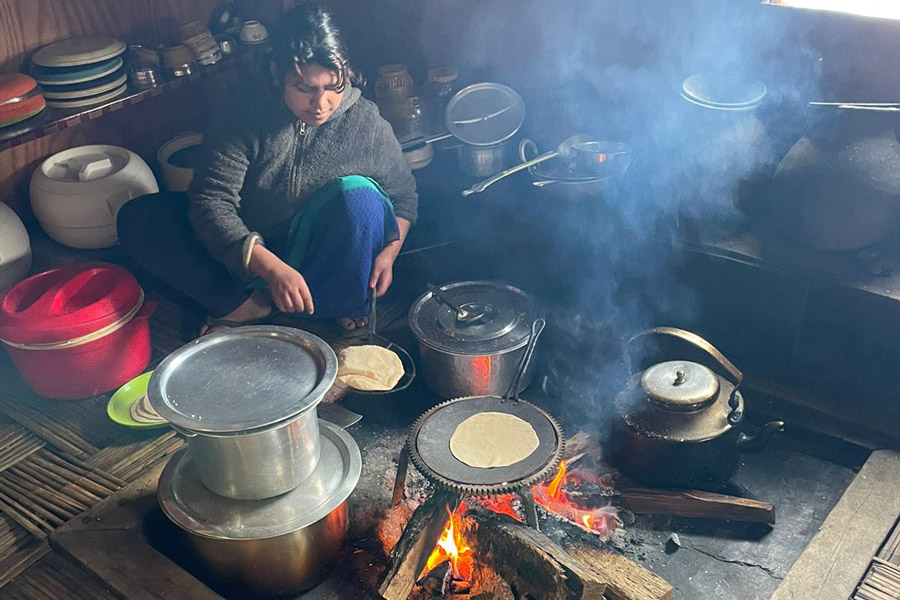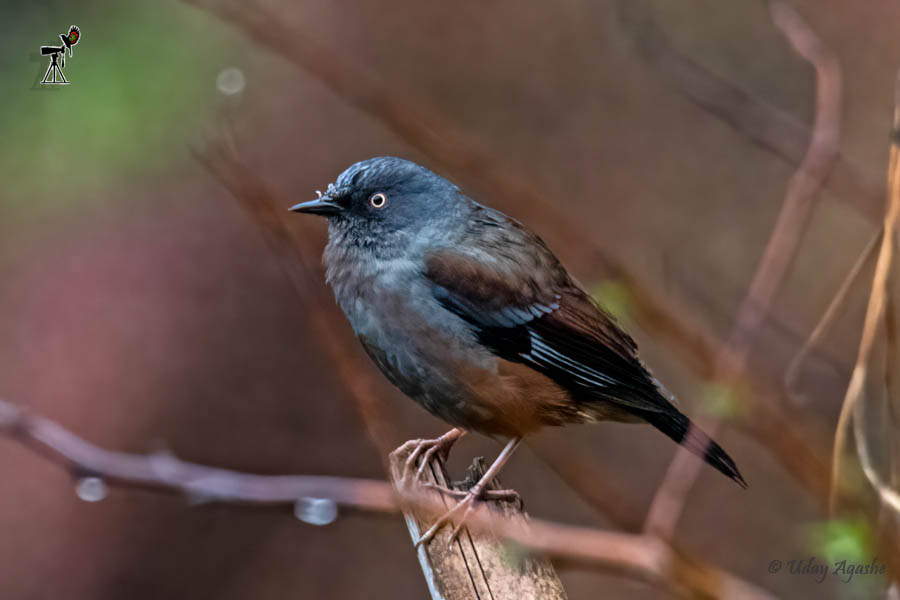 Today, the rain was playing hide-n-seek with us. But we managed to see a few more beautiful birds on the morning trail. We did not venture much beyond the 65-kilo area but we still managed to get a handful.

At the Mayudia-pass, we even had the customary group photo. Near that, we saw the Dark-rumped Rosefinch at exactly the same spot as yesterday. Here in the temple, we could hear a Marathi Bhajan being played. There was an army camp nearby and the battalion there was from Maharashtra. We had some chat with the army jawans as well. They were curious about our expedition as they were not able to see any birds. Clara took the opportunity and then quickly showed the Rosefinches.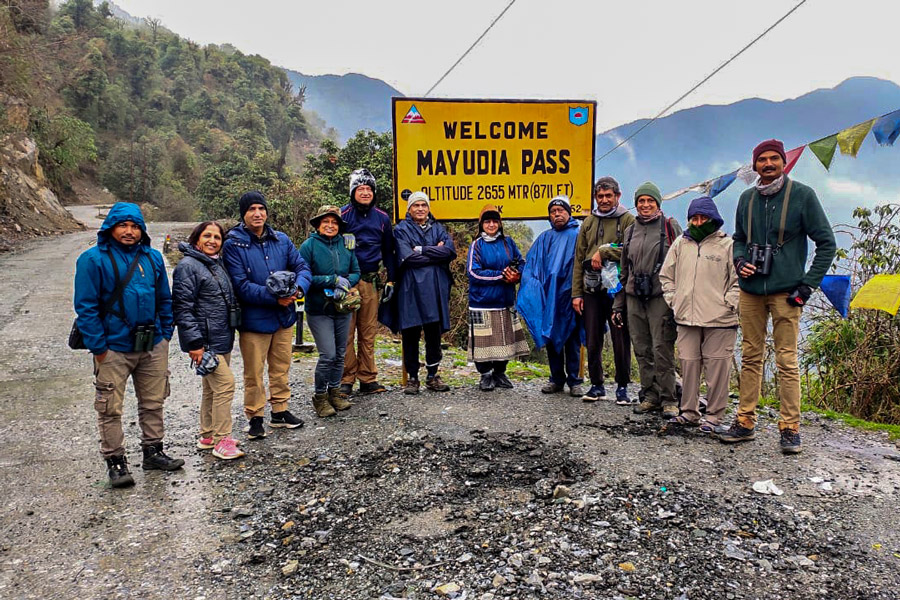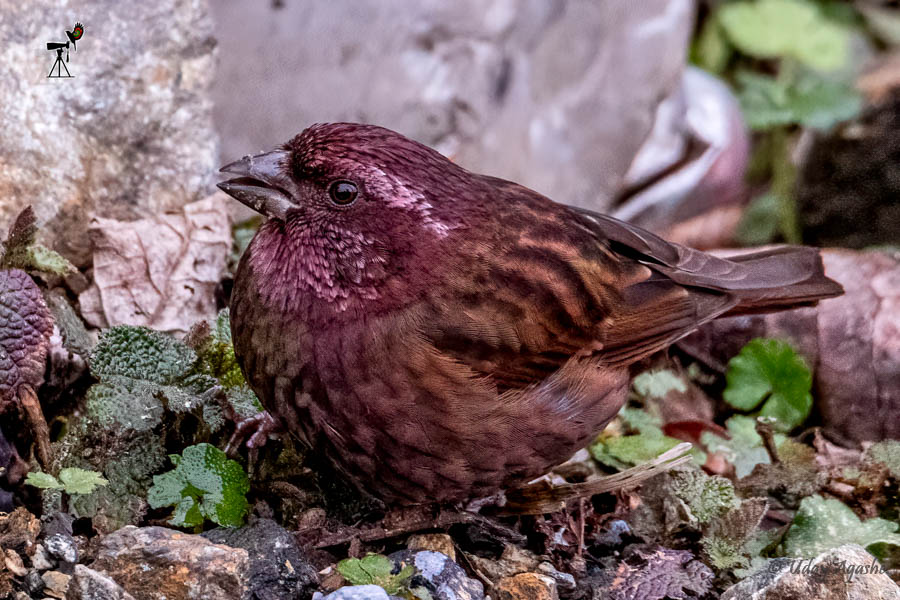 From there we continued our routine of traveling some distance and getting down for birding. First to be sighted were the Ashy-throated Warbler and Yellow-browed tit. As usual, they were part of a small Hunting Party. Little later, the Golden-breasted Fulvetta decided to cooperate and come out in the open for a few minutes. Next in line was the Black-faced warbler. Little later, a Whiskered Yuhina graced the occasion by marking its presence.

At one place, there were a few bushes very close to the road. There on the ground, we also saw the Dark-breasted Rosefinch.

On the way back to Coffee House, a Streak-throated Barwing greeted us near Mayudia pass.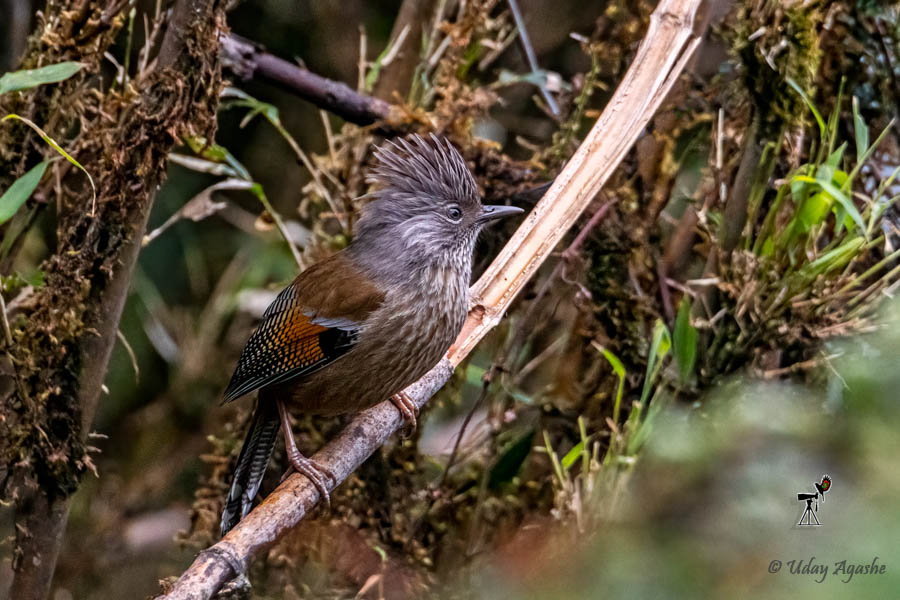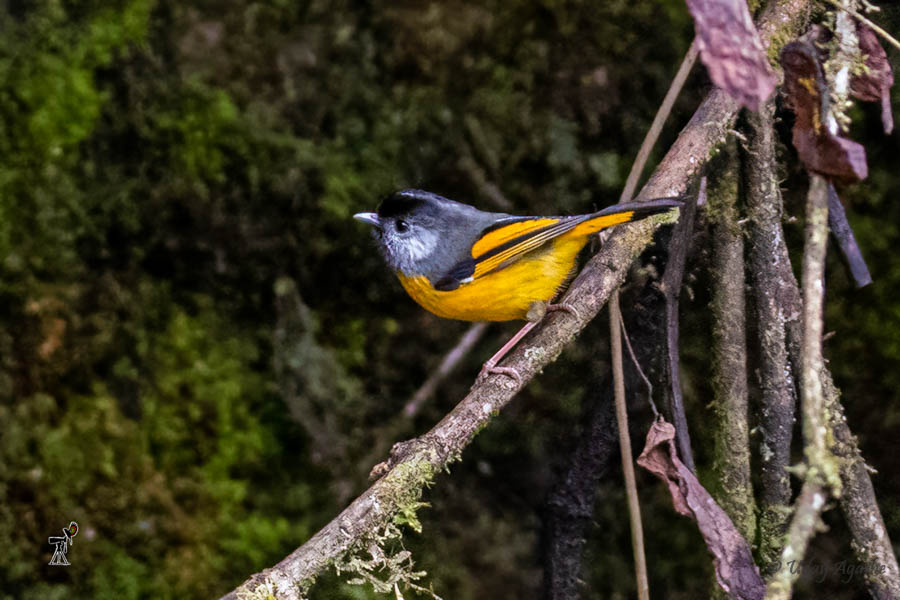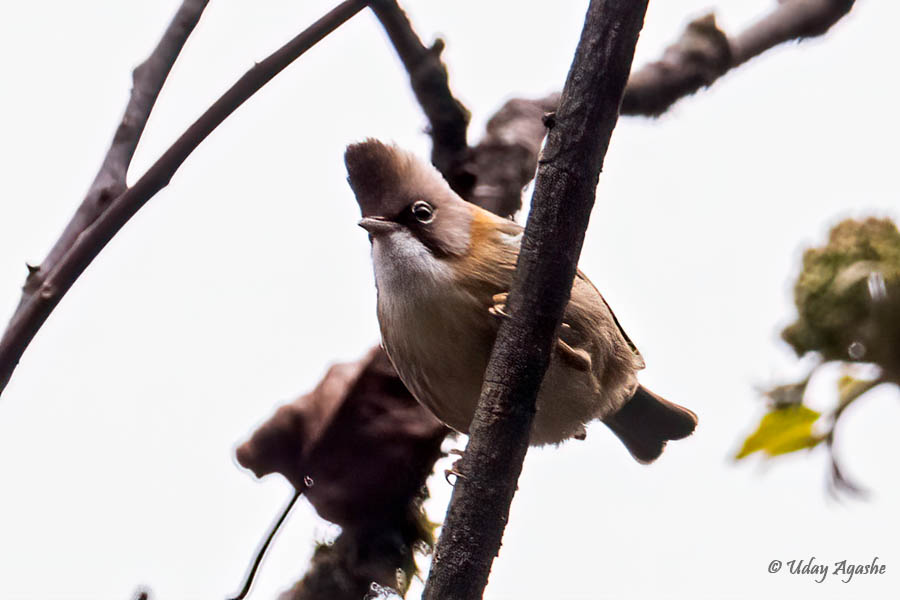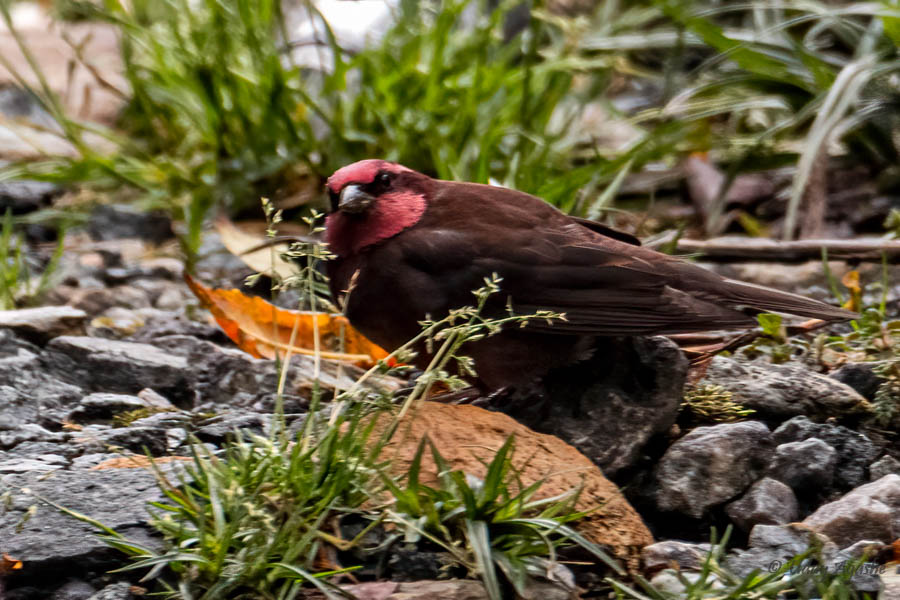 As there were no eating options en route we had our lunch before starting the return journey. By 1:30/2, we had our bags packed in the vehicle and said bye-bye to Mayudia and Coffee-house. We still had a couple of hours of daytime left and hoped to once again try our owl luck before reaching Roing. This journey though was not very rewarding, we still managed to see a few birds. A couple of hunting parties did cross our path but this time they were not very cooperative from the photography point of view.

A couple of Black-eared Shrike-babblers and White-tailed Nuthatch started the journey. Beautiful and Long-tailed sibias also followed them. But today we were also looking for the red-headed trogon. On the road, we heard its call and decided to stop there for some time. Our wait was worth it as we had its darshan (though just cursorily) too. It was well-hidden and did not come out at all.

But that was the end of the day. We could not see any owls, Frogmouth either.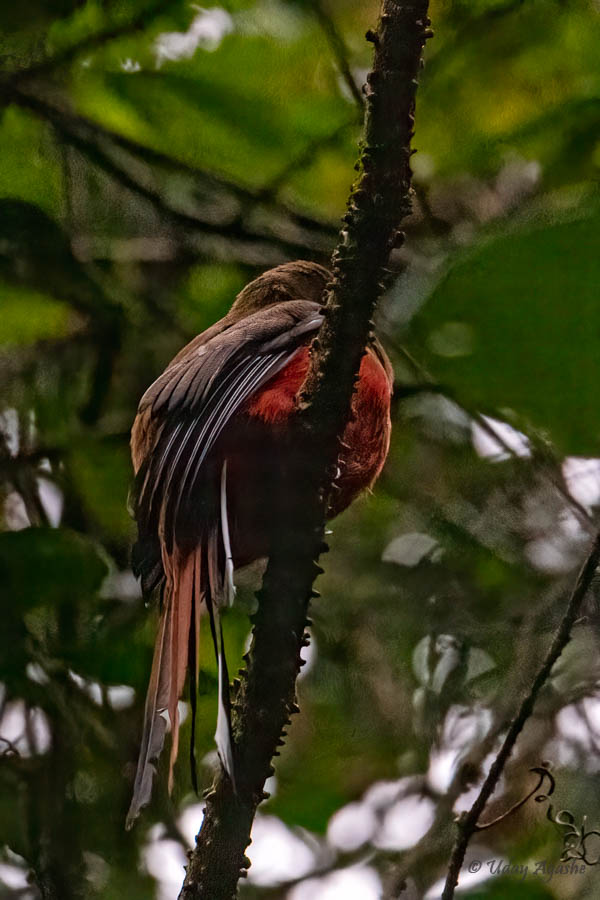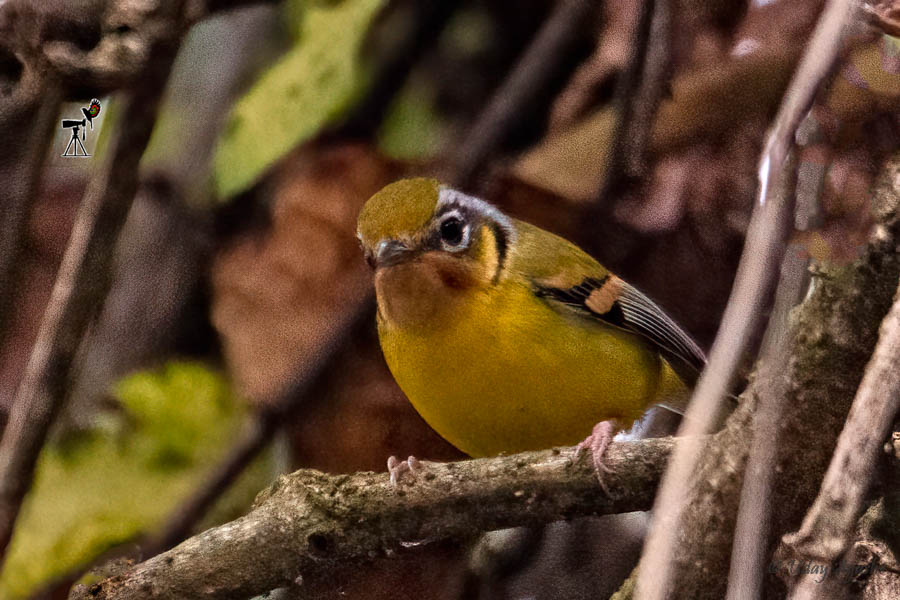 Day 7: Good-bye Arunachal

Our original plan was to cover the Jia grasslands in the morning, but Avinash informed us at night that we would instead be birding on the Roing-TiwariGaon road again. Our Nagpur friends decided to take a little rest and skipped this first session.

As we moved on to the ghat section, we waited at the regular spots (by now we all were familiar with the route). The White-breasted Parrotbills and a Red-billed Scimitar Babbler were sighted quickly. The minivets were also there in good numbers. Just as we were moving on the road, we sighted a bigger bird perched on a roadside tree. Considering the size, it had to be some raptor. When we got down to check, we discovered it was a pair of Himalayan Buzzards. The Streaked Spiderhunter was also close by.

While returning, we noticed a large flock (close to 50 birds) of raptors flying overhead. On closer inspection, they looked like the black-eared kites, there were probably on their return migration route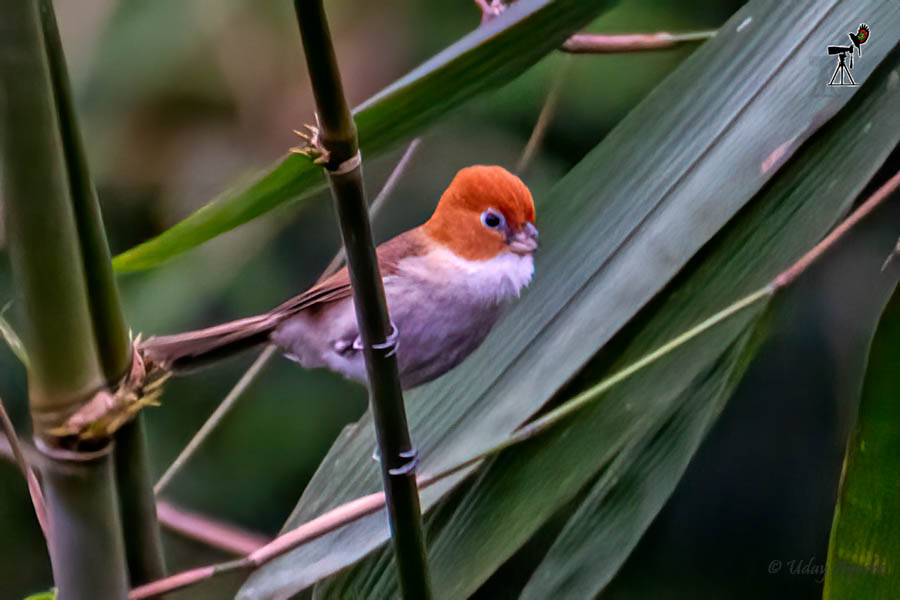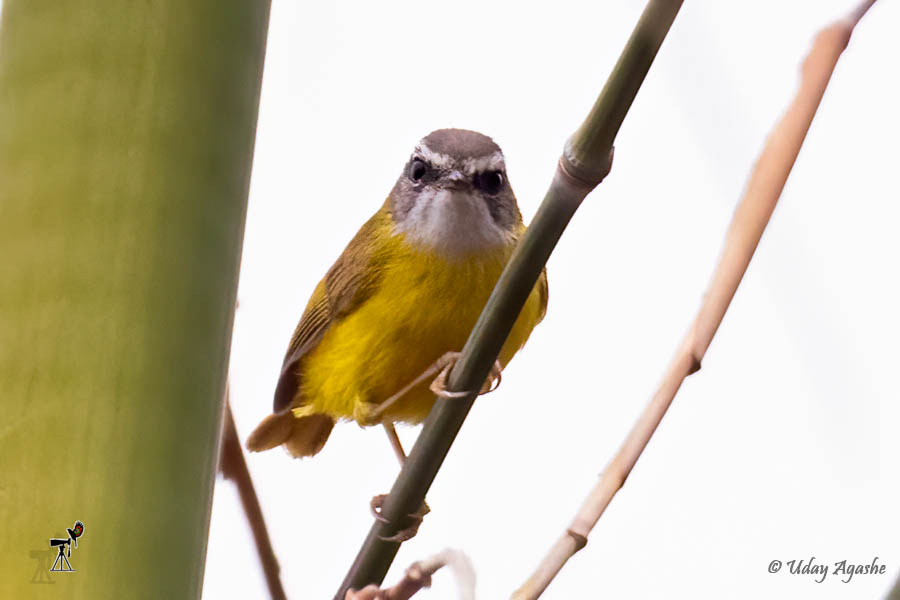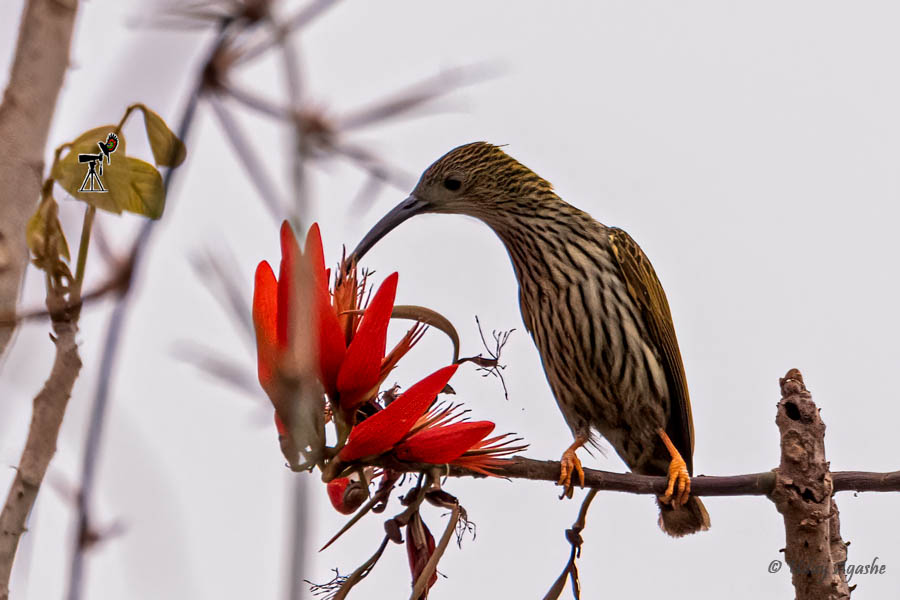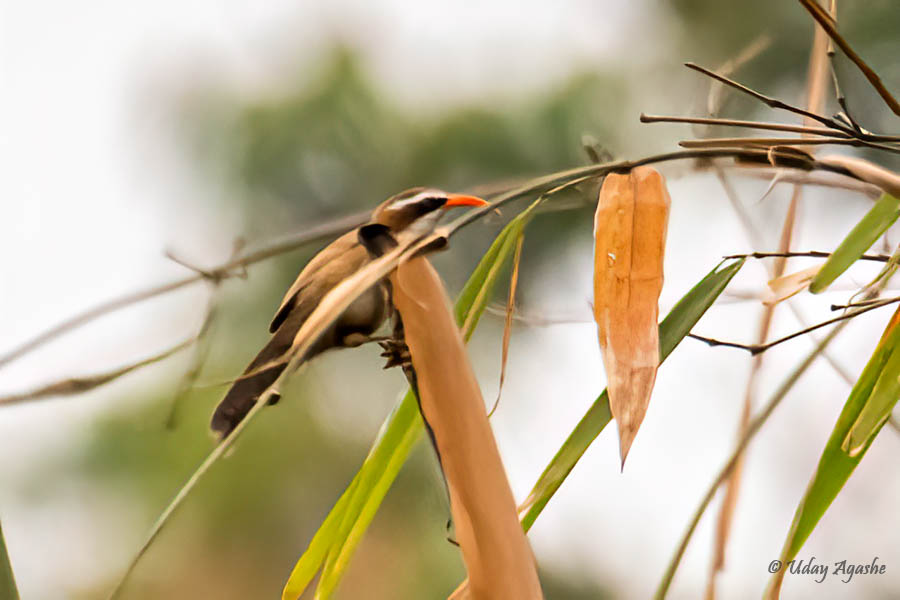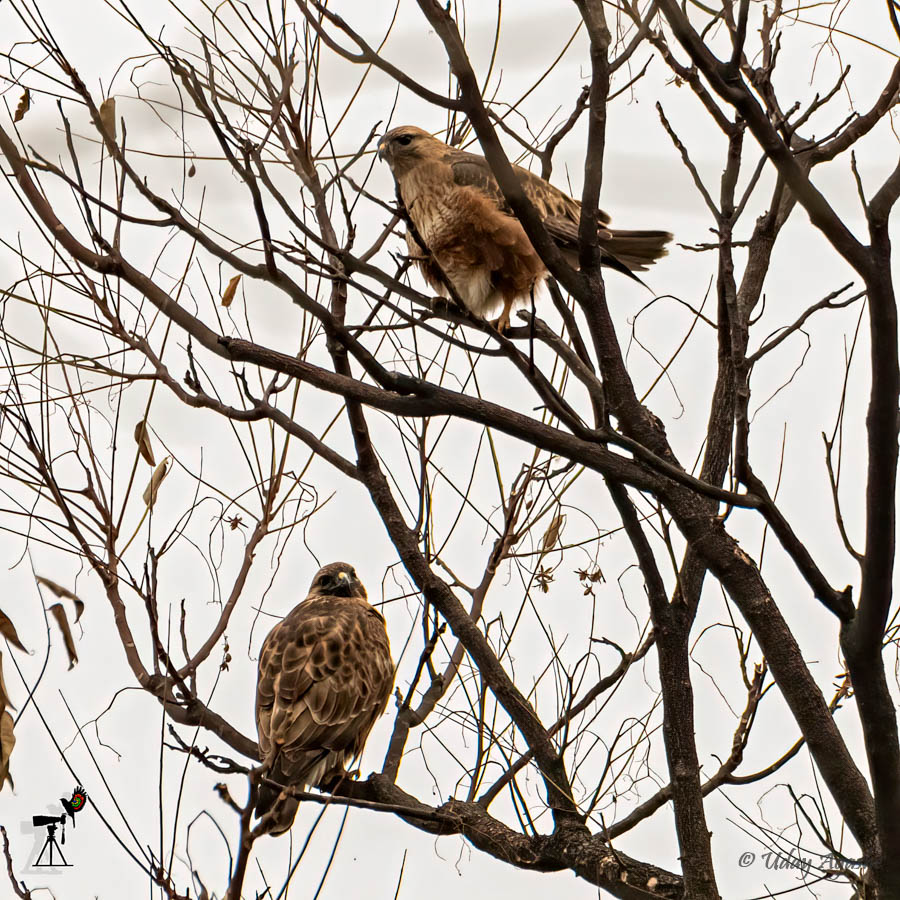 By noon, we had reached the Yatri Niwas, within 10 minutes packed our bags, and were on the way to the Jia grasslands.

The grasslands were on the way from Roing to Tinsukia town (our next night halt). We decided to cover that and then go into Assam for lunch (rather than finding something in Arunachal).

Our stop at the grasslands was only for about an hour but we could sight a few grassland-specific birds that we had not seen so far.

Jerdon's babbler was a rarity, so its sighting was a special one. This place had a lot of butterflies but because of my memory card issue, I wasn't catching many of them. Here though I could not resist this Common Map butterfly.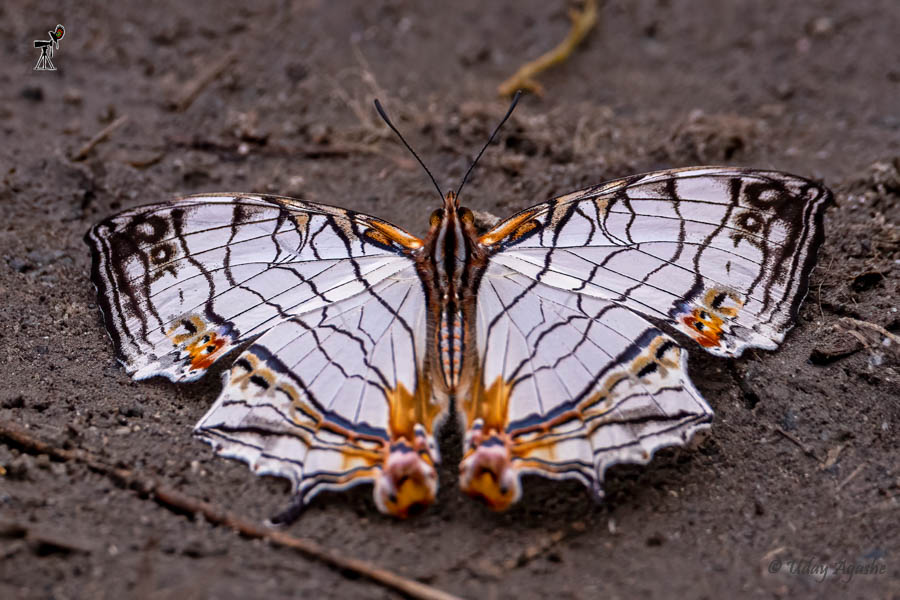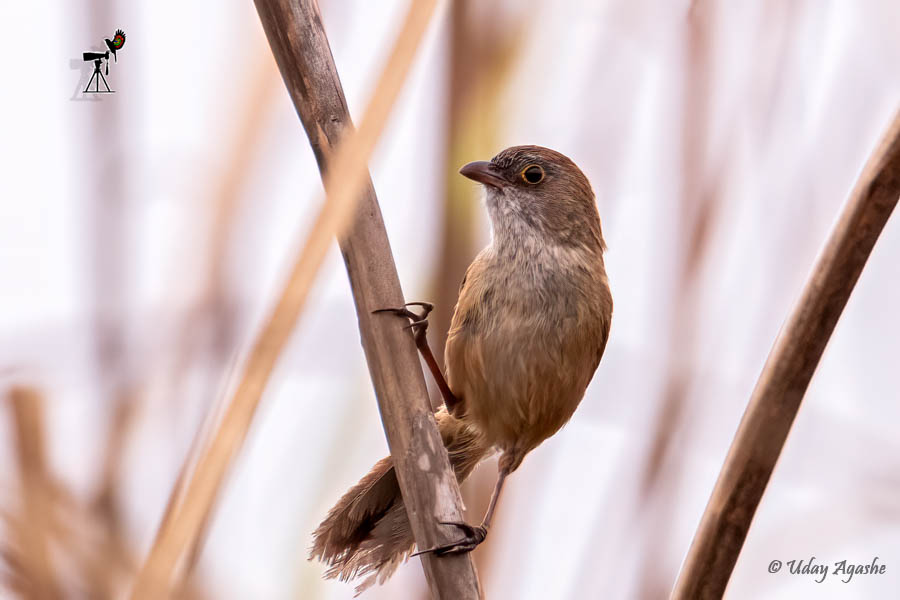 As we were crossing the long Bhupen Hazarika bridge, our guides were on the lookout for 2 species and fortunately, we saw both. The Black Stork was a lifer for me.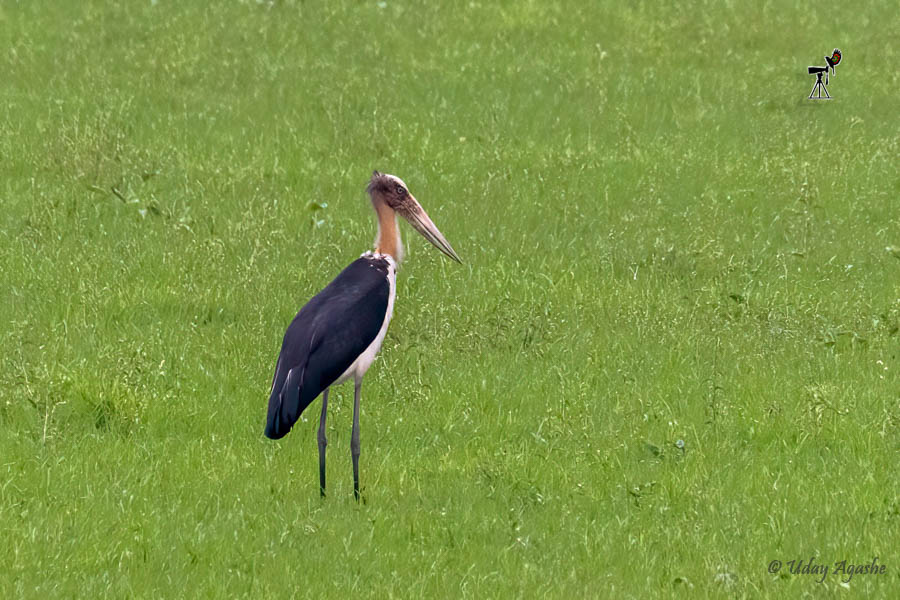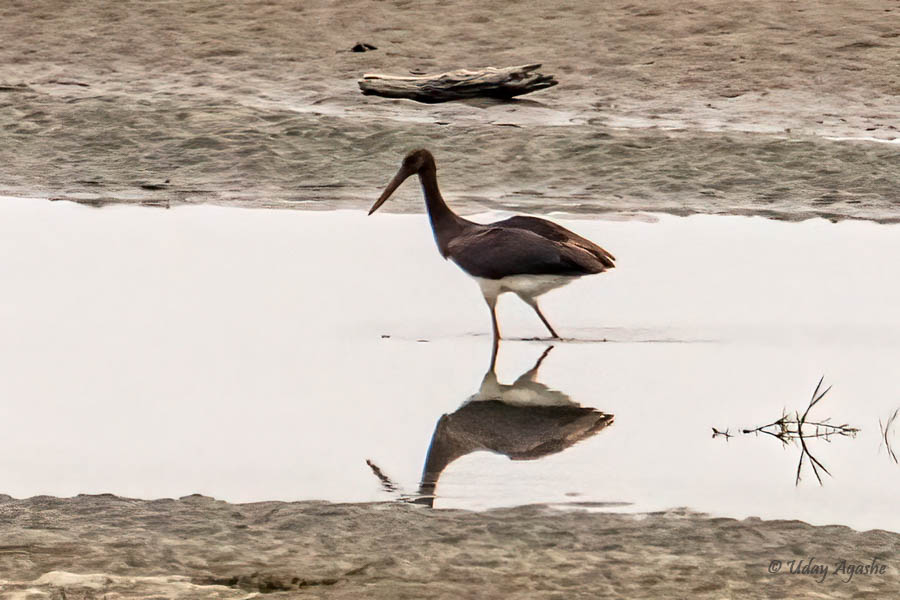 Our lunch stop was another Assamese joint. It was a very clean and well-maintained place on the highway itself. The service was also good (and the taste too).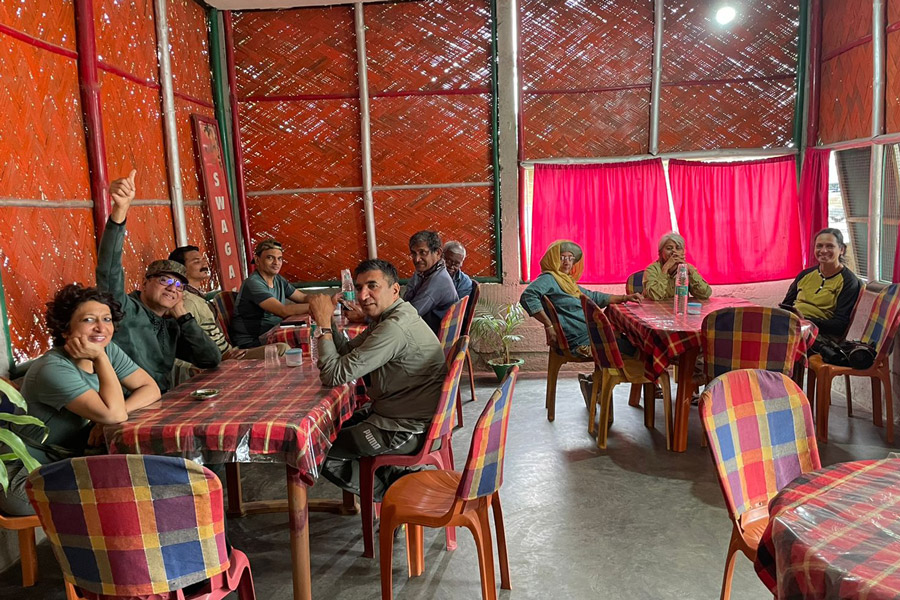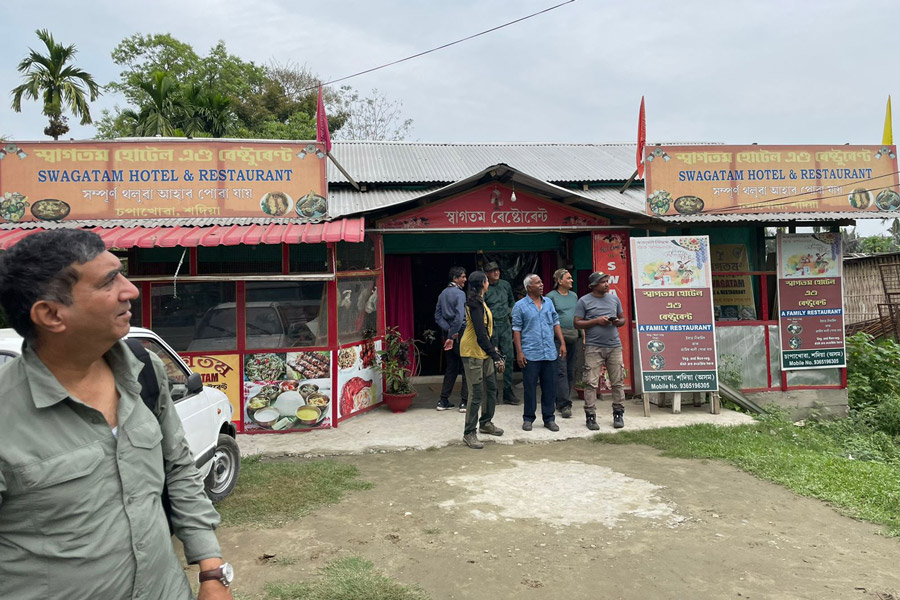 We were close to Tinsukia town by around 5 and as it was getting dark, we decided to search for Owls first before checking into the hotel. The Brown Hawk Owls were seen in good numbers. We could count 4 different individuals not very far from each other. The Oriental scops owl took some time to come out in the open but our wait was fruitful there. The last on the list was the Collared Scops Owl. We walked a lot for this and ended up going inside the village in search (we saw it moving and with every move, we kept going behind it). But the rain by then got heavier and we finally decided to remain content in seeing it in flight.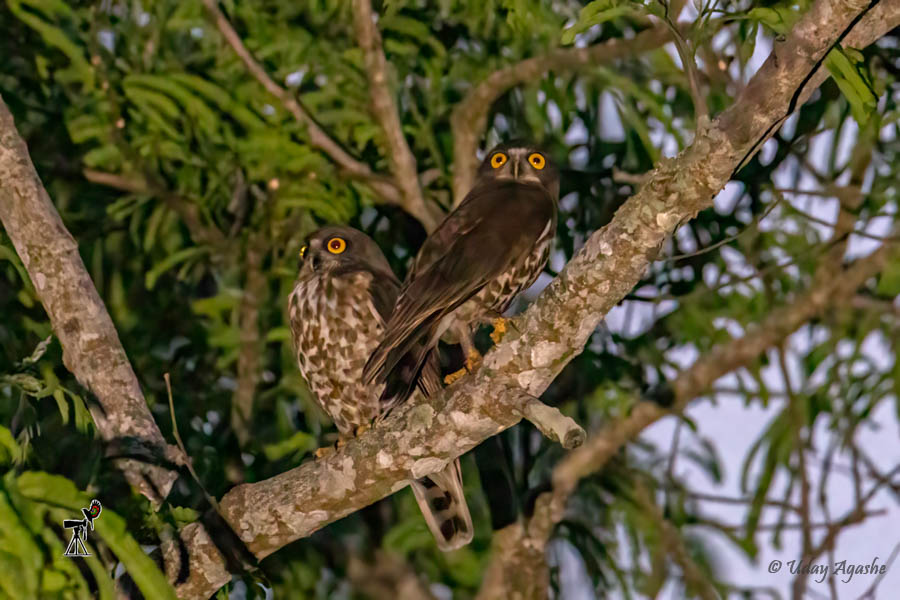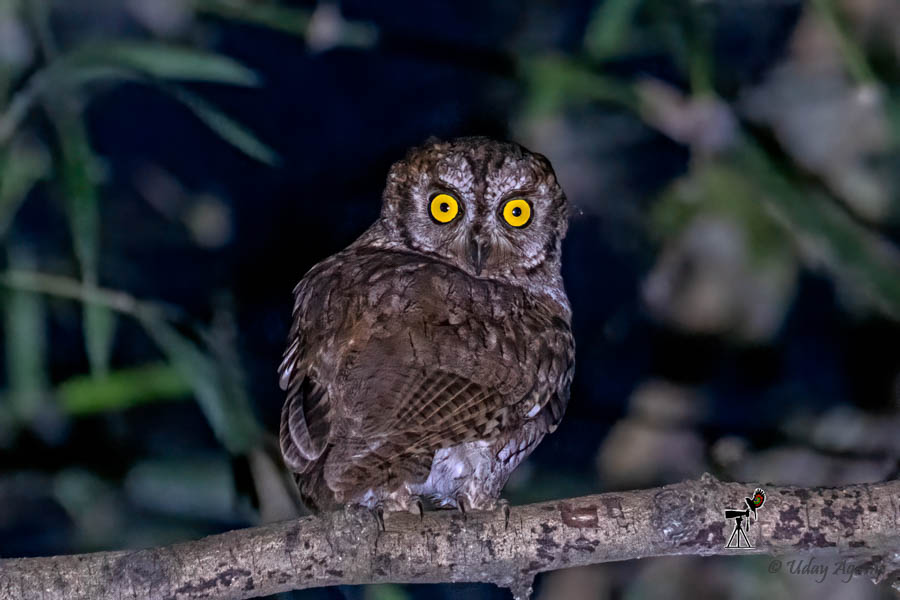 Finally, after clicking a few owls, we went to our stay place and were visibly surprised to see a posh hotel. That was a welcome break after staying in make-shift places for so many days. I am sure all of us had a nice hot water shower that night. After dinner, we happily sat at the restaurant for making the birding summary of the day (and revision for the past few days).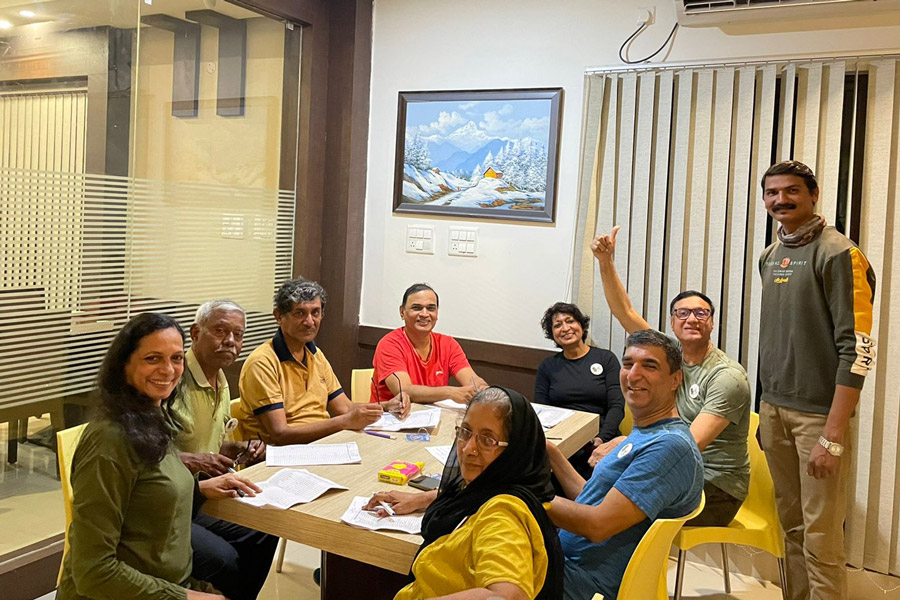 Final Day

After a good rest, we once again were ready by 5 for the last birding session. Today we planned to cover the Maguri Grasslands. Palash had chosen a spot that was, in fact, an island near the Dibru-Saikhowa National Park.

We traveled by vehicle for about 10 odd km and there were a couple of small boats ready to take us to the other end.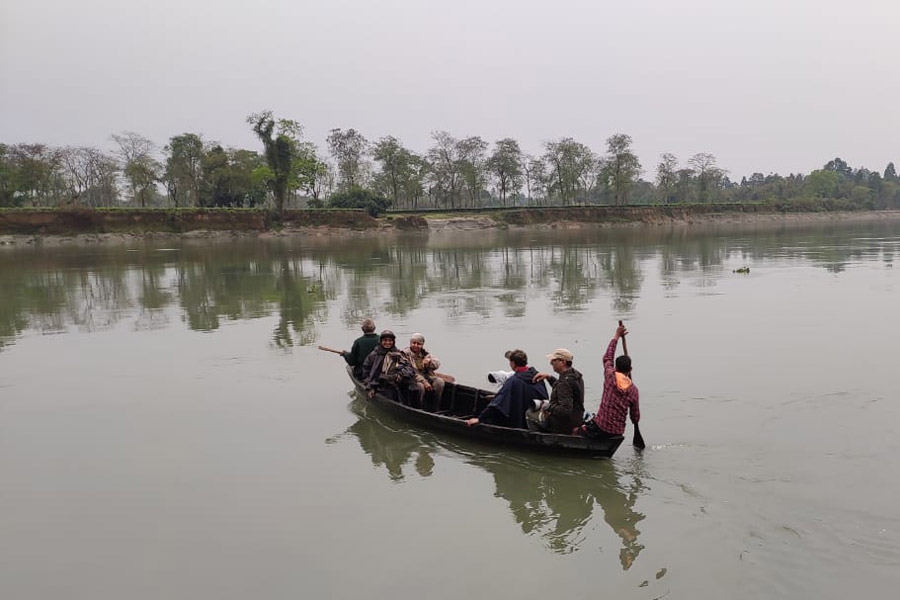 On the island, we walked thru the tall grass in search of birds (all the while it was raining). We had to cover a lot of distance there but it was a plain surface (no ups and down).
Our primary targets were Spotted Bush Warbler, Marsh Babbler, and the Swamp Grass Babbler. We did spend a lot of time on each of these but in the end, we were able to see them all. As a bonus, we even saw the Lesser Coucal.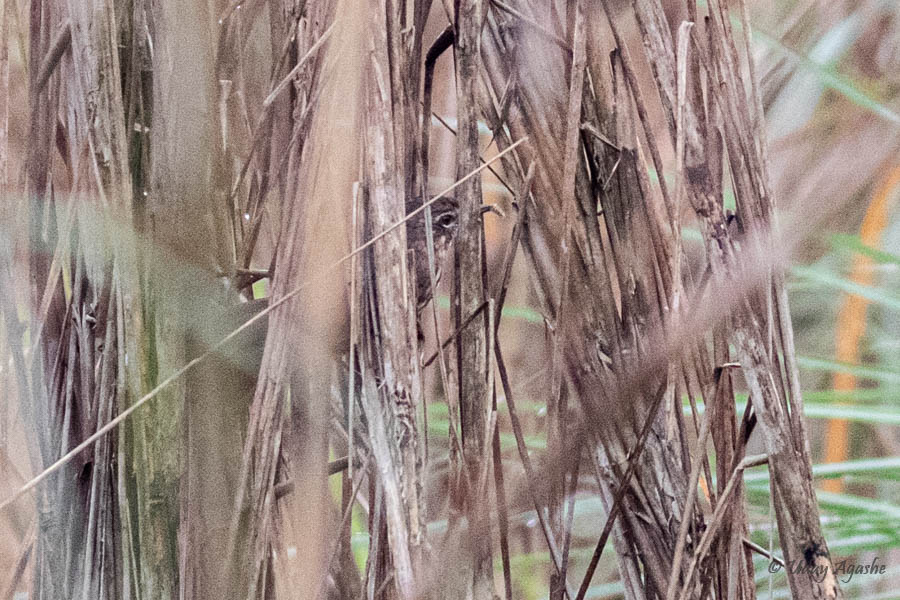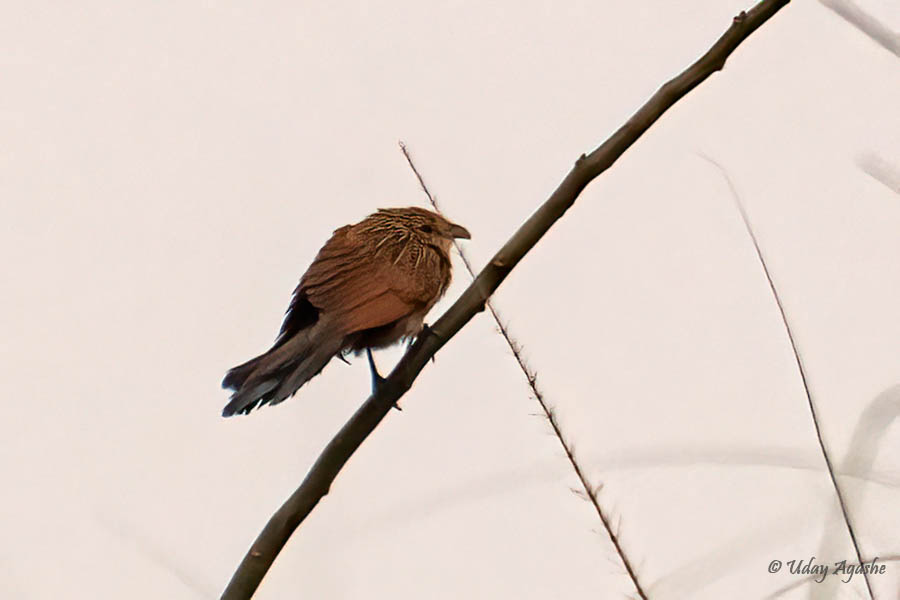 We had asked the boatmen to be there by 8 am but we could come back to the shore only by 9. There was still a little bit of birding left as we decided to walk again in the Maguri Beel grassland (where we started the trip on Day 1). Once again we saw the Striated Grassbird and Grey Shrike. But this time even the Striated Babbler decided to come out in the open. And to top it all, we could even see the Swamp Francolin flying in front of us (though it did not allow me any photos).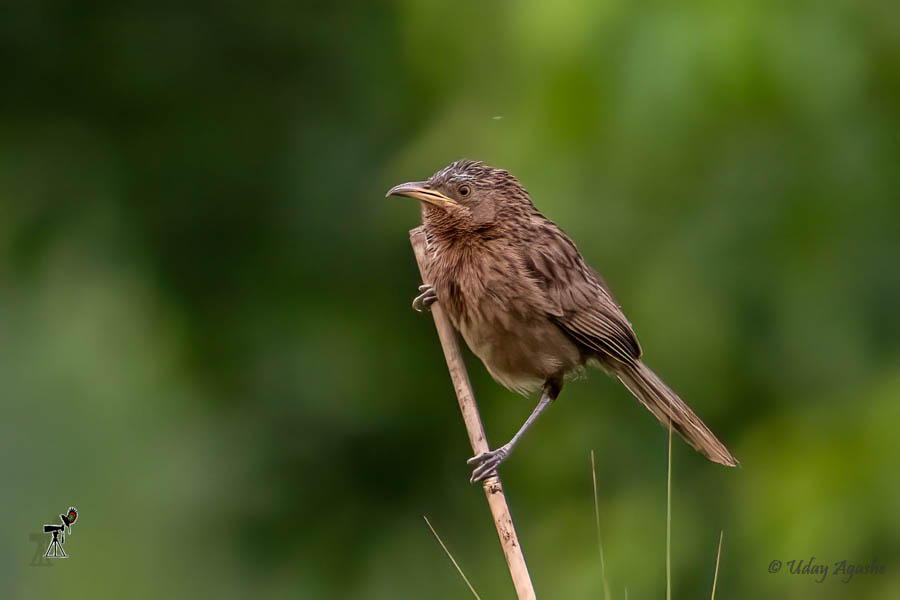 We thought of birding for a half-hour more but the increased rain did not allow it and we returned to the hotel for a final pack-up

Our return journey was smooth (again via Delhi), with nothing much to write about. But I just want to add a photo that I had taken from the flight. Of the snowclad mountain tops coming out from the clouds.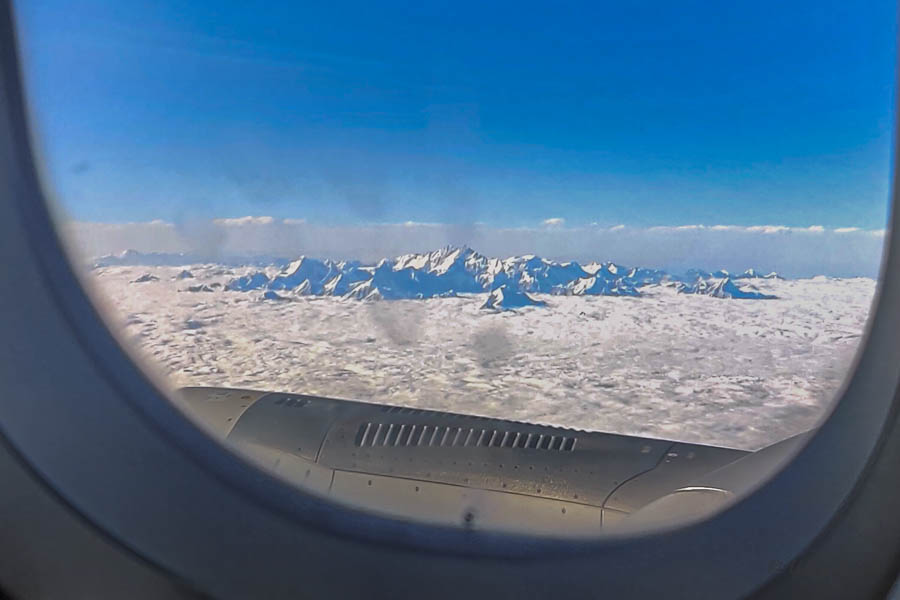 Please note: Although all the bird photos are my own; some of the group, and other photos are by fellow participants on this trip.