Twin Tiger Safaris - May'19
- With NatureClicks (Abhay Kewat)
Highlights:
Tiger sightings in 9 out of 10 safaris
3 sightings with kill – 1 in front of our eyes
Jungle could be closed for tourists suddenly for unexpected reasons
Planning Stage

After the Pench safaris in 2018, the group was excited about repeating the experience (except that this time we wanted to see the tigers too – that was missed last year). Right in the birding season Abhay started asking for interested members and quickly the quorum was achieved. Initial plan was for 1 location but then with some deliberation among members, it was converted to a twin destinations.

In line with the modern times, a "whatsapp group" was immediately setup for all the group matters.

Dates in May were finalized, that meant the train tickets were to be booked in January. This went more-or-less as planned and all confirmed tickets were duly secured.

Based on last year experience, I was very sure to get a bean-bag. And with Abhay, it kind of becomes a compulsion to have it (not "compulsion" but an insistence for sure). So all the members ended up buying it. Camera gear discussions were continuously on. Abhay was quick to provide his tips whenever photography related questions popped-up in the group.

By the time it was May, there were some cancellations and some additions. In the end, we had a team of 8 members including Abhay (myself, Bharat & Priyanka from Mumbai, Tirtha dada from Kolkata, Vishwam from Surat and 2 additions for this year Priyanka Sindur & Hemangi from Pune).

Plan was for all to reach Katni station by 23rd morning and people were coming by train from 4 different locations (Mumbai, Kolkata, Pune and Delhi).




Excitement started even before reaching Bandhavgad

We Mumbai guys and Vishwam had our train from LTT kurla on 22nd afternoon. 3 of us reached in time but there was no sign of Priyanka anywhere. Bharat then found out that she had some last-minute bank work and because of the delay, she will be boarding the train from Kalyan.

We were continuously on call, telling her our train's current position and the possibilities of her reaching Kalyan before us. By the time we crossed Thane, it appeared touch-n-go as she was in a slow-local from Thane. Alternate plans of finding a suitable flight (to Jabalpur) were also envisaged. We reached Kalyan on time, and her local train was just reaching too. And the result ….. yup, you got it right….
She missed it
.
Now what? Already there were cancellations earlier and Abhay could not afford one more.

But what I could understand then was, for Priyanka this was not a one-off situation, she had experienced such things in the past. She kept her mind, looked for alternatives and found one express-train that was to reach Kalyan in 15 minutes and that was scheduled to reach Jabalpur before our train. She immediately informed all of us (Abhay was in another train from Pune.. so there was a possibility that she might catch that train if not ours), there was not much time to deliberate and she boldly executed the plan. Boarded the train (unreserved) with her 3 bags (Frankly, I would never have mustered so much courage to act like this). Convinced the TC about her predicament and managed to even get a seat in the AC compartment. For some time we were in touch with her but there was nothing more that could be done to help her.

We had decent sleep in the train (with the extra berth at our disposal) and woke up fresh in the morning. First thing we checked was the current train positions and were happy to note that her train was ahead of us. No more tensions, this time she was waiting on the platform at Jabalpur and boarded with us till Katni.




First-day First-show

By 11:15am when we reached, the others had already assembled near our vehicles outside station. There wasn't much time to lose as we had to cover the distance of about 130 odd kilometers and no one was even willing to consider the possibility of missing evening safari. Our lunch was to be at the resort, but we found one roadside eatery that catered to our needs very quickly.

We reached the resort in Bandhavgarh by 2pm, checked-into our rooms and quickly got ready for the safari at 3pm. Our Gypsy drivers were ready at the gate (before that we also managed to get our bean-bags filled with rice).

Abhay's initial plan was to enter the Tala zone but due to recent reports of better sightings in Magadhi, he changed our bookings there (our gypsy did 4 safaris in Magadhi and last 2 in Tala).


"Jungle has its own rules and there are things that cannot be forced. Our plans included at least 1 trip to the Khitauli zone but there was a natural hurdle. The zone had an influx of wild elephants from adjoining jungles and because of that, the forest department cancelled all bookings there (they were diverted to Tala, Magadhi)"


The forest department at Bandhavgarh is very strict about the list of people provided at the time of safari booking. Because of the cancellations, we ended up having 3 in one Gypsy and 5 in other, and we were not allowed to shift 1 to balance it (luckily Abhay had put his name in both vehicles, so he could switch gypsy's when required).

Our first safari began at about 4pm.. we were among the first 2 to enter and driving fast. Bharat, myself and Tirtha dada were in one gypsy and our driver was supposed to be a tiger specialist. Abhay told us to give him free-hand to decide and he will ensure the best possible position/angles for tiger photography. And we found out in next couple of days that we hardly had a choice there, his only interest was TIGERS. Absolutely no interest in even talking about birds or other mammals.

Our guide and driver told us that there is a remote spot where we are likely to have a sighting today and hence speeding towards it. And he was right, the full-day vehicles were already stationed at one place.


"For those of you who are not aware.. normal safaris happen twice in the day, a morning safari, typically between 5:30 to 10:30 am and afternoon safari, typically between 4 to 7pm. But there is a special class of vehicles that are allowed entry 15 minutes before morning and then can continue in the jungle till 15 minutes after the evening safari.. they don't need to come out of the jungle in between and they have no restriction on the zones either"
There was a cave like opening in the rocks (small hillock) that was sufficiently wide for tigers to move and deep enough so that a tigress and cubs can sit there peacefully without any disturbance. Inside the cave, we could see a tiger sitting quietly, looking at us. Every gypsy wanted to have the best view and there was a tussle for every inch of space that was occupy-able. Being first we had some advantage (at least we wanted to think that way) but pretty soon everyone arranged themselves as chaotically as possible and there wasn't any best position possible (other than the full-day guys off-course).

The tiger was anyway in no mood to come out, we were barely able to see him in his current position.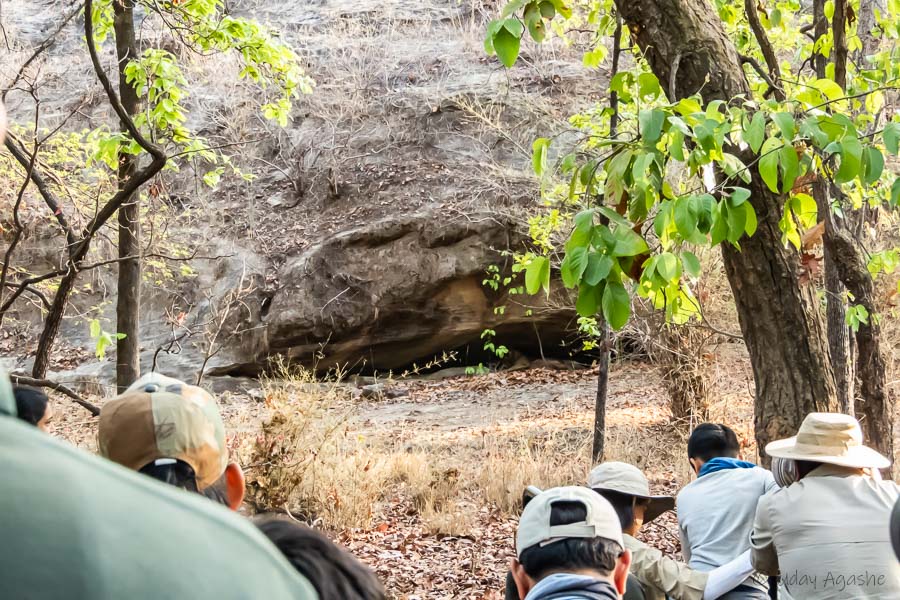 &nbsp Cave Habitat &nbsp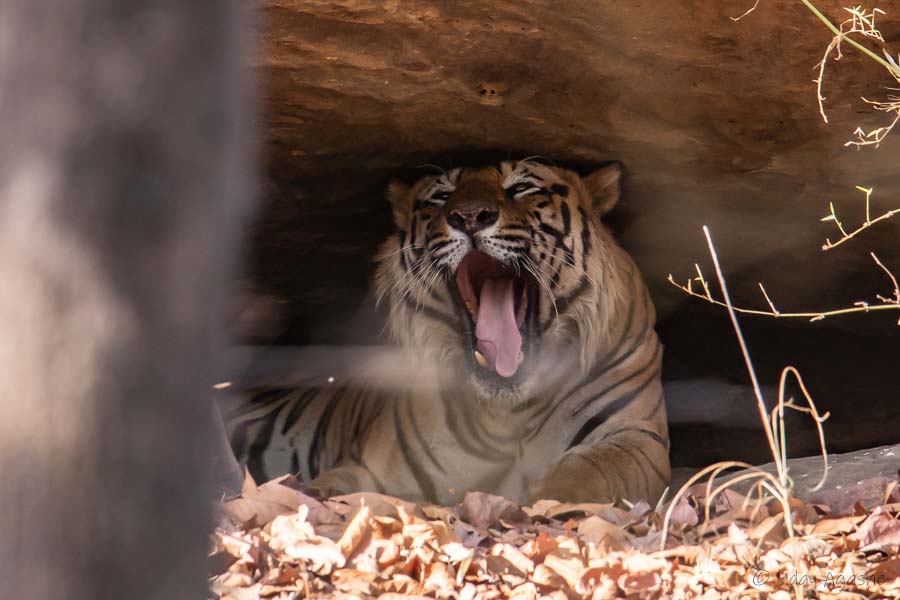 &nbsp Bamera-son Resting &nbsp


We continued to wait there for the tiger to move. By now, we were aware of it's name. It was called "Bamera son", a hefty male tiger in his prime. (Bamera happened to be his father who had lived in the jungle few years back)

Bamera-son was in no hurry, he continued (twisting and turning and sleeping all the while) for next 90 odd minutes. By 6:30pm, he showed some signs of getting up and suddenly there was frenzy of movement. All gypsys once again wanted the best shots and everyone wanted to be there first.

Abhay turned out to be the smartest of the lot, he anticipated the direction well in advance and had already instructed their driver to turn the vehicle and be ready to speed when the tiger starts moving.

We also followed them soon. The tiger continued to keep distance from the road and walked towards a waterhole. We got to see it with the spotted deer flock in the background (but the light was poor from photography point of view).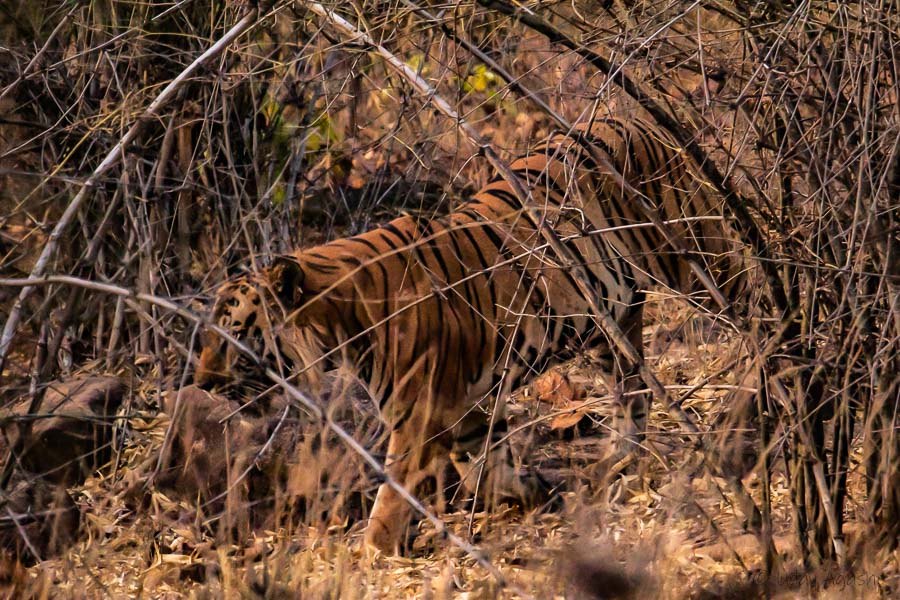 &nbsp Moving thru shrubs &nbsp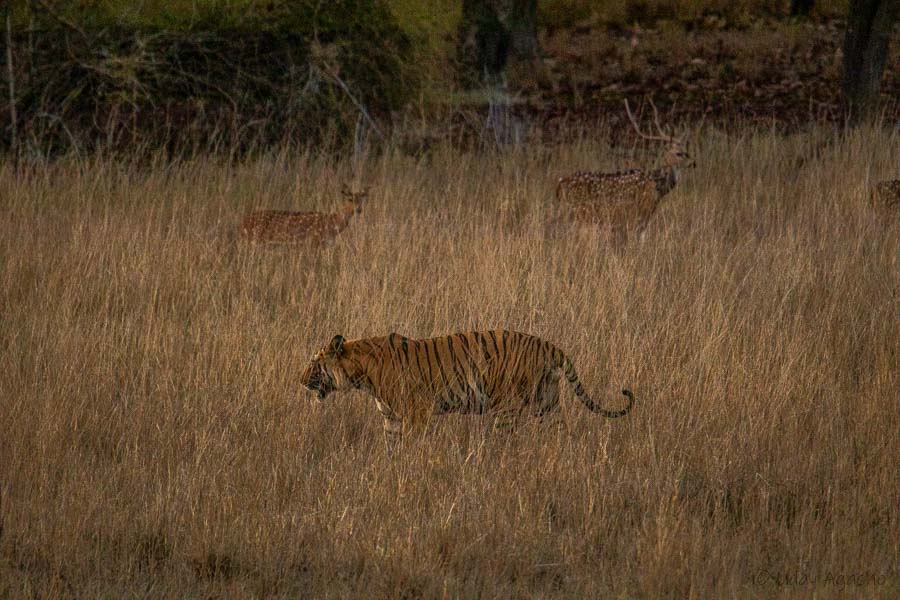 &nbsp Deer in background &nbsp


We continued to chase it for next 10 minutes but the time was running-out, we had to come out of the forest gate by 7pm, by then all gypsys were anyway rushing back to the gates at full speed.

Back in hotel we quickly assembled at the snacks point. We discussed the day's proceedings over bhajiya and tea. Not a bad-deal at all, first day-first show and we were able to see a tiger. We also got to know little bit about the new members during that time.

Dinner was at 9:30 but Bharat was very enthusiastic (desperate is the right word actually) about using his Macro lens and oh-boy, he did get his chance. The staff there had spotted a big scorpion on a tree. That got us hooked for next 20 minutes.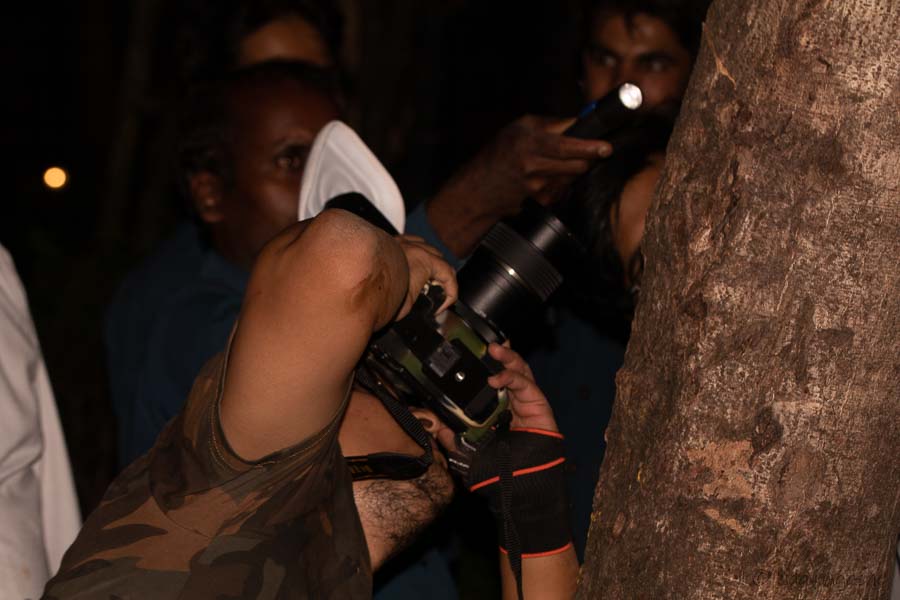 &nbsp Bharat in action &nbsp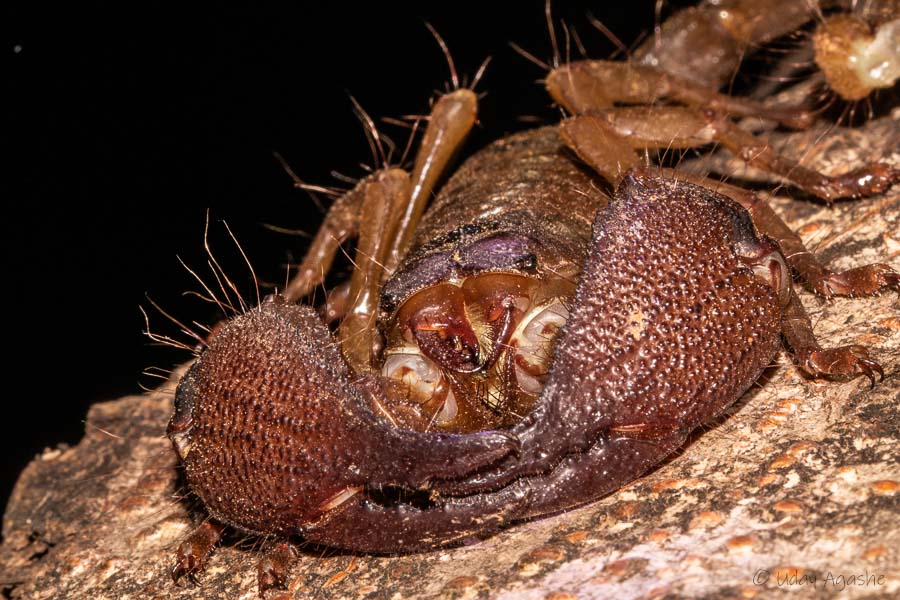 &nbsp Scorpion on Tree &nbsp
Quick dinner and we got back to our rooms.. we had to be up by 4pm for the morning safari, so a good sleep was a necessity (after the long journey and back-breaking safari ride).




Day with Solo (the Tigress)

Day 2 safaris (24th May) were also in the Magadhi zone and on the morning safari, our drivers once again took us to the same spot like the earlier day. The full-day guys were there along with the crew from Disney, who were there for filming the tiger activities.

The cave spot was now being occupied by a tigress (name: Solo), apparently she had just made a sambar-deer kill across the road and dragged it inside the cave. The full-day guys can access jungle 15 minutes before normal safari and they were fortunate enough to see the tigress dragging the sambar.

Once again, the tigress chose to remain in the cave and photography opportunities were limited. But the guides informed us that this tigress has 4 cubs and they must be hiding somewhere nearby. It is possible that she may call them anytime as she already had made the kill (and the sambar deer was huge, so they all could easily share it). It was a likely event, but when? Nobody had any answer to that, but almost everyone decided to wait there… the wait looked like an eternity.. occassionally, the tigress made movements and tried to eat parts of her kill (she appeared to be softening the hard-skin, maybe that could ease it for the cubs later).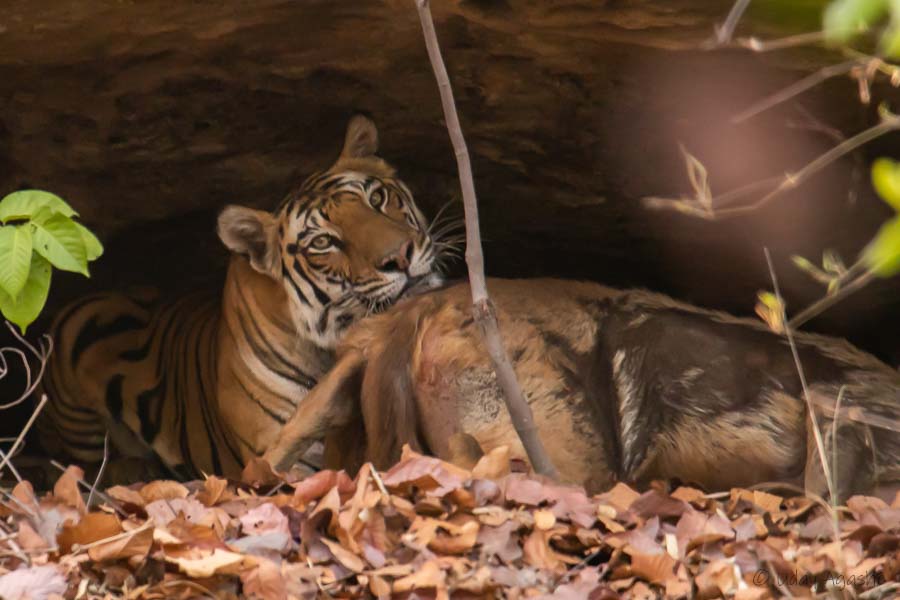 &nbsp Solo on kill &nbsp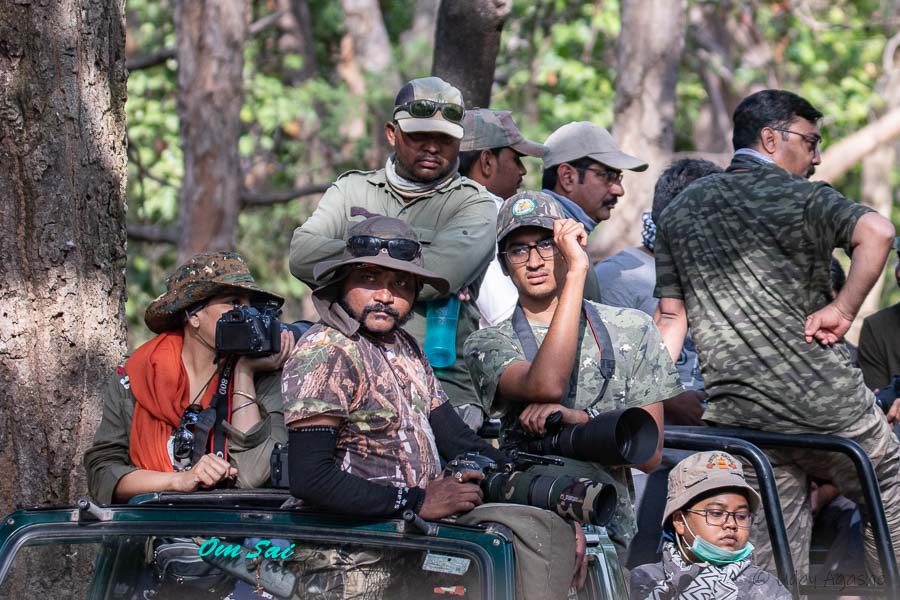 &nbsp Tired but eager faces &nbsp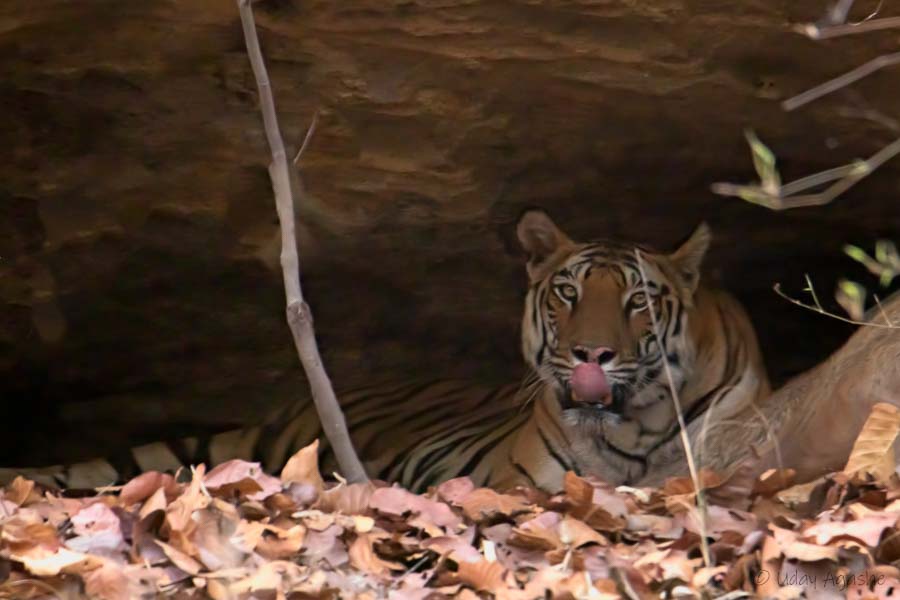 &nbsp Solo &nbsp
Little later, we saw a couple of elephants. These were under forest department captivity and they were helping the filming crew in positioning their remotely controlled cameras. We were hoping that with the elephant movement around, the tigress will come out but she did not move out of the cave (maybe because of the kill that she was having). In fact, this could have prompted her not to call the cubs

After a wait of more than 2 hours, we got little impatient and asked our guide to move to other parts of the jungle (but many other gypsys including Abhay's continued to wait there).

Our departure brought us decent results as we saw a very bold Roller (that was not bothered by our gypsy's presence and was easily perched within 5 feet of us. Little further, we even saw the Indian Pitta.

We went further towards the central area where we could get down for breakfast, we finished it really fast; back of the mind, we didn't want to miss the chance if the cubs had come out by then. This made us hurry back to the cave spot, on the way we saw a lovely little deer fawn and also a little usual monkey mother with her 2 little ones (normally we see only 1 baby with each mother).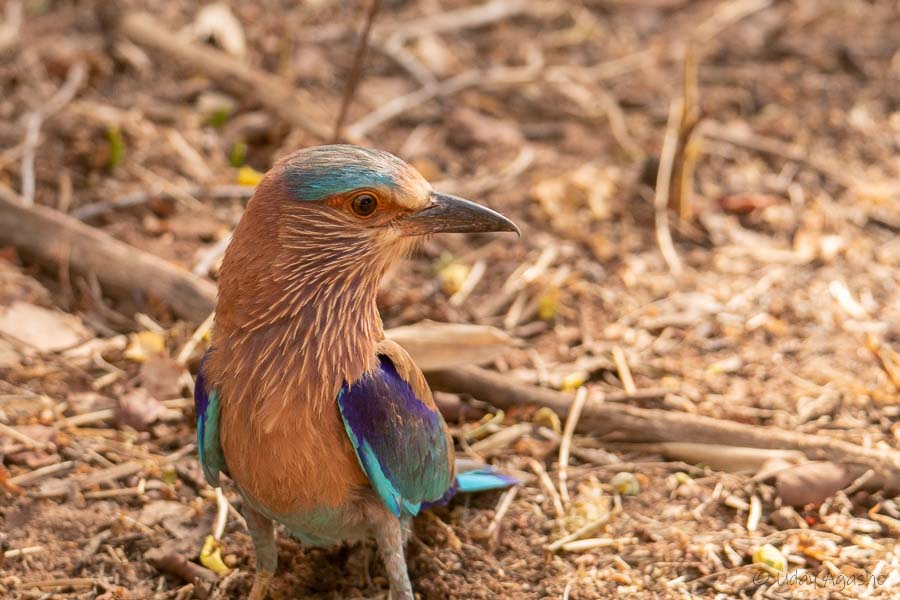 &nbsp Indian Roller &nbsp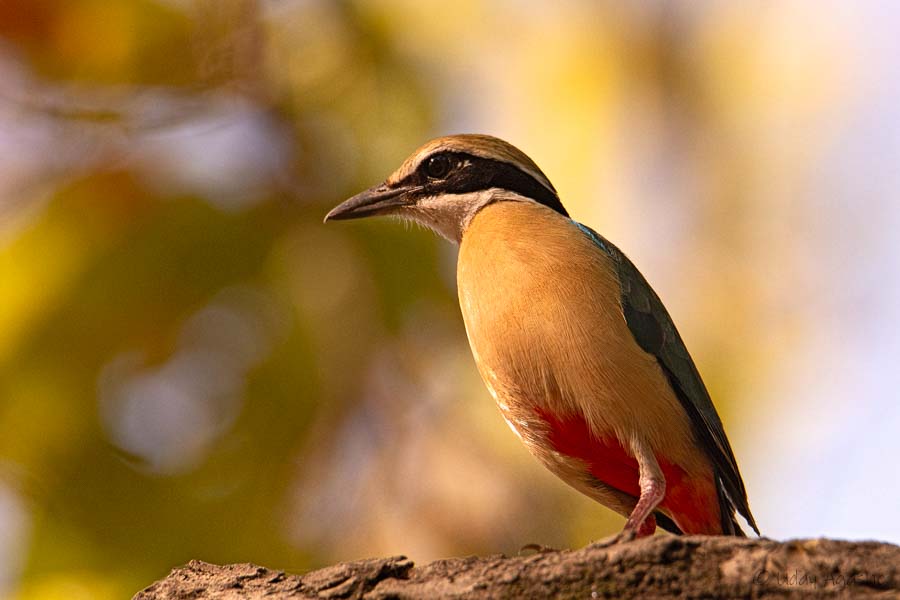 &nbsp Indian Pitta &nbsp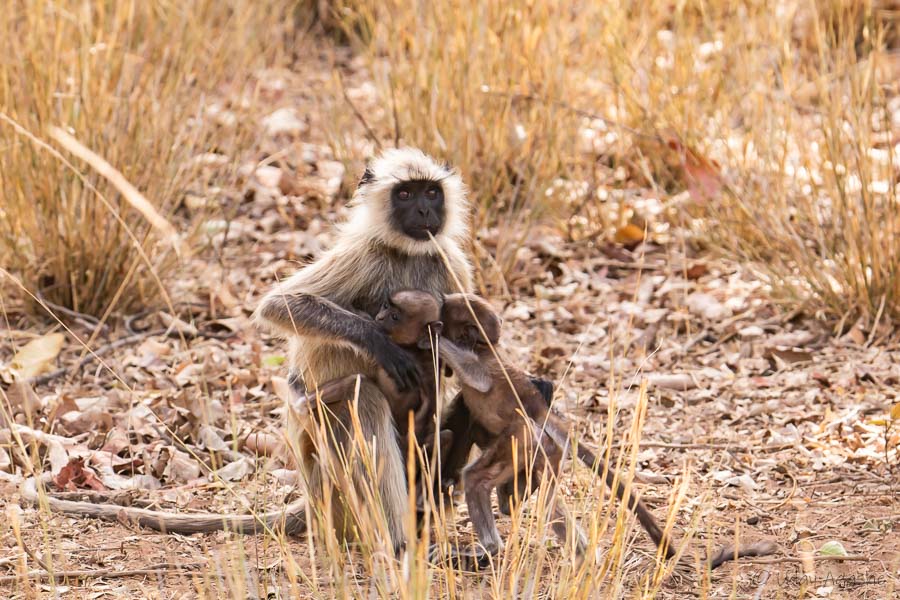 &nbsp &nbsp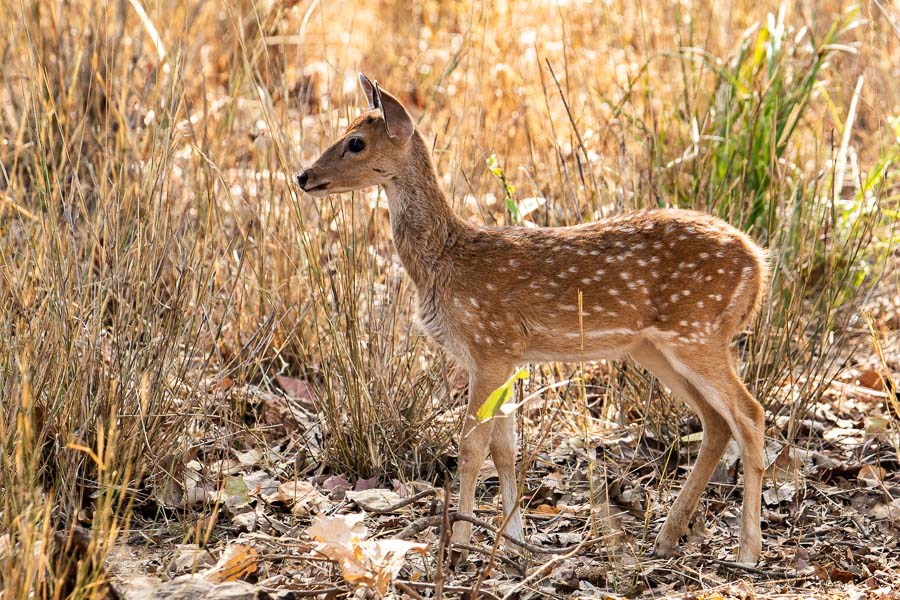 &nbsp Deer Fawn &nbsp
Back at the cave, we once again had the endless waiting game… We continued till it was time to close the safari but the tigress maintained her position inside. Only one event that excited, two jackals suddenly appeared on the scene (from the other side of the road, opposite to the cave). They probably had smelt the sambar kill and were trying to assess the situation. They waited for 5 minutes and then retreated back (possibly they smelt the tiger presence too). Our wait that morning did not yield anything further.

For the evening safari, we once again reached the same spot (3rd safari in a row). Now the cave was occupied by the cubs and the tigress was located sitting a little distance away from it. The full-day guys told us that once all of us had gone in the morning, the tigress called the cubs and they were now enjoying the meal peacefully (but all the gypsys by then were back in the huddle).

Another 1 hour wait but this time at least the cubs were showing some movement (not coming out though) but soon the tigress started walking away from the cave, now we had to make a call whether to follow her or remain with the cubs. Our other gypsy stayed put and they were able to get good shots when the cubs came out of the cave a little while later.

We (this time Abhay was in our gypsy) decided to follow SOLO while she was walking thru the jungle, little ahead she crossed the road in front of us (but oops, no head-on shots as she kept her back towards us). She had walked away from the road and the vegetation there was little dense but we (and few other gypsys) kept following her. Our expert driver had an intuition about her possible moves and kept speeding every now and then. That was little tense, throughout the next 30 minutes, we kept standing on the seats and taking some record shots and suddenly the driver wanted to move ahead. But in the end his drastic moves gave us good results, we were able to get some head-on shots in good light. We also managed to get some nice back-lit images during the chase.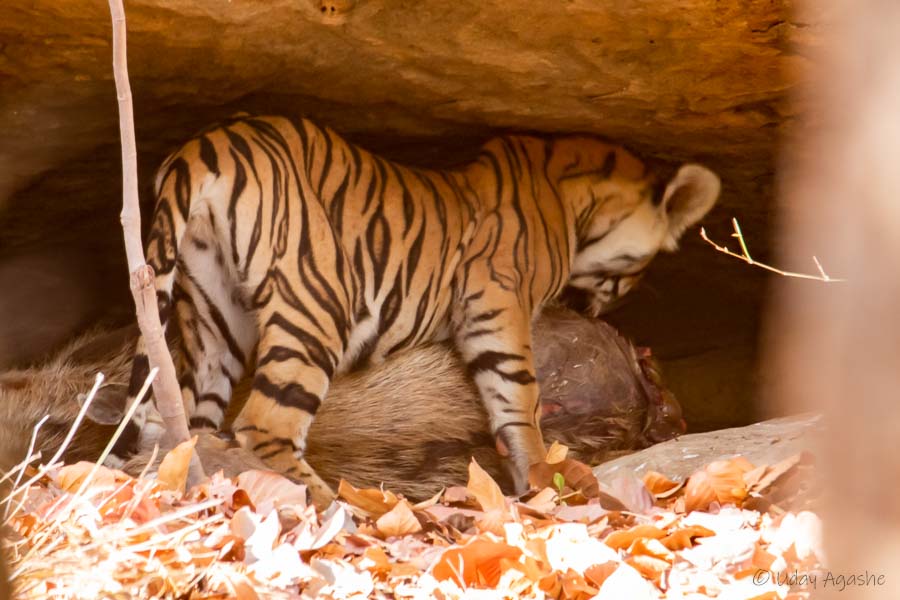 &nbsp Cub on kill &nbsp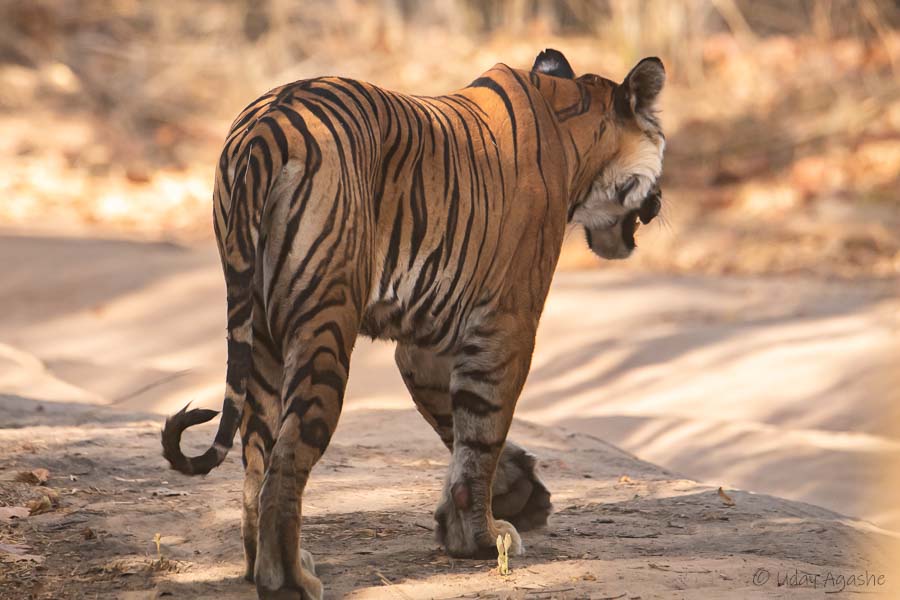 &nbsp Solo crossing road &nbsp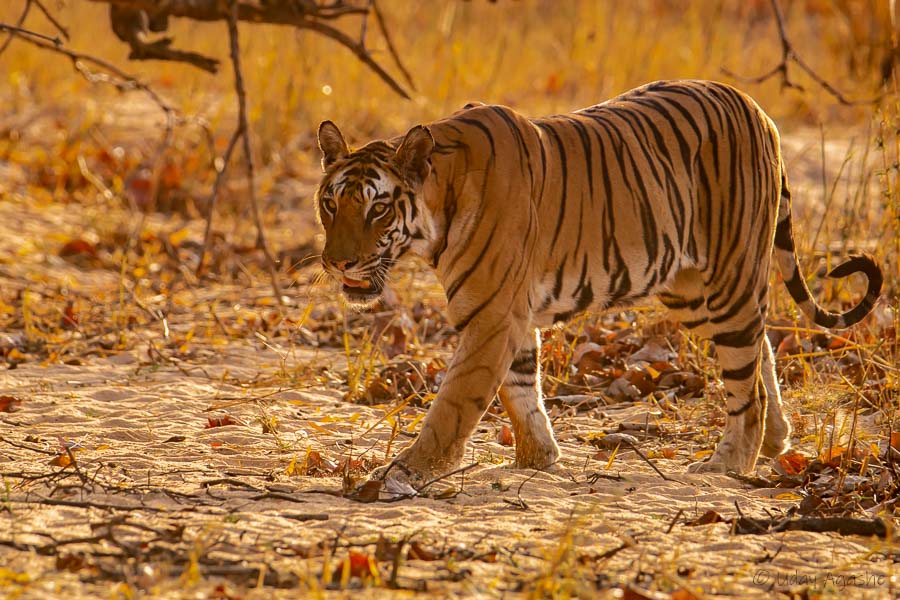 &nbsp Back-lit Image &nbsp
At one point the drama was at it's peak, when the tigress decided to hide inside the dry-grass while the spotted deer were grazing near-by. She seemed to be on hunt mode. We were really very excited at the prospect of a possible hunt, we were standing on an up-slope from where we had a fantastic view of the grassland and any hunt scene from there would have been fantastic luck.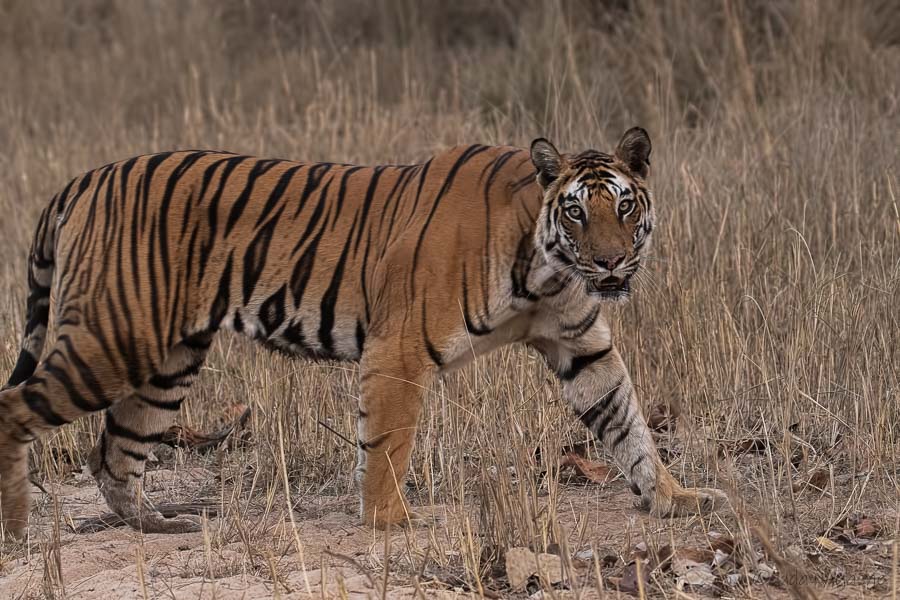 &nbsp &nbsp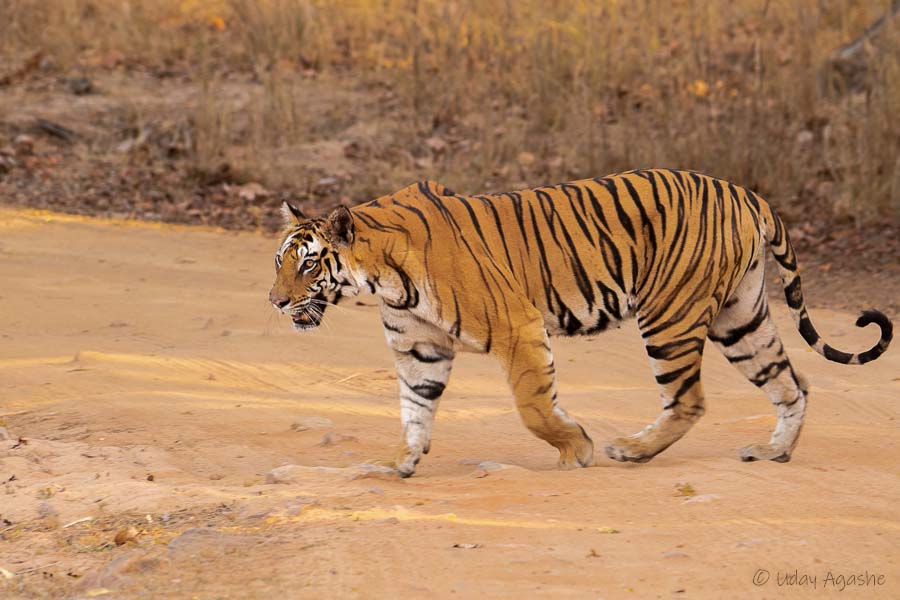 &nbsp &nbsp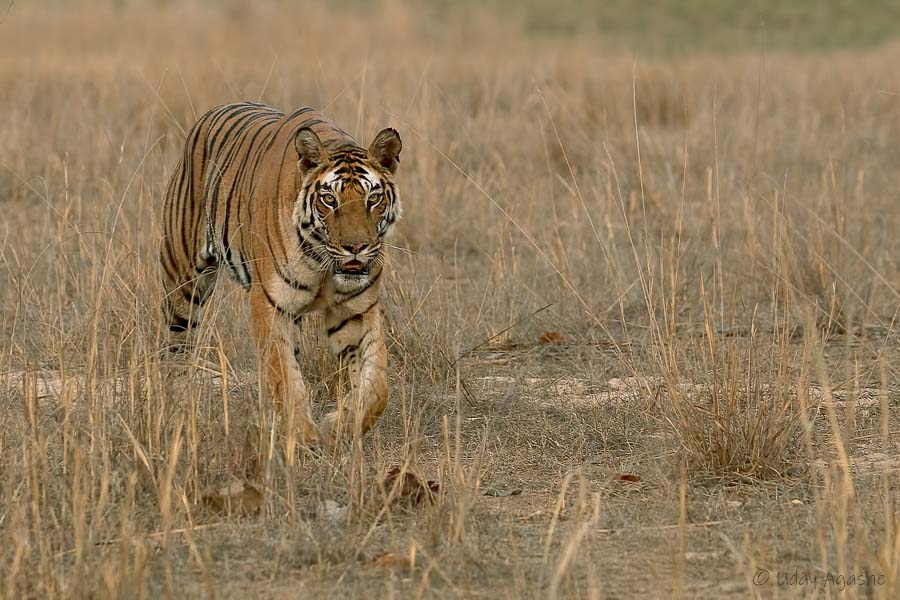 &nbsp Walking head-on &nbsp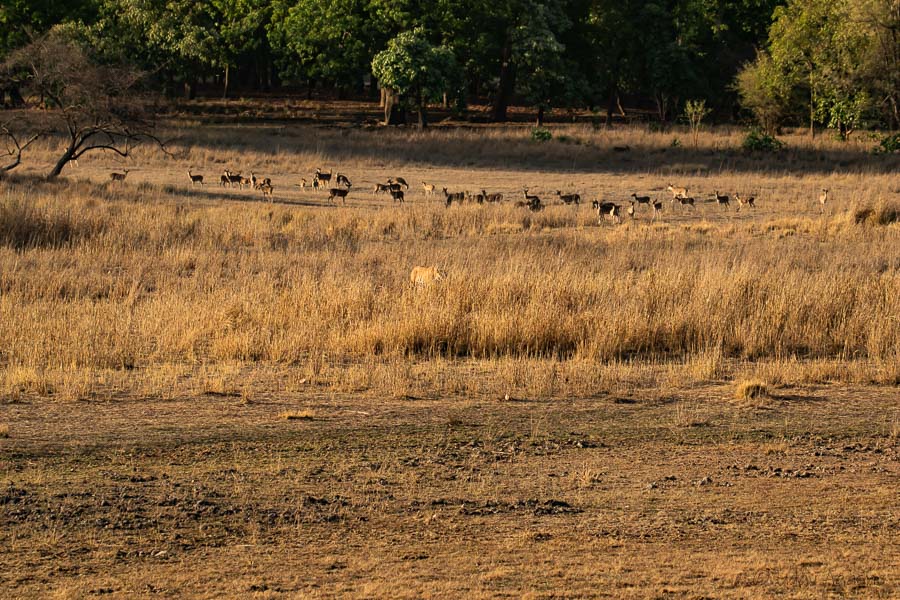 &nbsp Tiger & Deer herd&nbsp
Cubs' Day-out

Day 3 safaris (#4 & 5) were split between Magadhi & Tala zones and in both zones we were able to see the beautiful tiger cubs. Solo-cubs in the morning (Magadhi) and then the Chakradhara cubs in the afternoon (Tala).

In the morning, we once again went to the exact same spot and found the cubs playing around. Only difference was the cubs were stretching outside the cave instead of just staying in. Light was low but at least it gave us some photo opportunities. They even ventured out for a stroll and one-by-one went into the hill side always hiding behind the low bushes.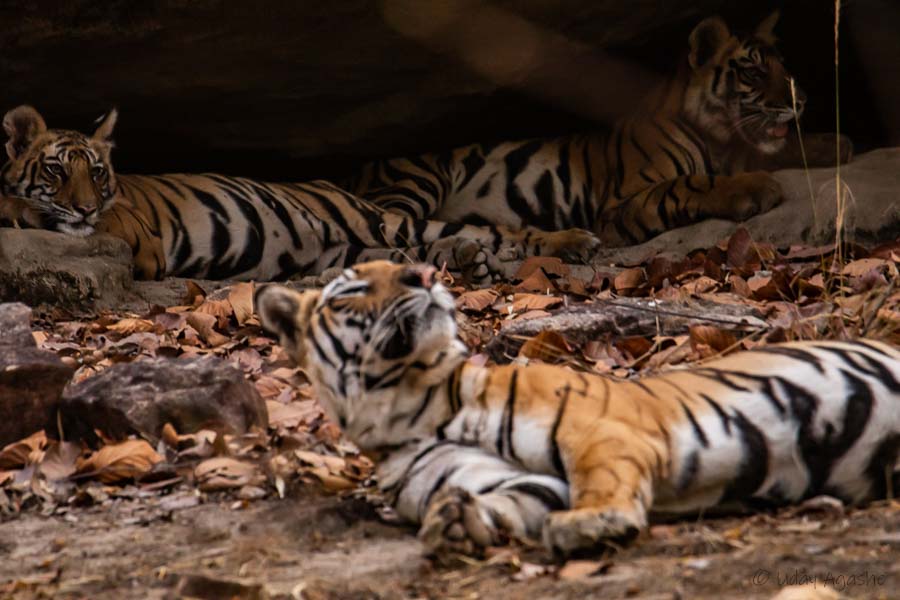 &nbsp Pls Don't Disturb &nbsp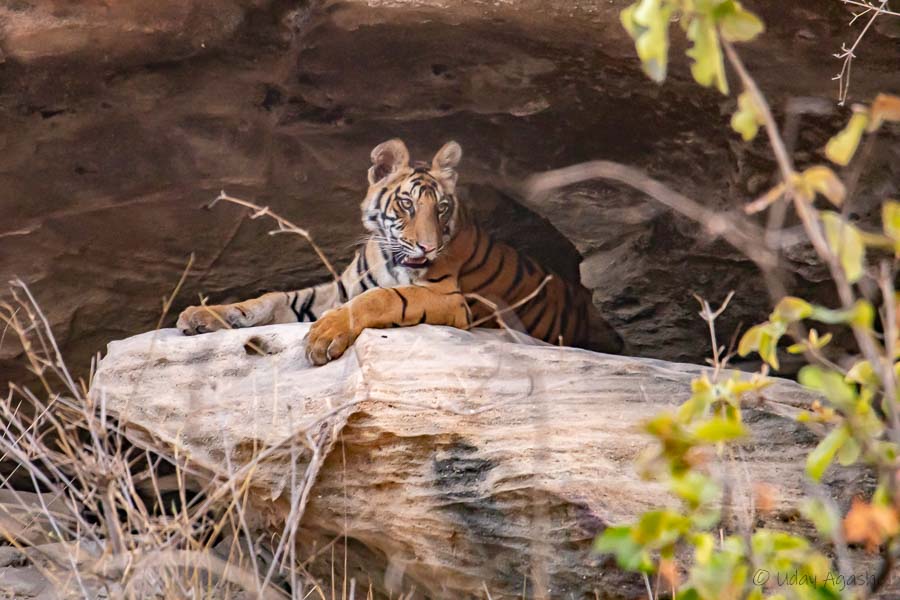 &nbsp Go-away Humans &nbsp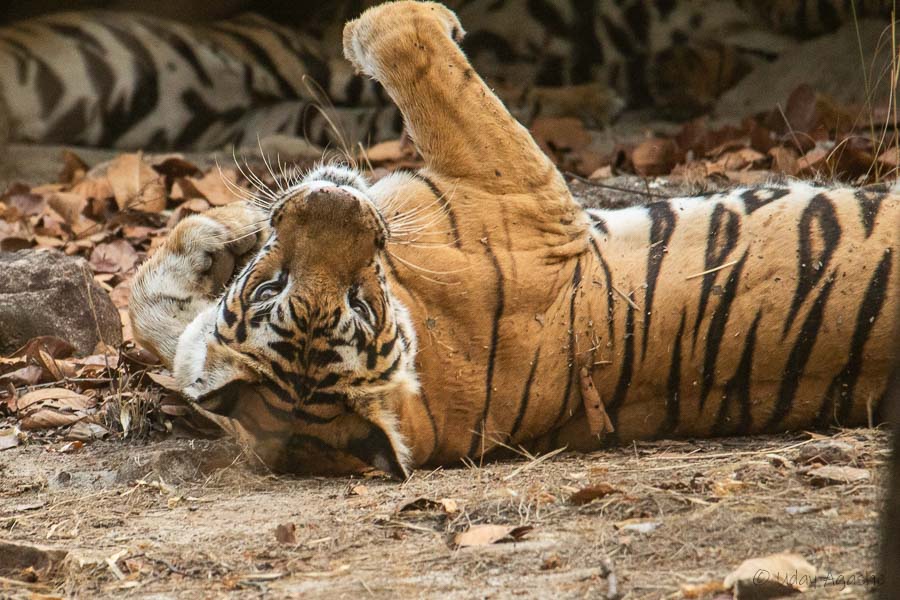 &nbsp Lazying around &nbsp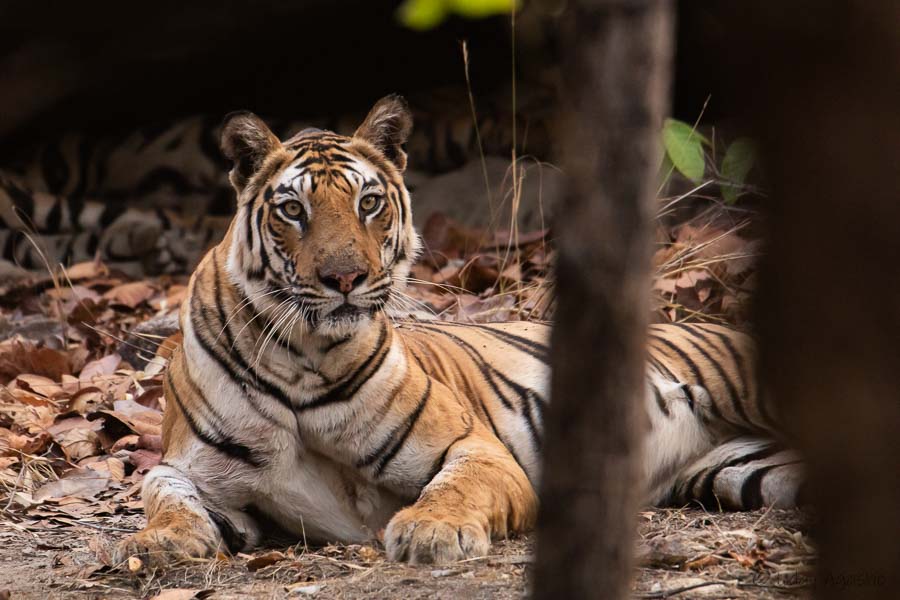 &nbsp I am Alert &nbsp
Our other gypsy was in Tala zone that morning and they were able to sight a new tiger carrying a kill.

In afternoon all of us were in Tala zone. It so happened that within first 500 meters of entering the gates, I spotted some different stripes behind tree at some distance and on a hunch, asked the driver to reverse the vehicle. It turned out to be a tiger cub relaxing in the shade (it was almost hidden there but somehow I was able to sight it). Ours was the first gypsy to enter and naturally, everyone stopped looking at us. It was well hidden inside the trees making it very difficult to spot, but people kept on trying different angles anyway.

With tiger in sight, there was no question of moving away from there (worst case, we would wait till late evening and then return back from there itself, if the tiger doesn't come out). Luckily 2 roller birds kept us busy, they were making fantastic sorties from the near-by trees and were catching prey in every round with amazing efficiency.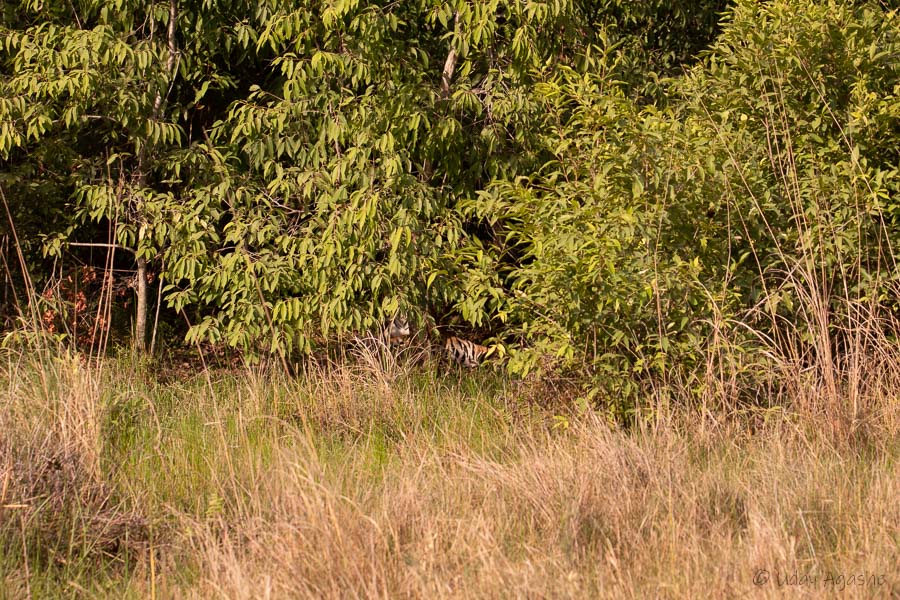 &nbsp Tiger in Habitat &nbsp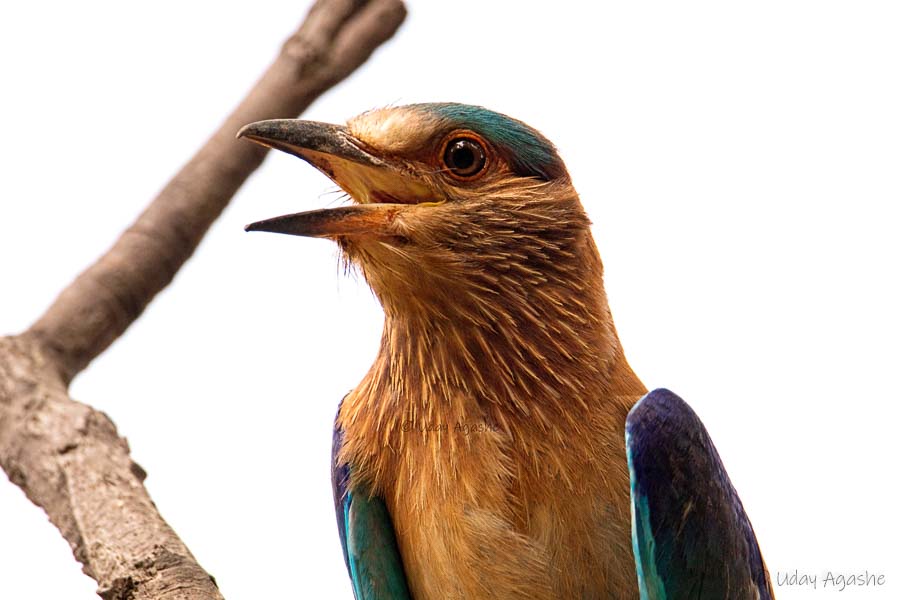 &nbsp Roller portrait &nbsp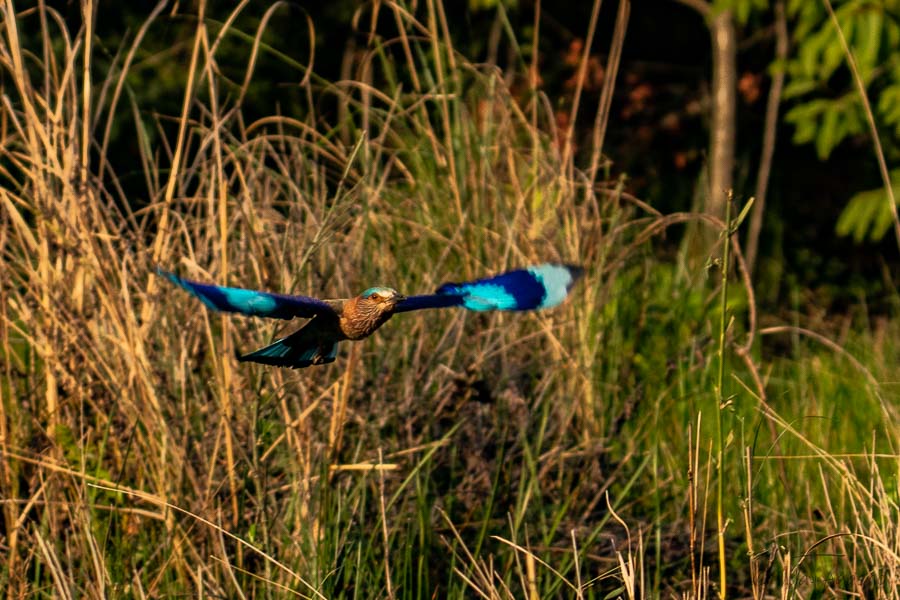 &nbsp Roller in flight &nbsp
For close to 1.5 hours we maintained at the same spot hoping for some movement, but other than making some twists, the tiger kept quiet.

During that time, we kept checking with our expert driver about the possibility of doing some birding in that jungle, but he was absolutely not interested. To the point that, he opted to change himself for the last ride tomorrow, so that we can look in the jungle beyond tigers.

But towards evening, we got little lucky. There were actually 2 cubs in that vicinity and pretty soon we were able to sight both, they were moving inside the jungle but they were walking parallel to our track and we could keep with them for some distance, thereby allowing some late-evening pictures.

We followed them till almost it was time to go out (we could do that since we had not got much inside the jungle and the entry gate was not even a kilometer away.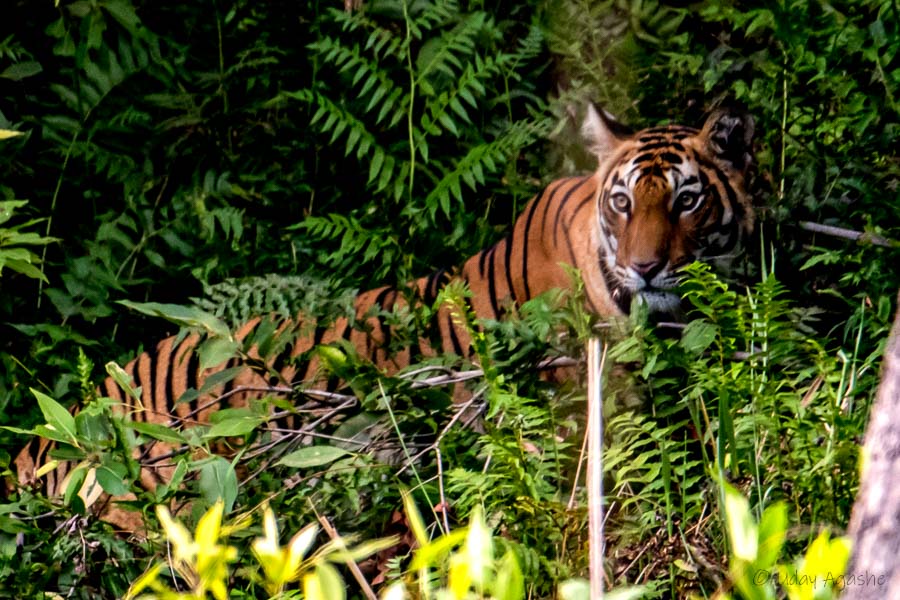 &nbsp &nbsp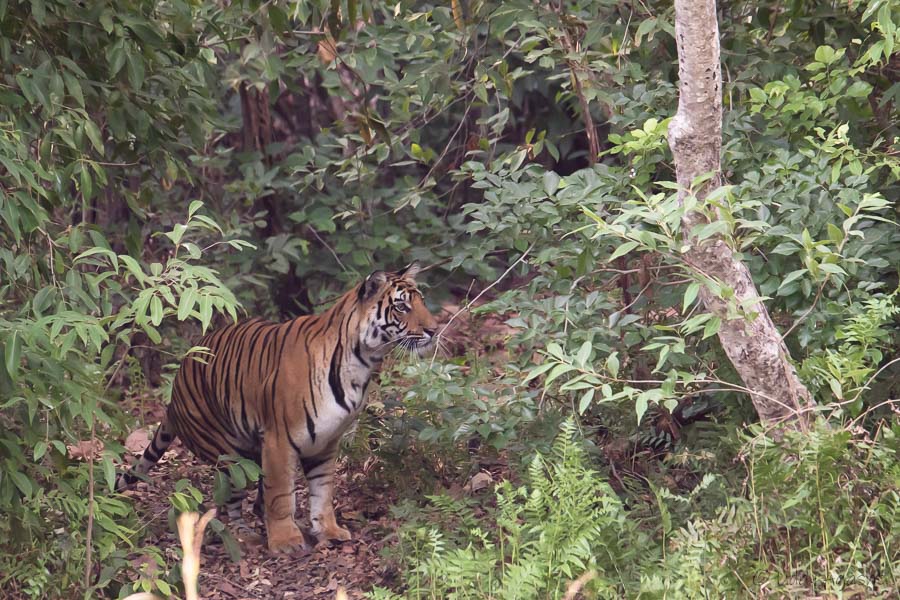 &nbsp &nbsp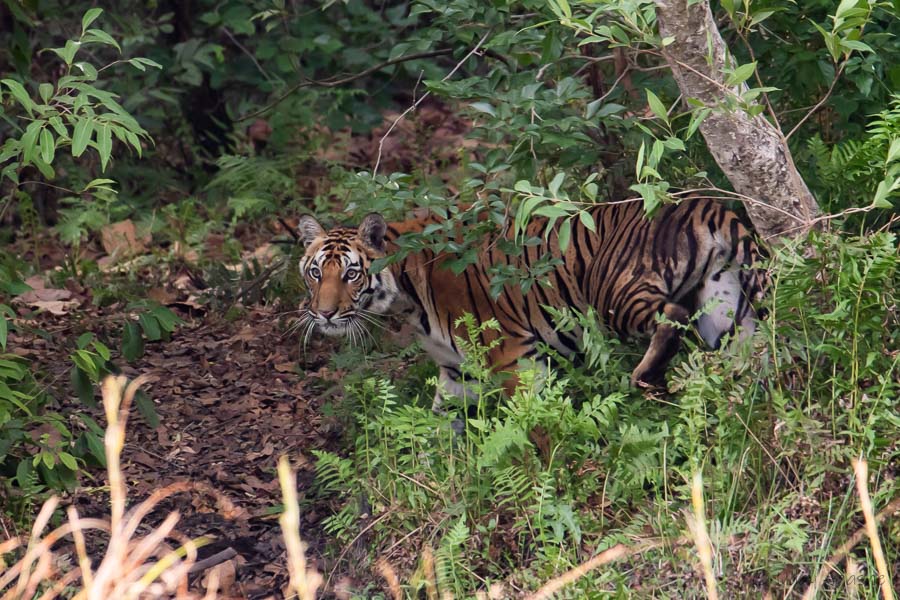 &nbsp &nbsp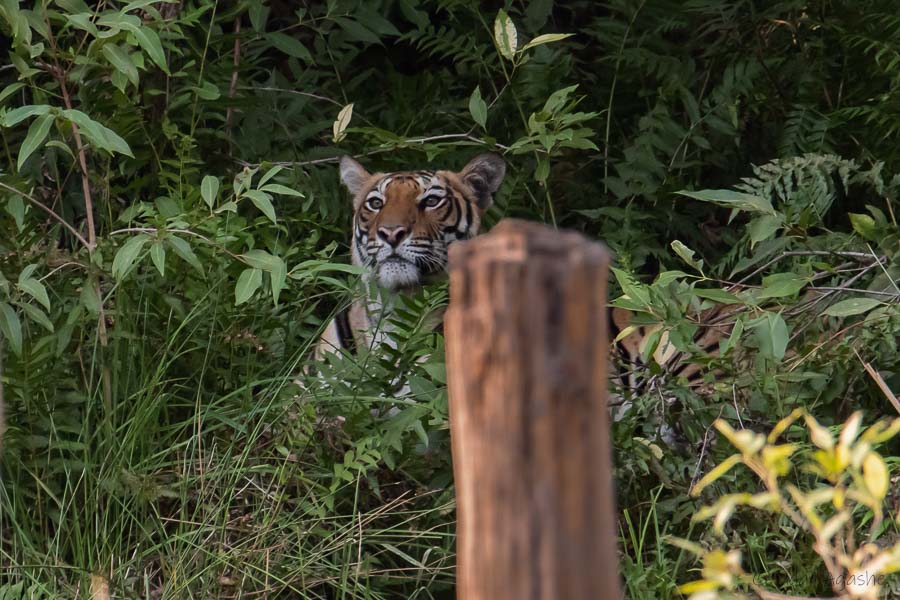 &nbsp &nbsp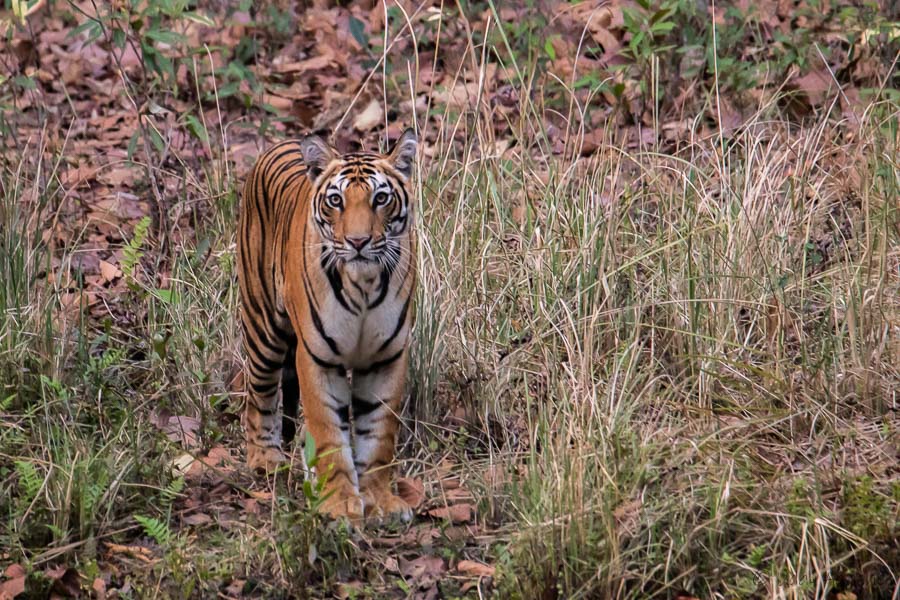 &nbsp &nbsp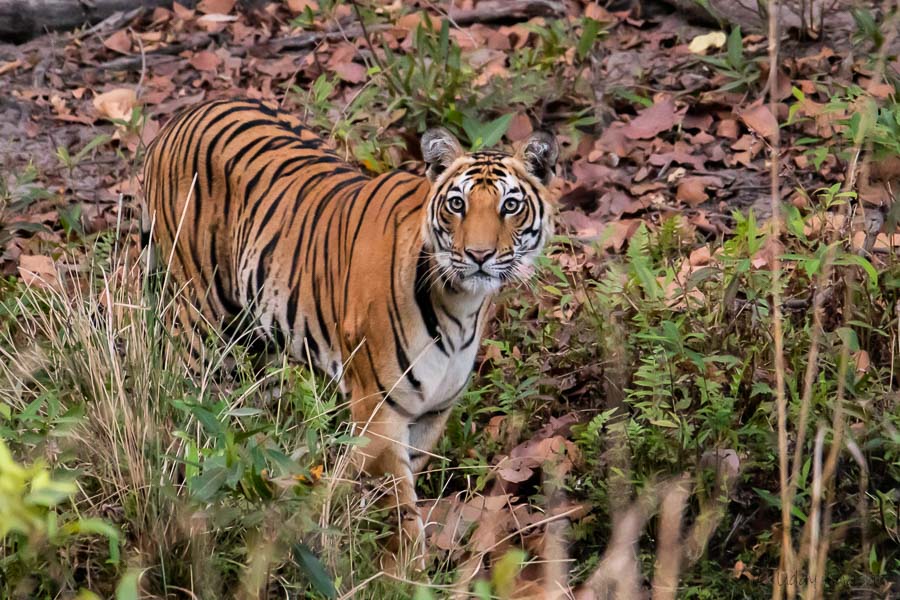 &nbsp &nbsp
Last Day in Bandhavgarh

We packed our baggage earlier in the night and went for the last safari, once again to the Tala zone. This time our driver was replaced and the new person was willing to listen to things other than TIGER. But it so happened that this particular safari actually gave us the best tiger shots of all 6!!

Today Abhay was back in our gypsy and we decided to move further into the jungle (rather than just waiting where we saw the cubs yesterday). And within first 15-20 minutes, the experts could identify some sambar/monkey calls and they knew tiger was near-by. Luckily the elephants were in the vicinity, so we checked with the mahut but they could not give anything definitive about the tiger. We searched that area for some time but that was a futile exercise.

At about 7am, once again there were some distant calls. Best (or worst actually) part of this is, we lessor mortals cannot hear any of these calls but the experts are perfectly in tune with the jungle. They not only can identify different calls but can also pin-point the direction of the tiger movement. This time we decided to remain at one place and just wait. Our wait was immediately fruitful, Abhay sighted a big tiger in the woods (it was Baera-son, whom we had clicked in the first safari inside the cave). Within no time, even the other safari gypsys got the hint and there was a big crowd.

Abhay once again expertly maneuvered our gypsy and positioned it in such a way that the tiger would have walked on the road just behind us (and then we could have continued to be ahead of it, letting him walk behind us at safe distance) but our plan was spoiled by one of the vehicles that was behind, they probably didn't want that exclusivity for us and just dashed ahead. This disturbed the tiger and instead of coming onto the road, he turned back and opted to walk from inside the bushes.

This did unsettle our best chances but we still were in a good position to follow the tiger movements and that helped us get some very good snaps.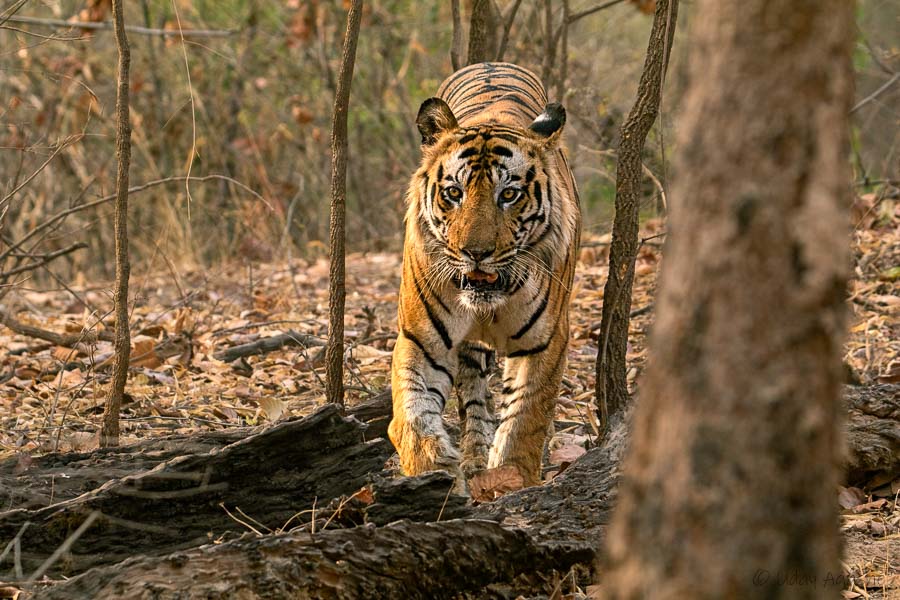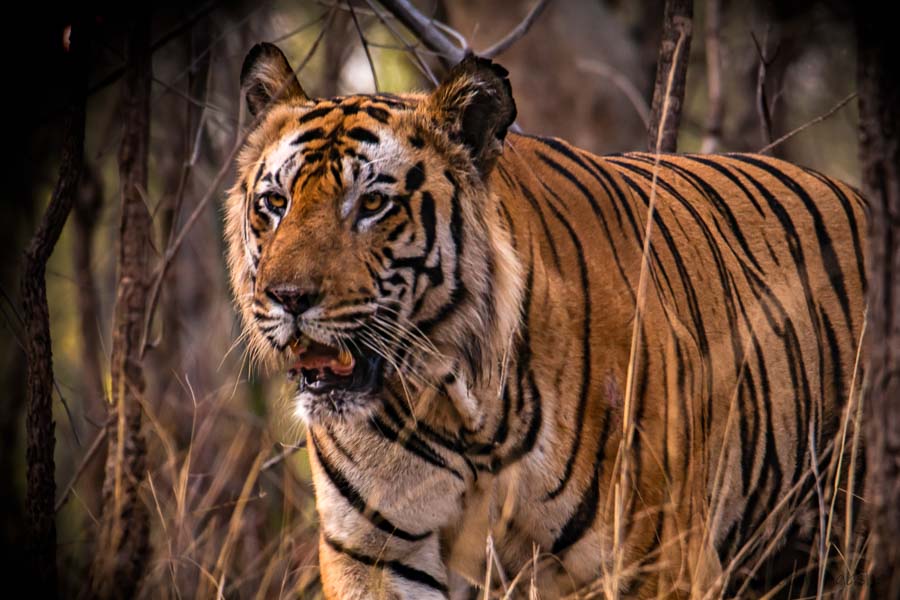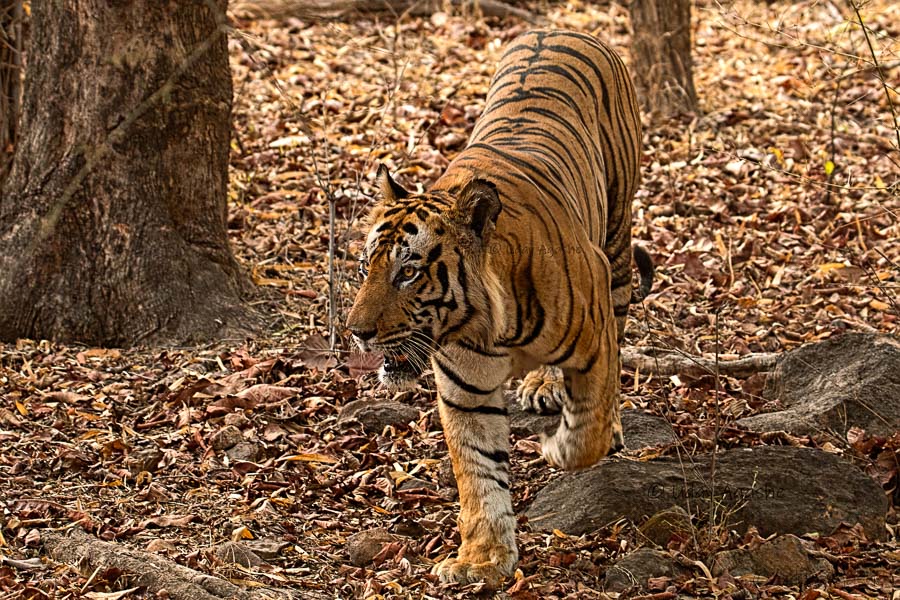 That was like a show-stopper for us and we then decided to look for other things in the jungle. A quick break for tea at central point (most jungles have a place where you can alight from vehicles, stretch a bit, have snacks, restroom breaks, etc.).

During the remaining couple of hours, we were fortunate to see a rare bird (Blue-bearded Bee-eater) and decent vulture activity.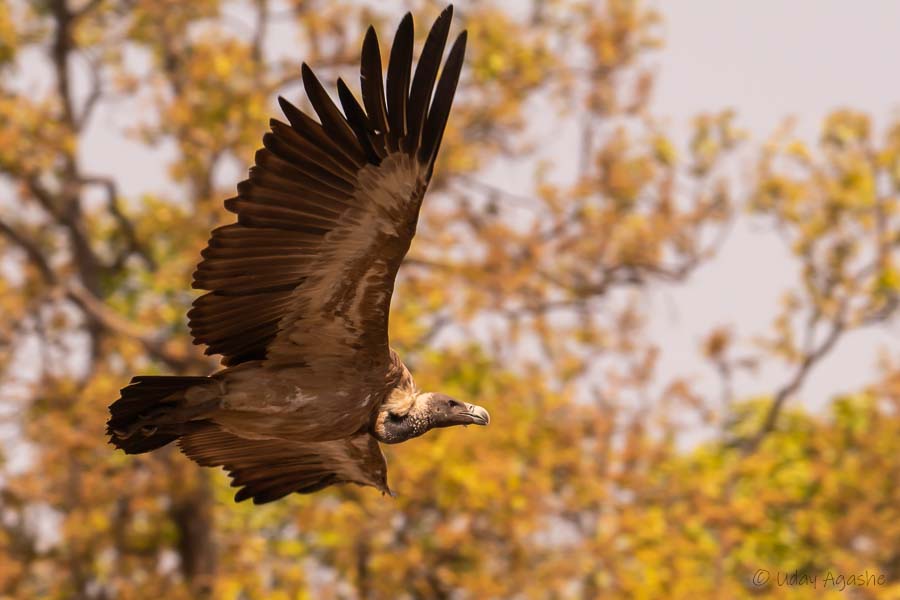 &nbsp Vulture in flight &nbsp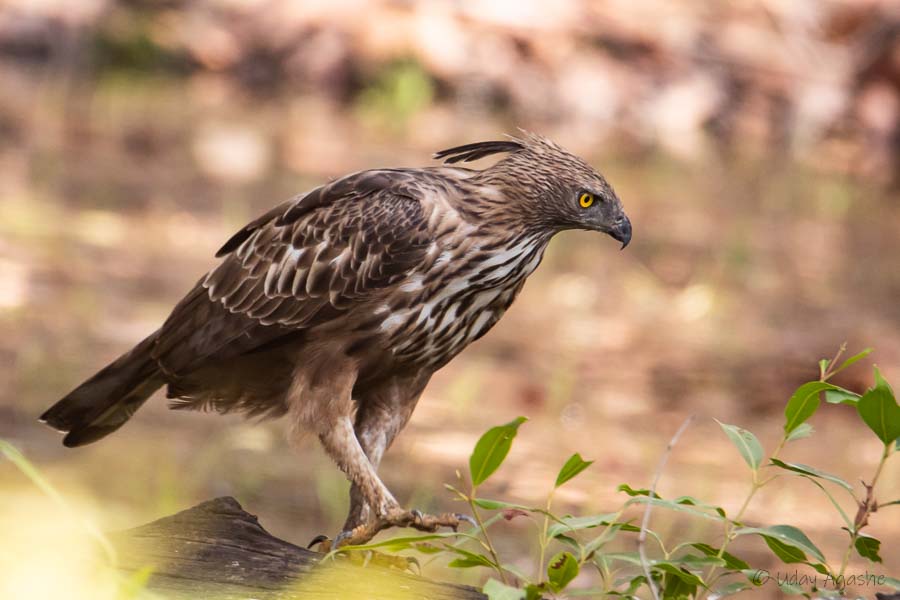 &nbsp Crested Hawk-Eagle &nbsp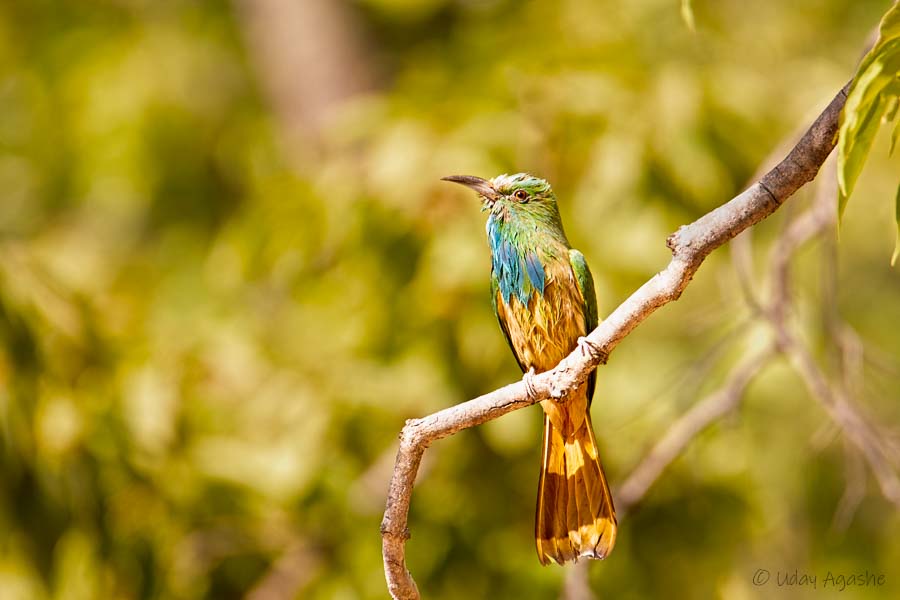 &nbsp Blue-bearded Bee-eater &nbsp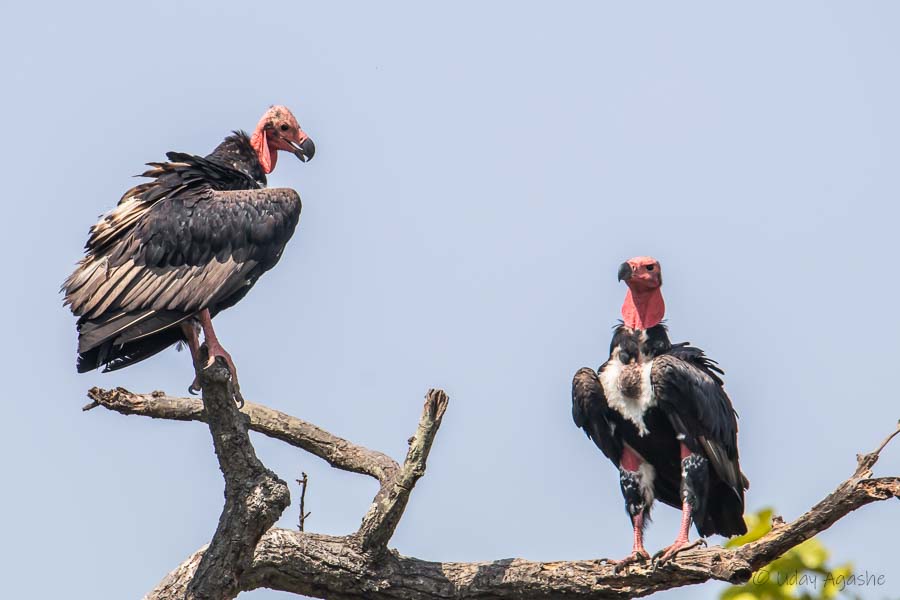 &nbsp King Vultures &nbsp
That concluded our Bandhavgarh leg of the trip and it was a very enjoyable experience. We were back to hotel by 11, quickly had our breakfast and the plan was to do Bhedaghat sight-seeing on the way to Jabalpur. But we missed that as we took more time to pack and get ready. It was about 2pm when we left the resort after lunch.

Went straight to the railway station (Jabalpur), took night train to Nagpur from there and from there to our resort in Pench.
Tiger with Monkey-kill

In Pench the routes were little familiar because of the last year trip (6 safaris – all at the Turiya gate only) and I could locate some of the places of interest (where we had sighted a leopard).

For Pench, the gypsy booking was little different and Bharat got replaced in our Gypsy with Vishwam. Abhay decided to do all 4 of his safaris with us (to distribute 4 in each gypsy).

One other change was, instead of occupying the last row of Gypsy (since we were only 3 of us, I could occupy the entire back-seat) I opted for the front seat. Well, the reason was not "getting any better view", but simply that my age is catching up fast. And the continuous safari rides on the rough roads do take its toll on your back. I had started feeling little bit of stiffness but did not want to miss-out even a single safari, so I thought it is better to take the front-seat. And that definitely worked for me!

Well another factor with age is you generally get tired little easily, so in the first 15-20 minutes into the safari (when we were moving without any sighting), I actually dozed off. A quick power-nap can do wonders to your energy levels!

I got woken up when we stopped near a small pond. We were on a cliff overlooking the pond, the water levels were very low, but there were some antelopes and some birds quenching their thirst. We waited there for few minutes to listen to jungle calls. Couldn't hear anything of interest, so Abhay decided to move ahead but asked the driver to stop almost immediately, he had sighted a fish eagle. It was nicely perched on a dry tree branch. Little further from there, we saw something on a tree branch that looked like a civet cat. It took us some time to identify the juvenile flying squirrel. Then we also saw on owl in it's nest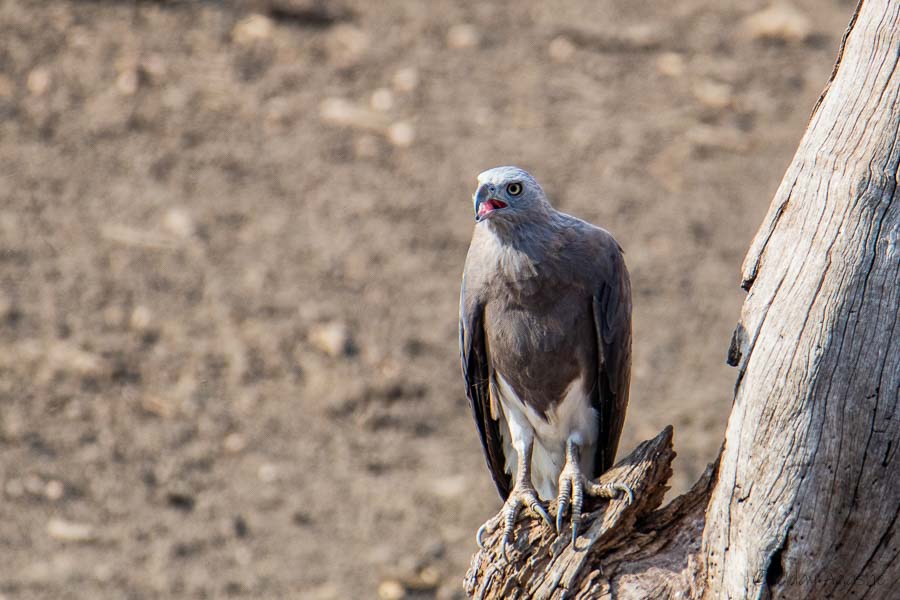 &nbsp Grey-headed Fish Eagle &nbsp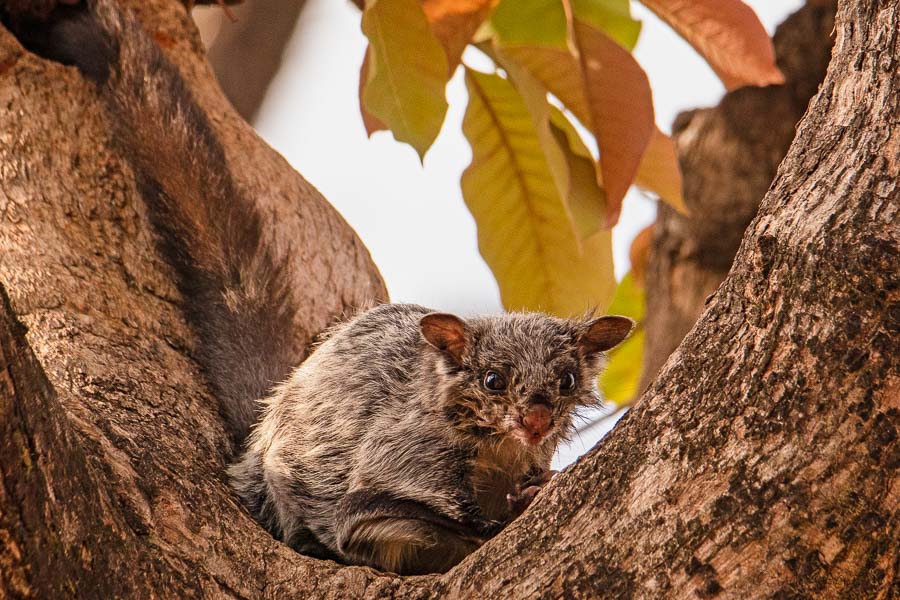 &nbsp Flying Squirrel &nbsp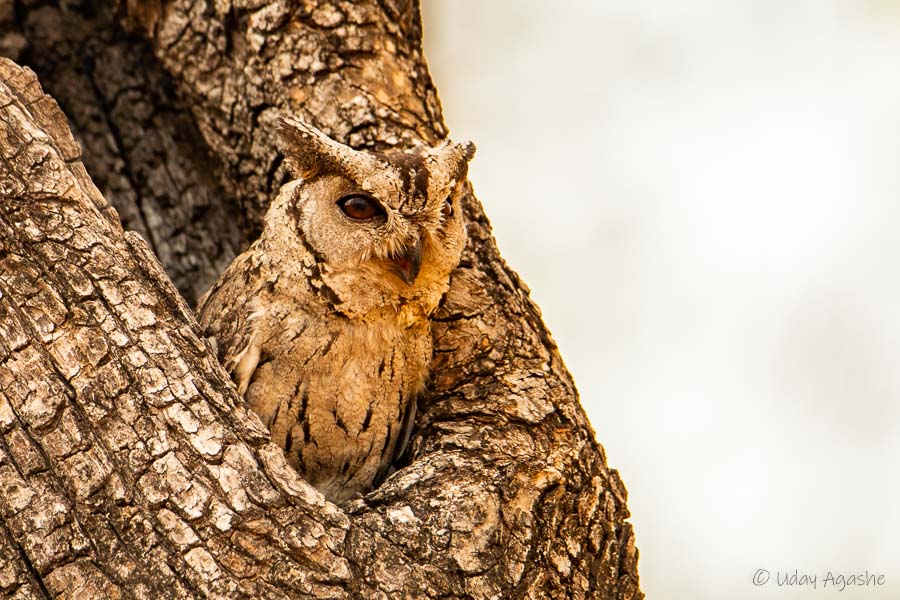 &nbsp Owl &nbsp
It was more than an hour we were roaming in the jungle but there was no sign of any tiger and then suddenly we saw couple of them. We saw one cub of tigress "Langdi" that was relaxing in the shade. We spent few minutes there but it was in no mood of any movement. And to our surprise, there were 2 forest guards on foot (haven't normally seen them roaming on foot in any of the jungles, that too when a tiger was in vicinity), they were very particular in not allowing any vehicle to stop beyond few minutes. That made us move out quickly but that turned out to be a lucky break for us as within 500 meters we saw another tiger. At that time, we were told it was the mother "Langdi" herself and the guides even mentioned some peculiar walking style because of which she was named that way. But next day, we came to know, it was another cub of hers and not the tigress.

This cub was also relaxing near a small artificial pond but it was making (promising) movement. It did raise the head and also made some turns in the direction of the standing gypsys.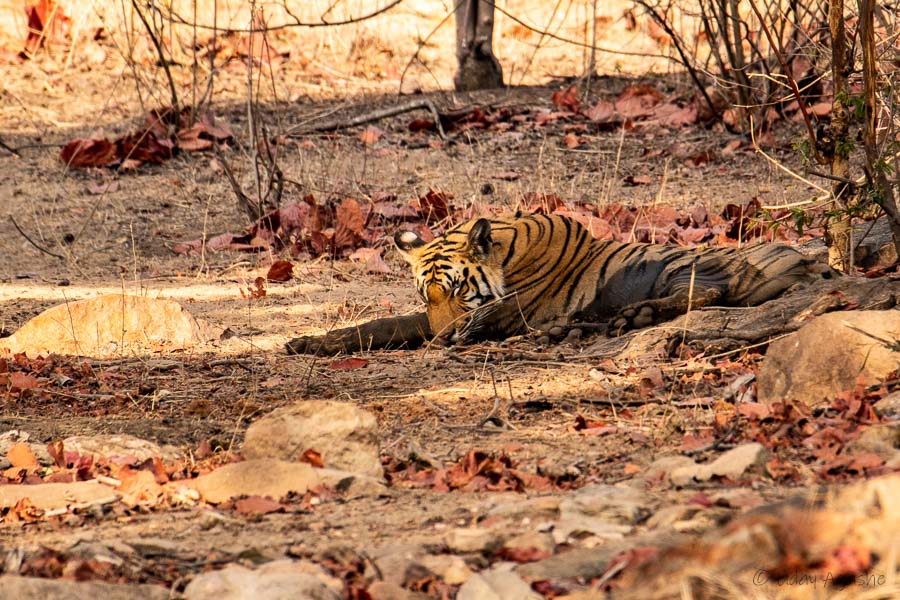 &nbsp Sleeping cub &nbsp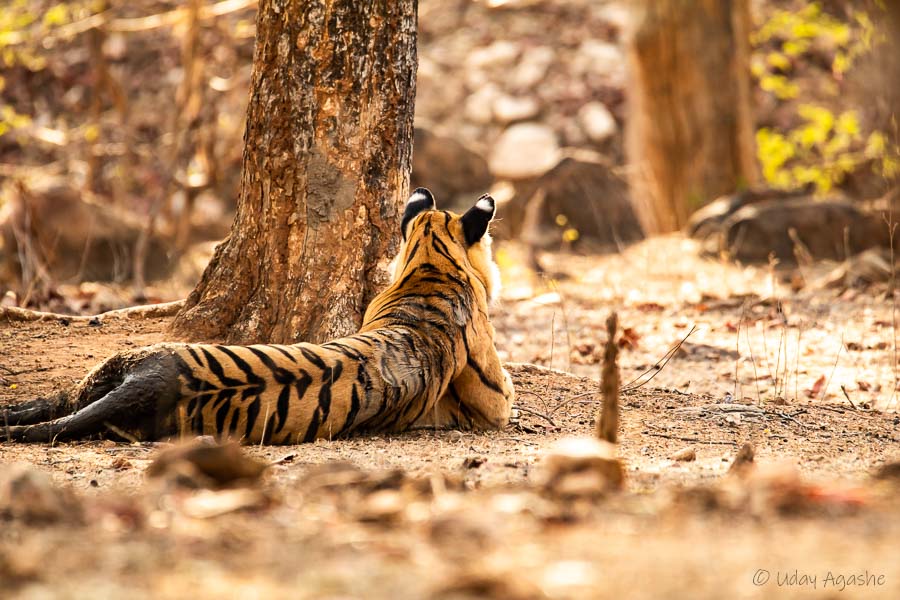 &nbsp Raising head &nbsp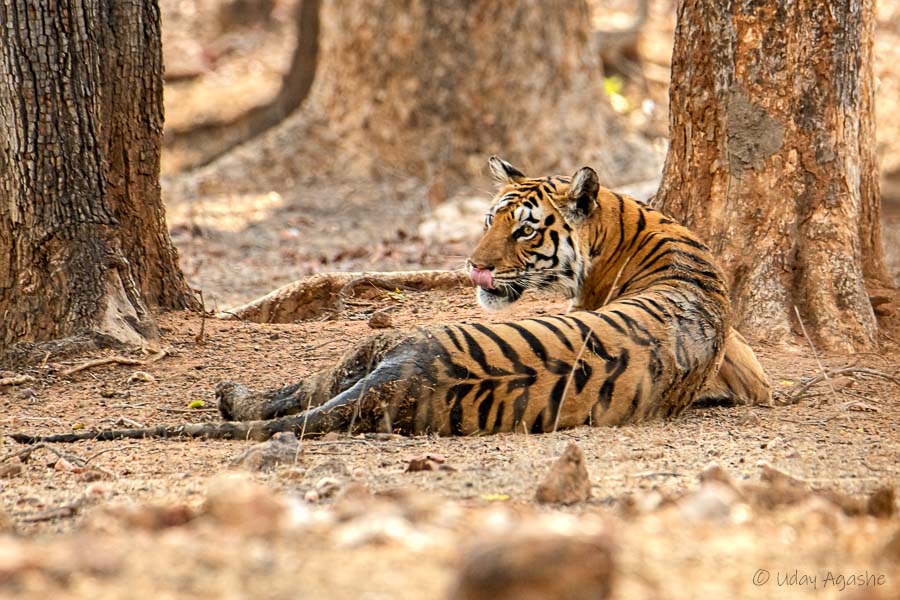 &nbsp Looking back &nbsp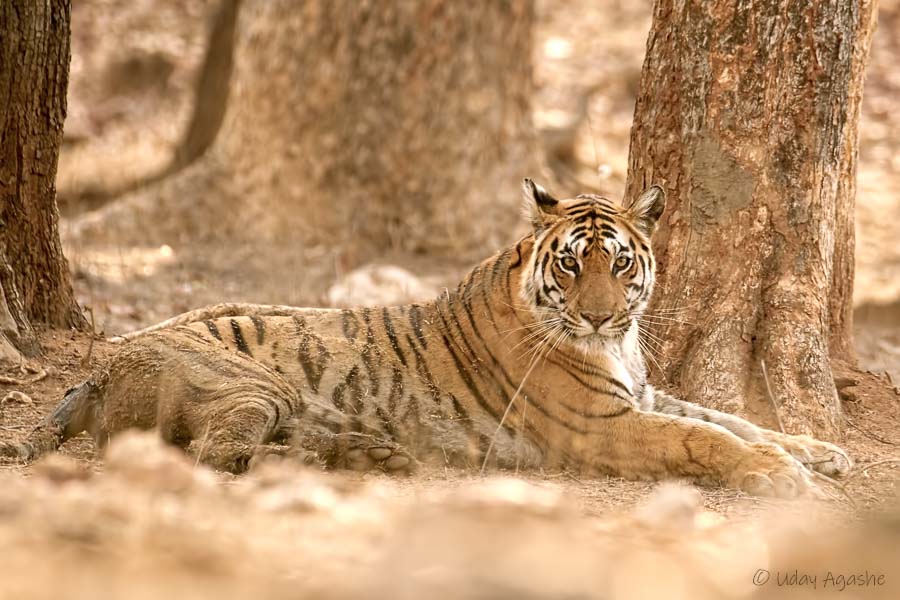 &nbsp Sharp Look &nbsp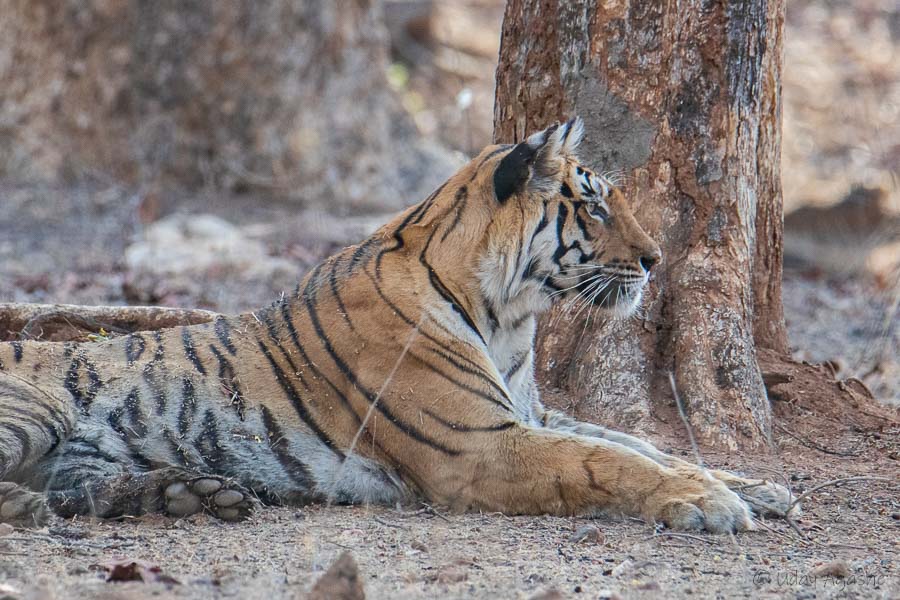 &nbsp Alert Mode &nbsp
After some time, it started walking parallel to us, making us move too. We tried to follow its path as much as possible. After about 200 meters it found a monkey (not sure if that was killed by the cub but the body was lying close to its path), it turned and grabbed the body in its mouth and walked away with the trophy.

This show went on just for 20 minutes but it was fun to watch the tiger walking along peacefully.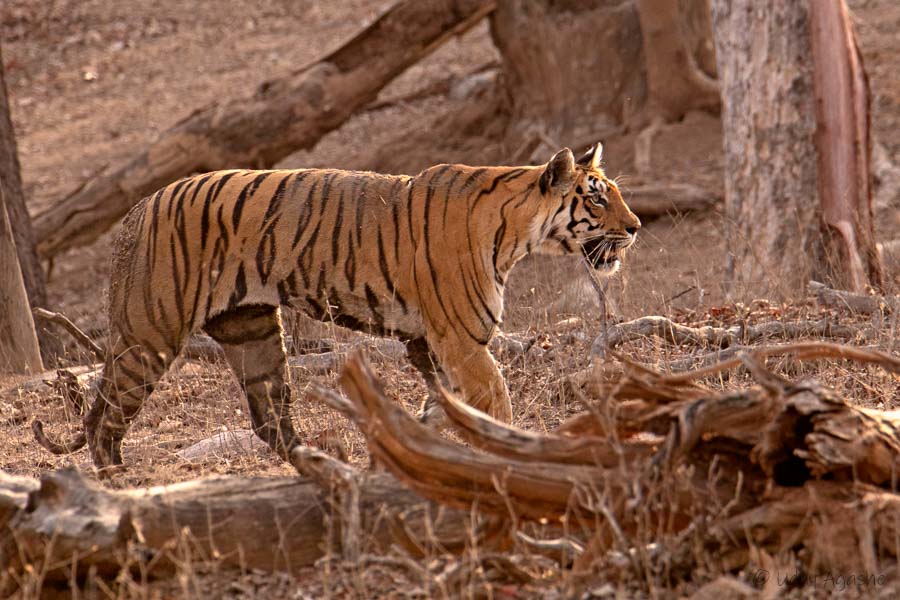 &nbsp Started Walking &nbsp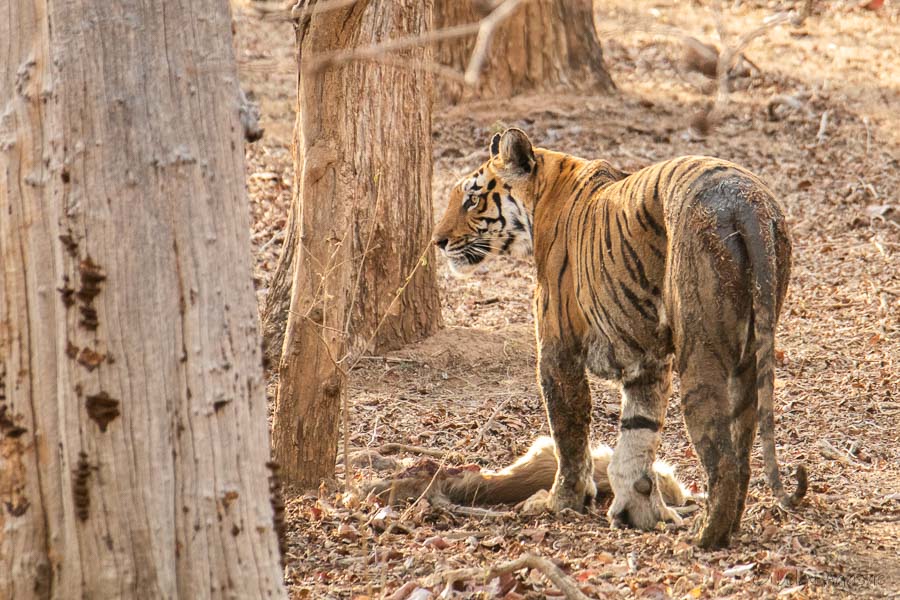 &nbsp Checking Around &nbsp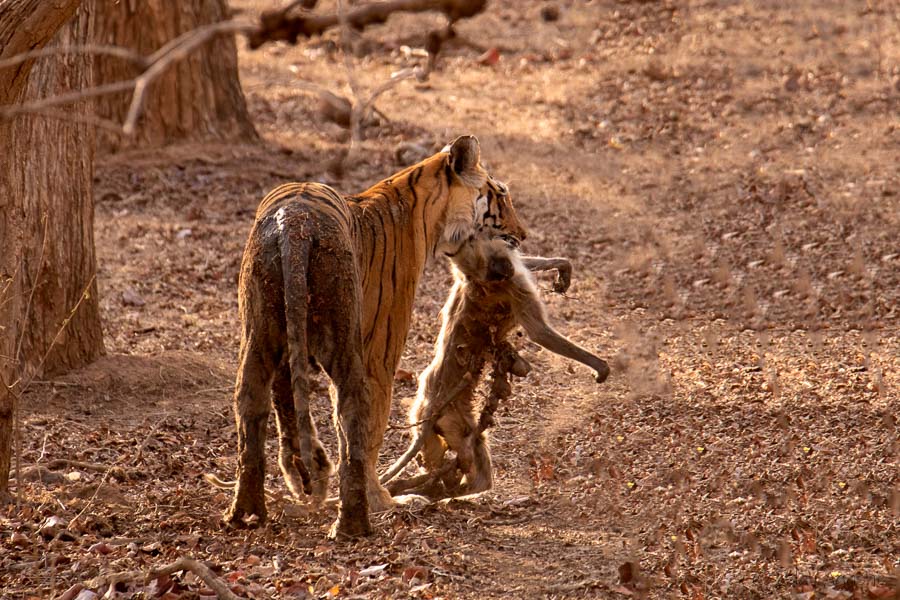 &nbsp Grabbing the kill &nbsp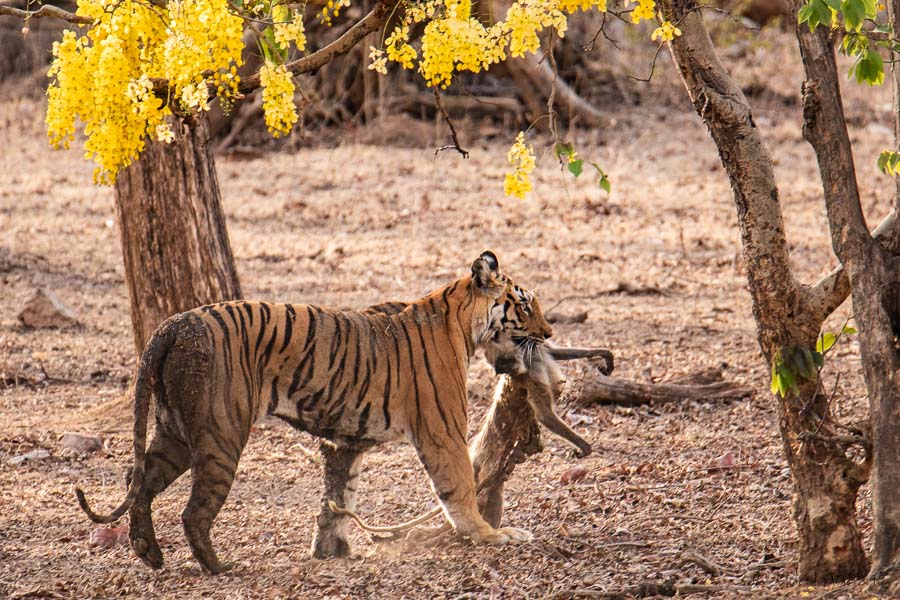 &nbsp Walking away with the kill &nbsp
Predator in Action

Both safaris of 28th May were in the Turia gate again. Morning was made enjoyable by the cubs and the evening show was reserved for the tigress.

Morning safari started with the majestic "Crested Hawk Eagle". It was nicely perched on a tree branch (that had no leaves) allowing us sufficient time to take the photos. It was followed by a white-eyed buzzard and few other birds.

While we were waiting at the water-hole (possible location where the tigers come for water), a woodpecker kept us company on a near-by tree. There were a few spotted-deer as well.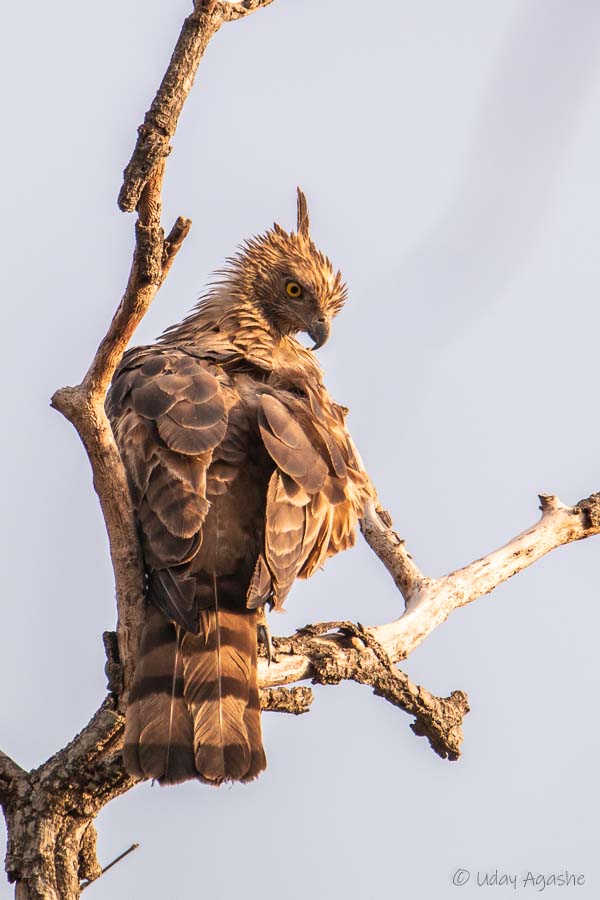 &nbsp Crested Hawk Eagle &nbsp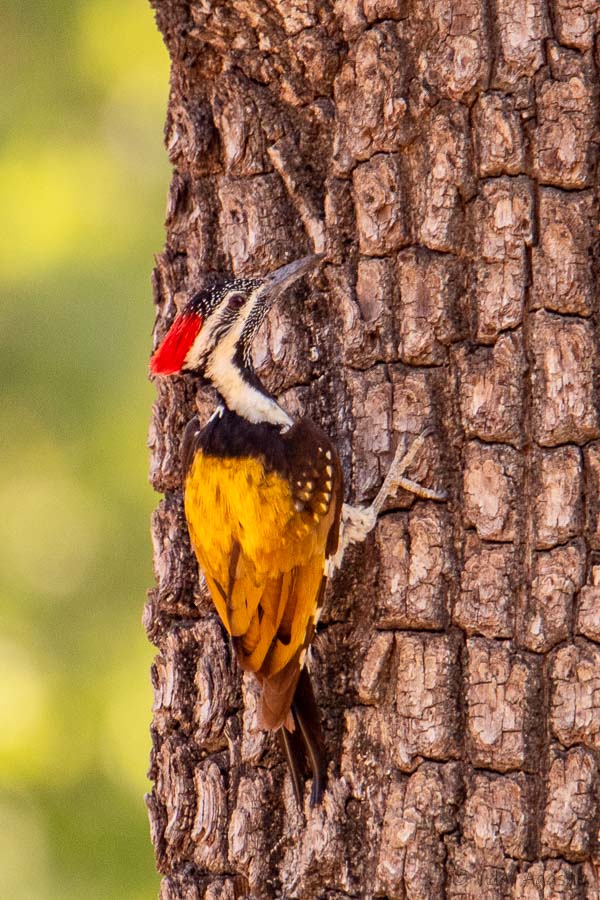 &nbsp Woodpecker &nbsp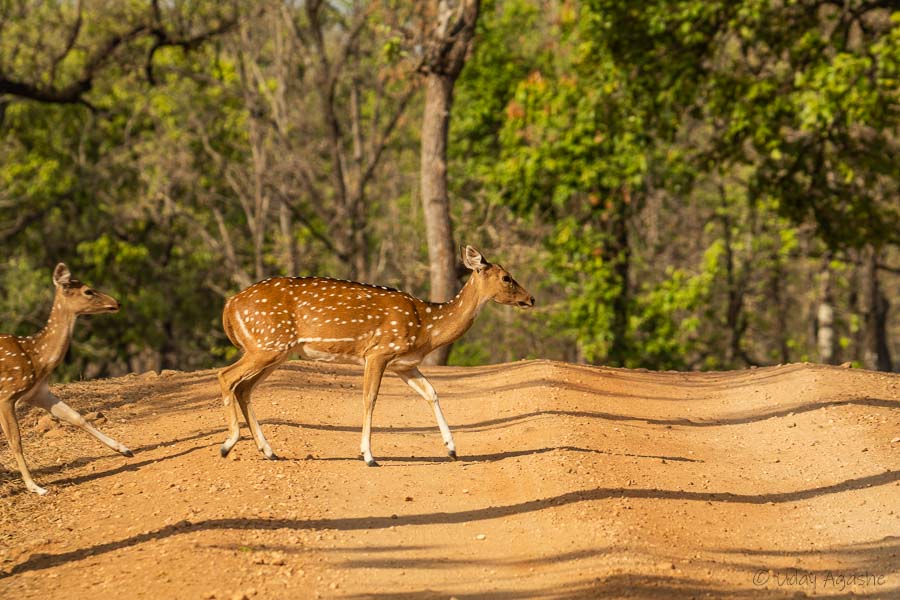 &nbsp Spotted Deer &nbsp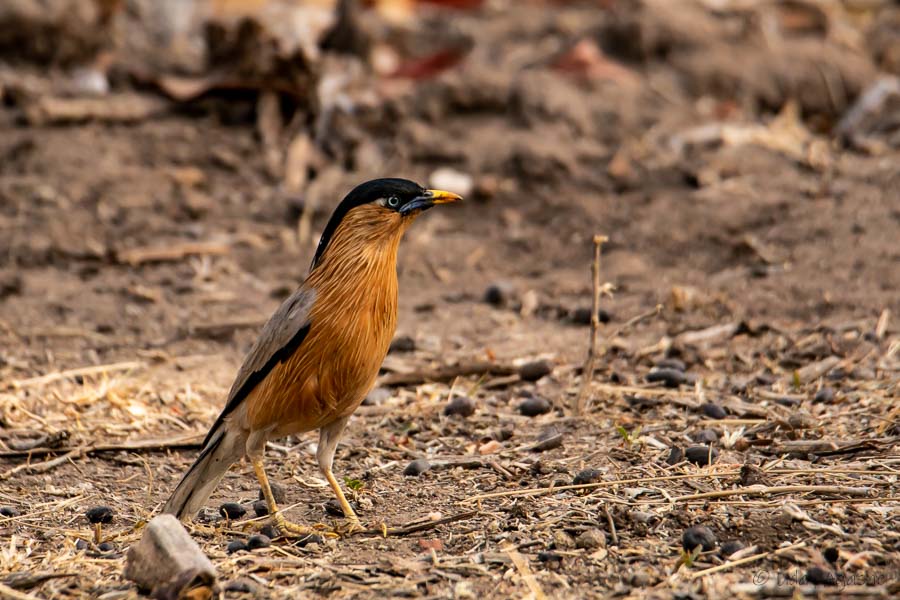 &nbsp Brahminy Starling &nbsp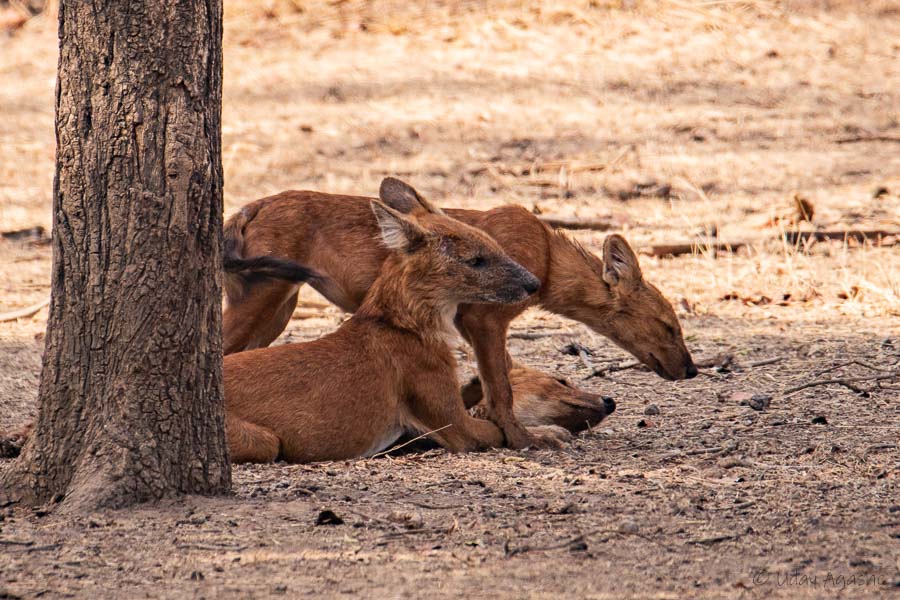 &nbsp Wild Dogs &nbsp
At the waterhole we even saw a small power-play between Juvenile Dhol (wild-dog) and a Monkey. The wild-dog mother and 2 cubs were seated near the water; a monkey and a sambar deer were approaching the water from the other side. After seeing their advance, the dhol cub mocked an attack, took few steps in the direction of the monkey, the monkey was probably aware that the threat is not so severe and it kept its stand. But in the end monkey did give up and went without drinking any water. That satisfied the dog and it retreated to its mother, allowing the deer to come to the waters in the process.

By 11 we had to be back at the entry-gate and our driver/guide gave us a deadline of 10:40 by which we have to start back. But as luck would have it, at exactly 10:36 we saw a tiger approaching the waterhole. And within 10 minutes it was joined by another cub, the guide was getting desperate now as we had to leave but we kept taking photos (although the light was not in favor and the heat-wave was causing further damage, but we still continued). By 10:50, we finally left and the driver speeded up to the gate in a hurry.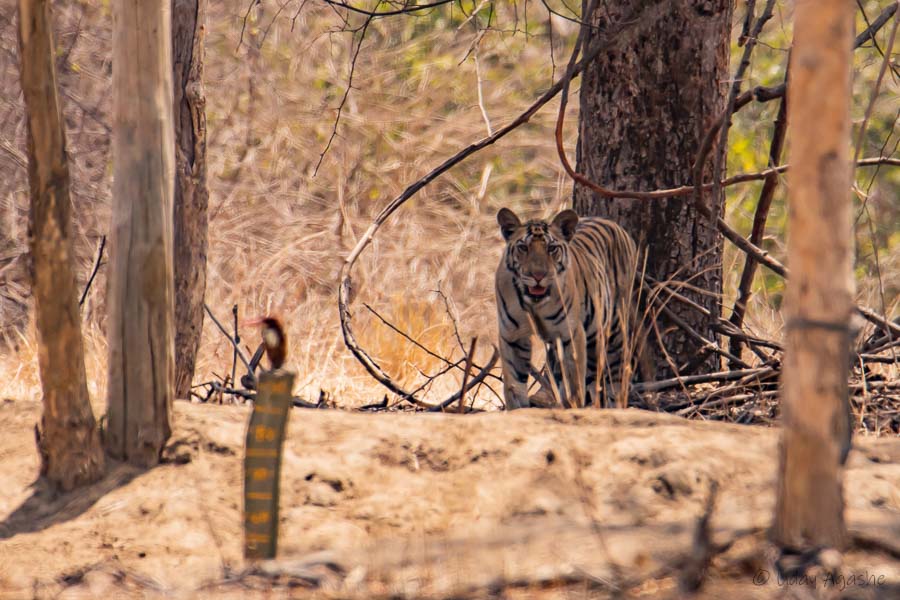 &nbsp First cub arrives &nbsp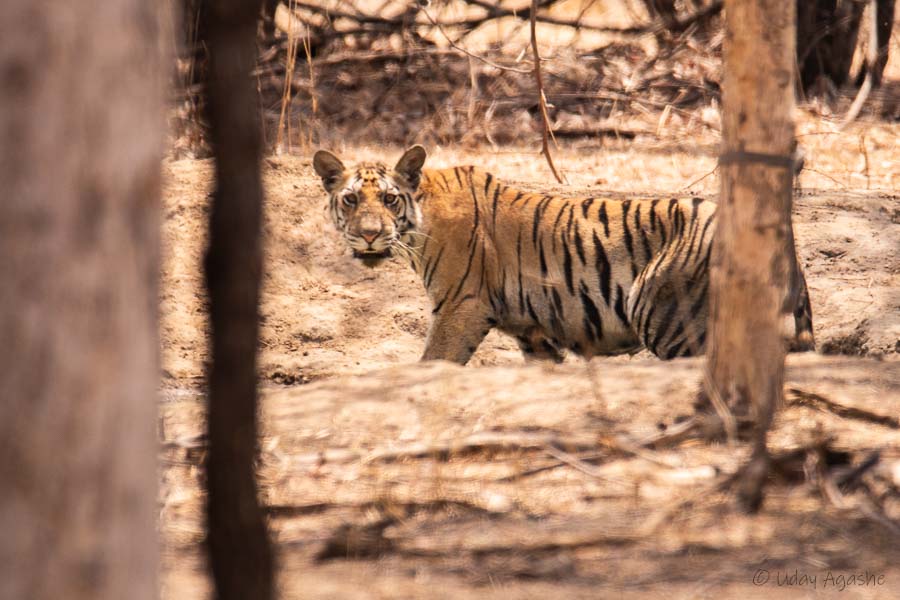 &nbsp Getting settled &nbsp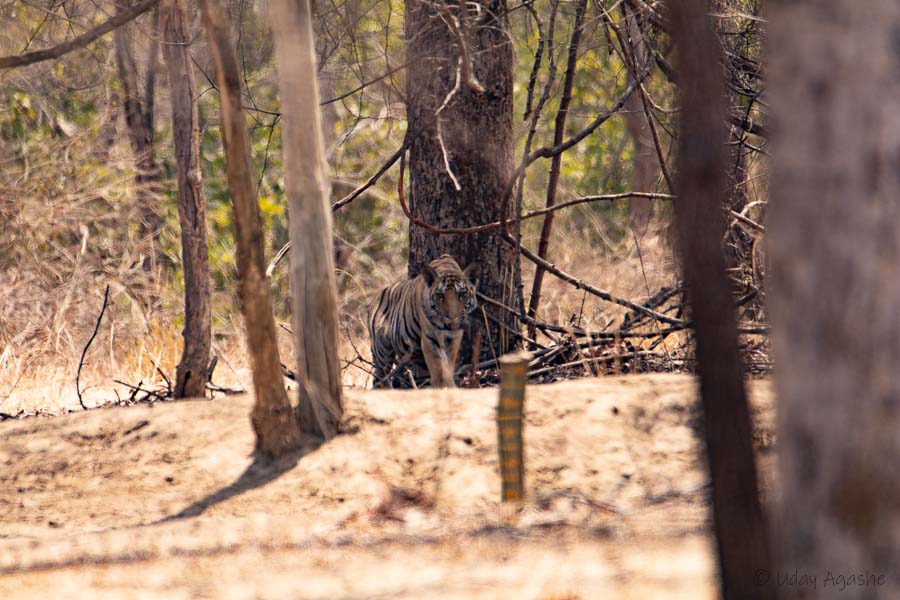 &nbsp 2nd Cub &nbsp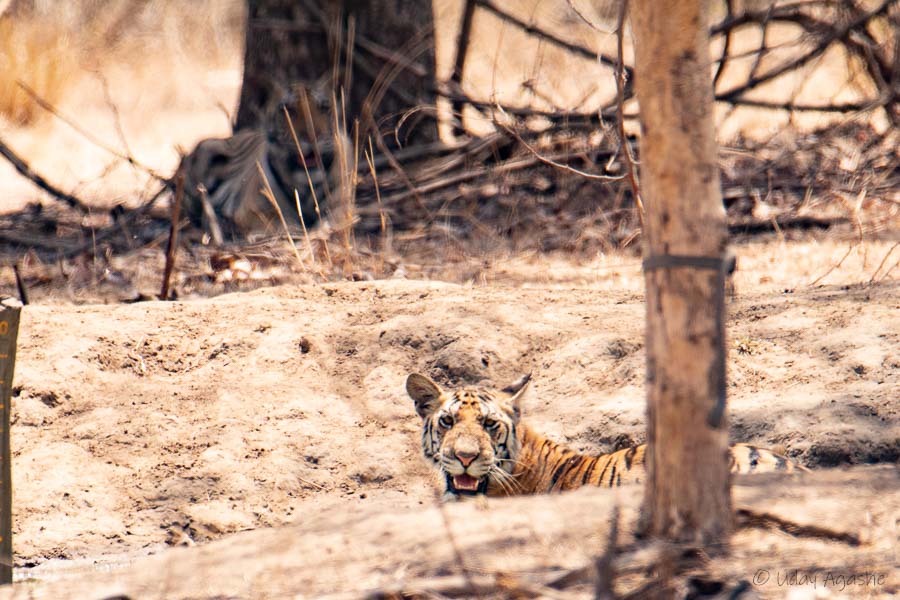 &nbsp Both in 1 Frame &nbsp
Evening safari turned out to be very good for us, though our other gypsy missed out on some action. At around 5 o'clock, we first spotted the tigress, she walked coolly to the water-hole and sat in a typical pose (when tigers feel the heat, they seem to like this particular pose).

There were spotted deer and monkeys around her but she kept her pose nonchalantly. For next 15-20 minutes she continued to twist and turn and observe the surroundings from different angles. Then she suddenly got up, looked at a particular direction and then turned away to walk towards a small (dried) water-stream. As she was moving, there were some new vehicles that had arrived on the spot and we gave up our position (anyway the tigress was moving away) and stood a little further away (but the tigress was still visible, though at large distance).

All this while, Abhay kept on looking in that direction and he was handsomely rewarded for his vigil. As the tigress got little deeper into the stream, some inquisitive monkeys went near the spot to see if she has actually gone away, but their curiosity turned fatal for one of them. Within a fraction of a second, the tigress turned and jumped onto the monkey. He had no time to run and probably lost life instantaneously. The tigress walked away with the monkey in the jungle (opposite to our side). All this happened so fast, that by the time we turned out attention to Abhay's call, the main action had already happened, we just saw the tigress walking away (no one could even raise our cameras either). There was little bit of commotion among the monkeys (just for a few seconds) and then everything went silent again, that's life in the jungle, guys!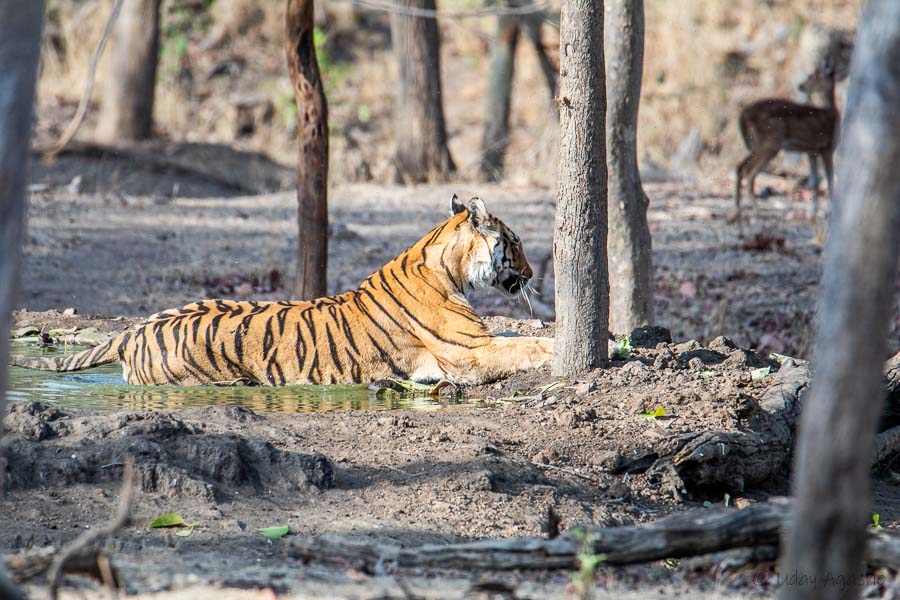 &nbsp In Bath Tub &nbsp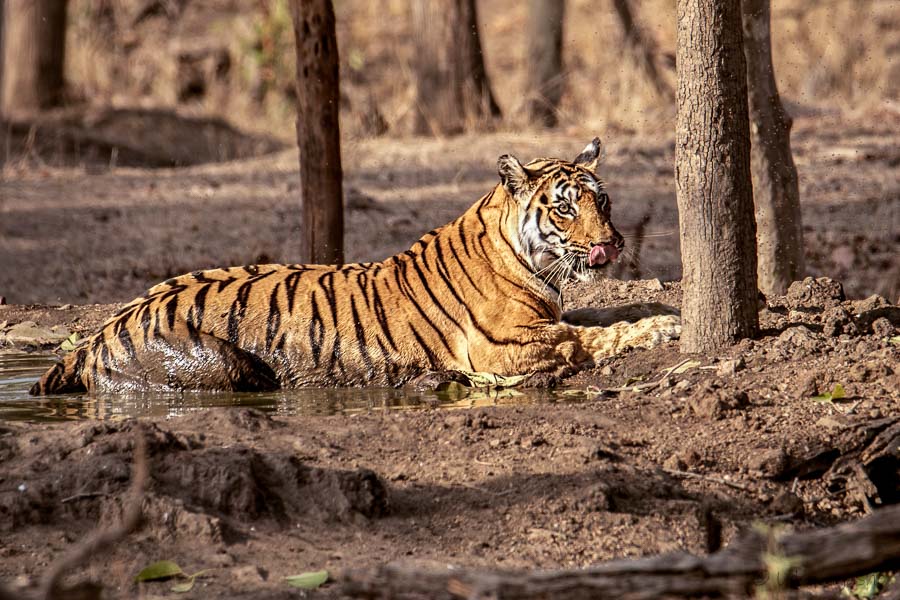 &nbsp Look Ahead &nbsp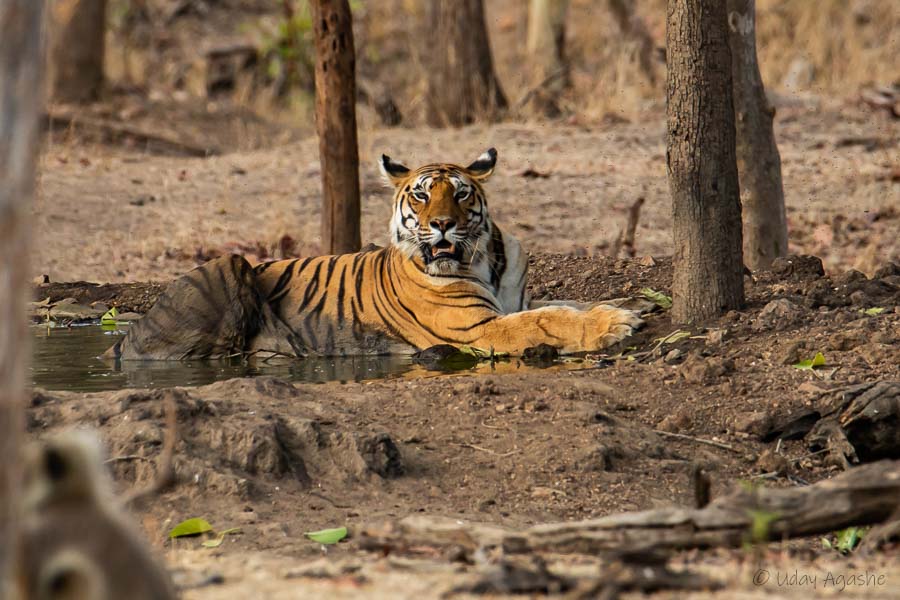 &nbsp Sideways Look &nbsp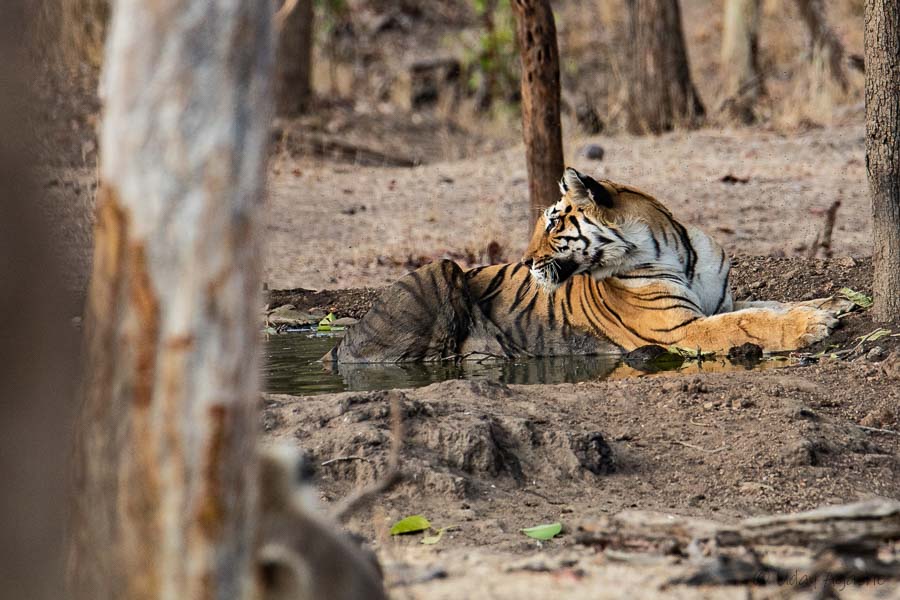 &nbsp Close watch Behind &nbsp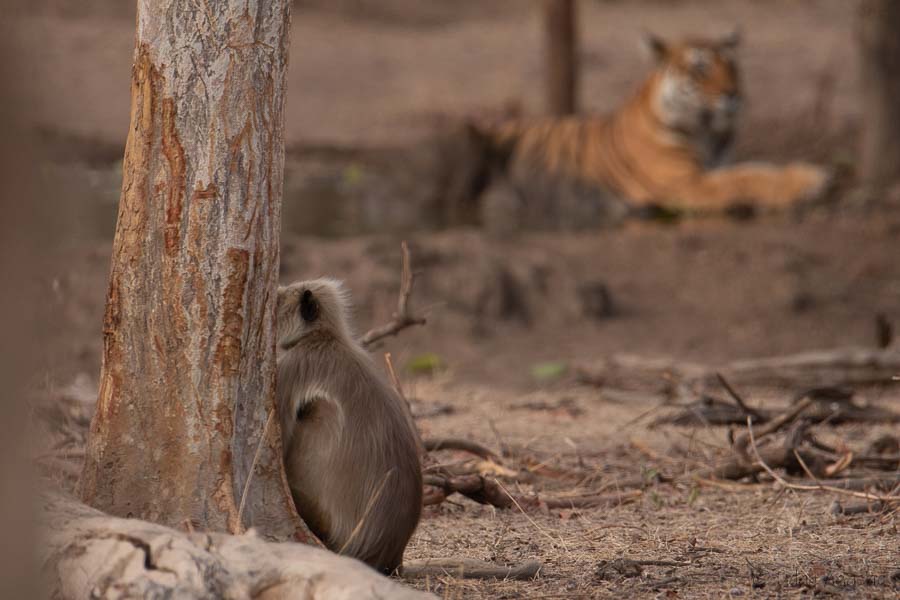 &nbsp The unfortunate Monkey &nbsp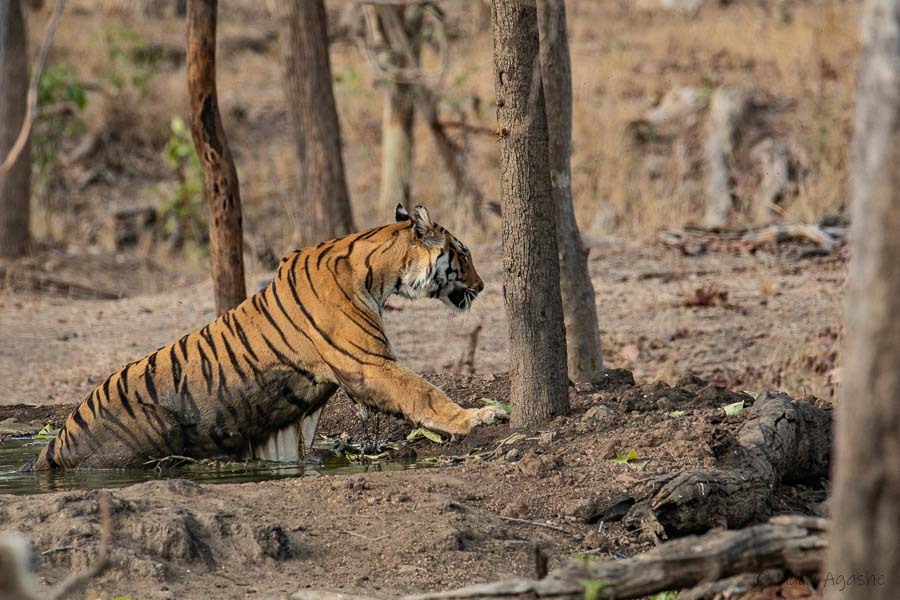 &nbsp Getting up &nbsp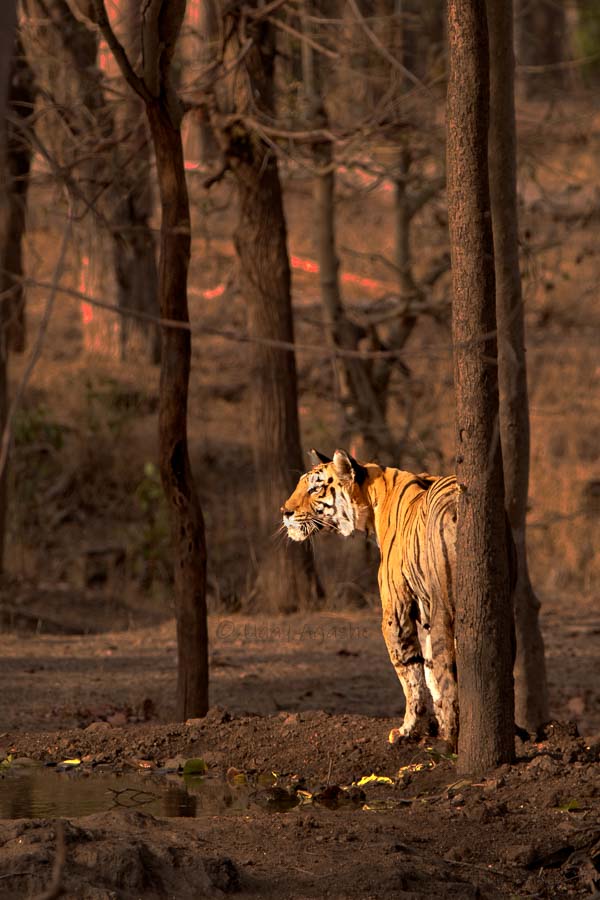 &nbsp Posing for Camera &nbsp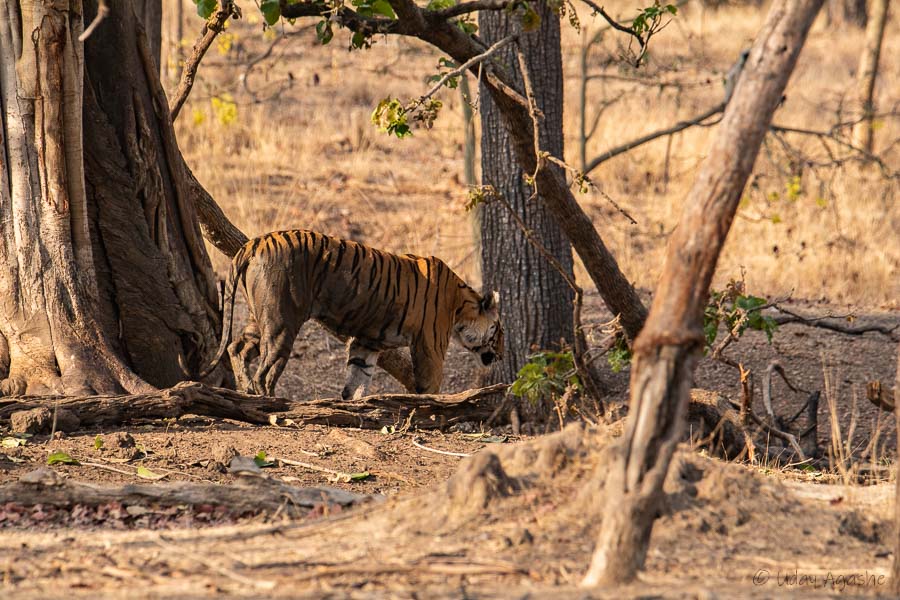 &nbsp Walking away &nbsp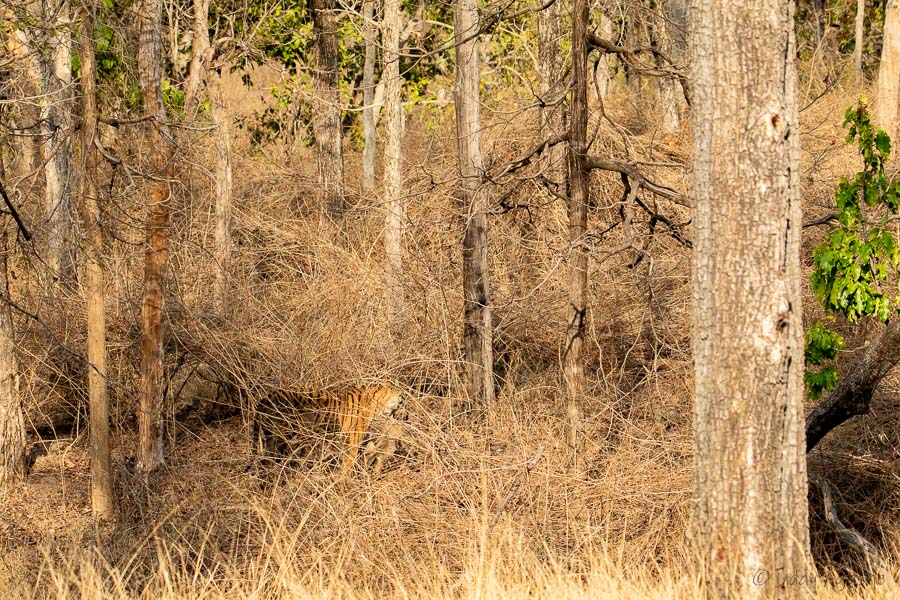 &nbsp Walking with Kill &nbsp
With that action, we could have ended our day there itself, but that is all in theory. Practically, for any photographer, nothing is enough and we kept expecting some more action!!

And we actually did get to see another tiger (possibly another cub of Langdi). It was very far from us and was busy drinking water for a long time (hardly moved its head-up during that time). It was so engrossed that there were some pea-hens that passed-by near it and the tiger didn't bother even looking at them.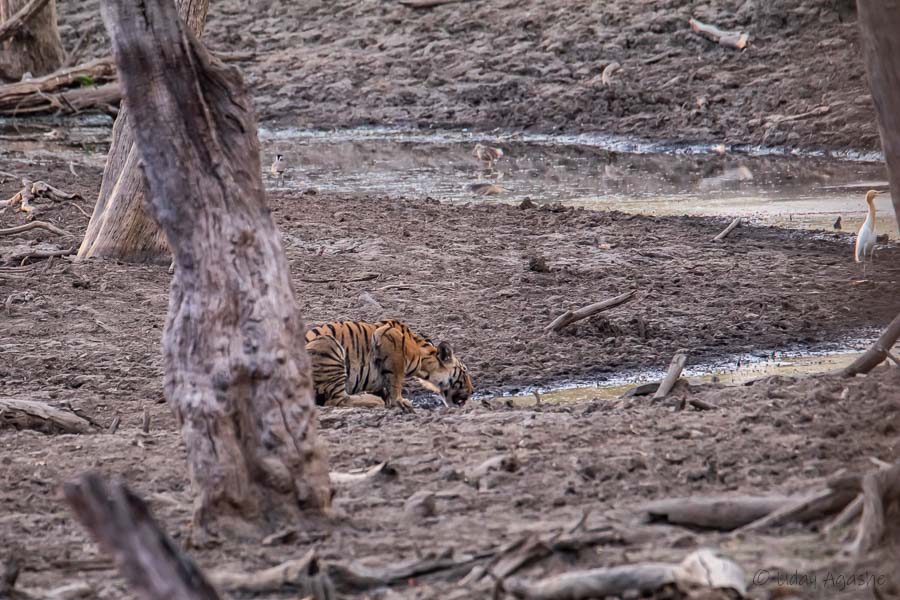 &nbsp Quenching Thirst &nbsp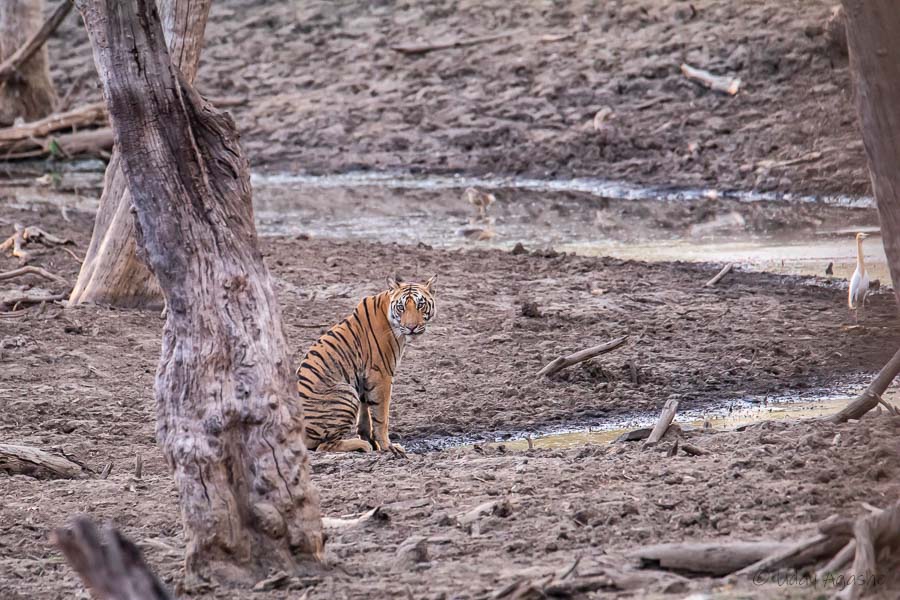 &nbsp Occassional Look &nbsp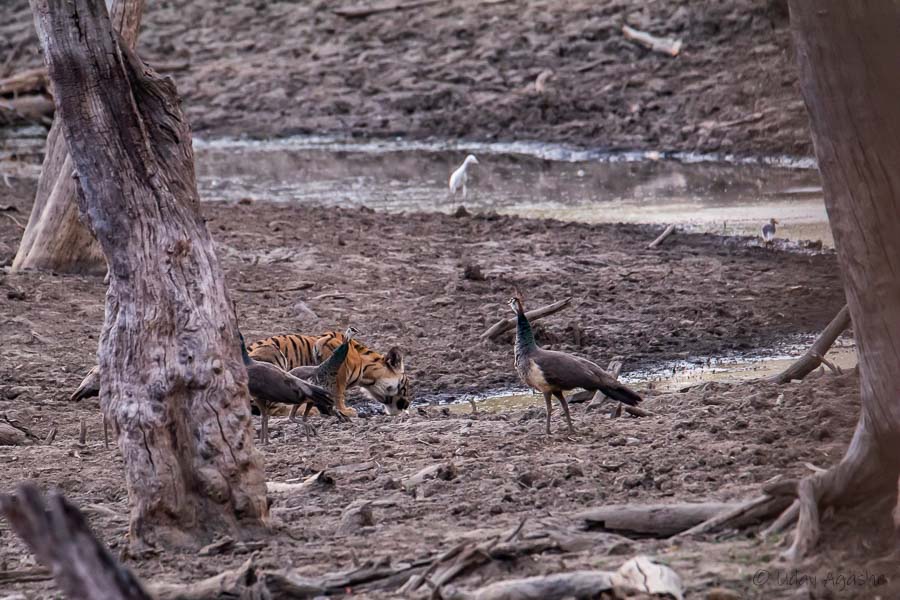 &nbsp Back to water &nbsp
Finally "day without tiger"

After the evening safari, we were all discussing about photography learnings, and aspects like post-processing, social-media sharing, etc. when the local safari-operator (who had come to meet Abhay). He mentioned to us that we should go for another part of jungle (the buffer area), the likelihood of tiger-sighting there will be remote but the jungle will be worth going into (the landscape, birds, etc.). For a change, we all unanimously agreed to take that. Already we had seen tiger in all 9 safaris so we could afford to miss one!


"For those of you who are not aware, all Indian jungles have the "core" area which is the main jungle and a "buffer" area, that is not part of core, but there still can't be any industrial activity in that region. It typically is the forest-border where there are villages and you see paddy-fields and cattle around. By the way, In India, only 20% area of the core zone is accessible for the general public. Remaining 80% is only for the wild animals (and the forest officials)."
So on our last safari, we diverged to a different jungle. It turned out to be really good, nice tall trees and more birds too. We did see fresh pug-marks at one location but the tiger eluded us throughout the safari hours (it so happened that on this particular day, even the other safaris in Turia did not see any tiger). Roaming around thru this dense jungle, we reached a small pond. That seemed to be abuzz with lot of avian activity. Kingfishers, Orioles, buzzards, shikra, lapwings, and many more….they were all present. The Oriental Honey Buzzard did modelling for us. It came for water and in the process flapped it wings so many times, that all photographers went crazy with the clicks.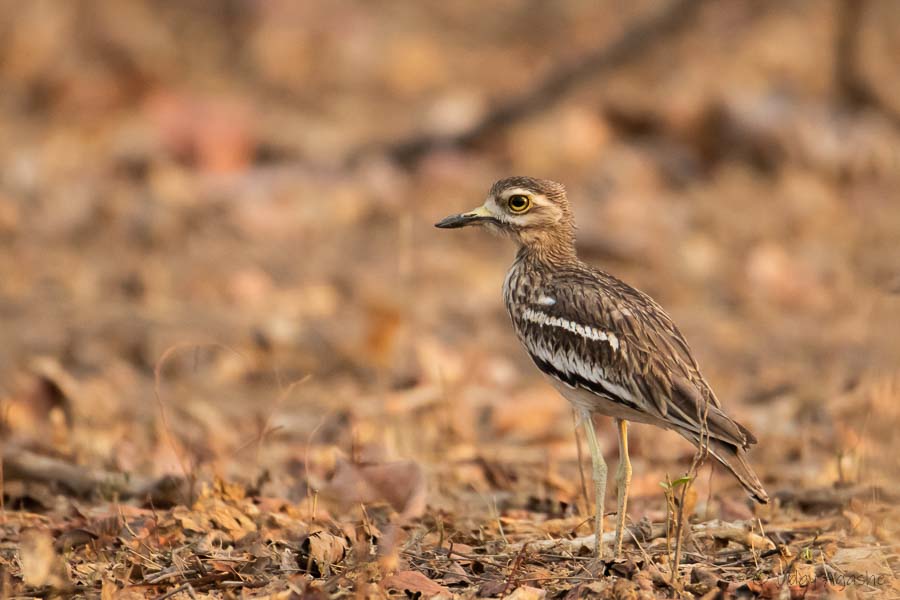 &nbsp Indian Thick-knee &nbsp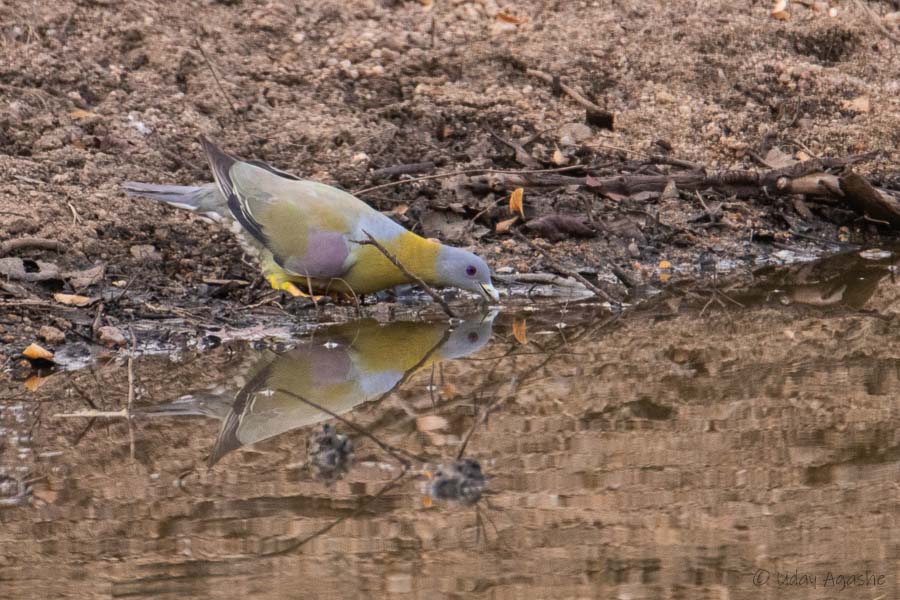 &nbsp Yellow-footed Green Pigeon &nbsp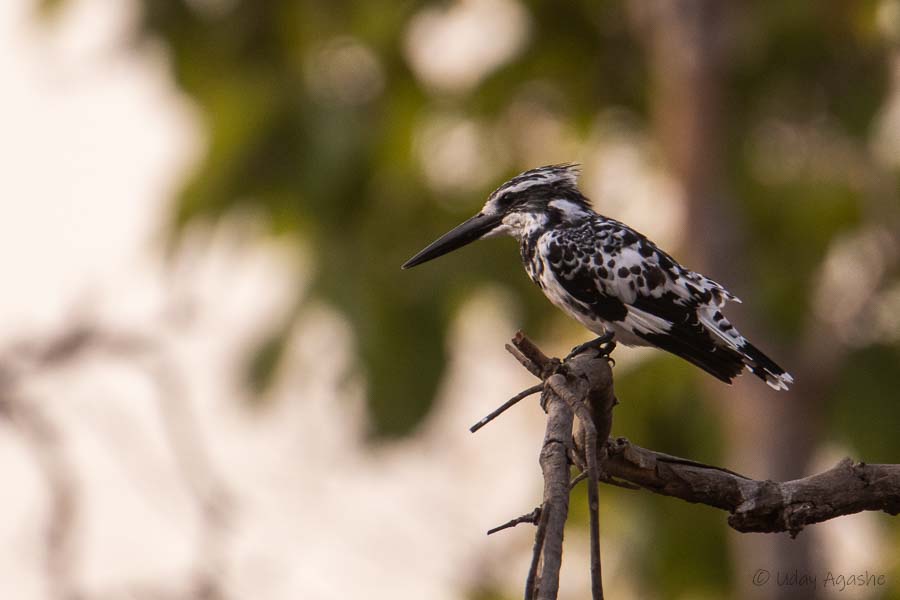 &nbsp Pied Kingfisher &nbsp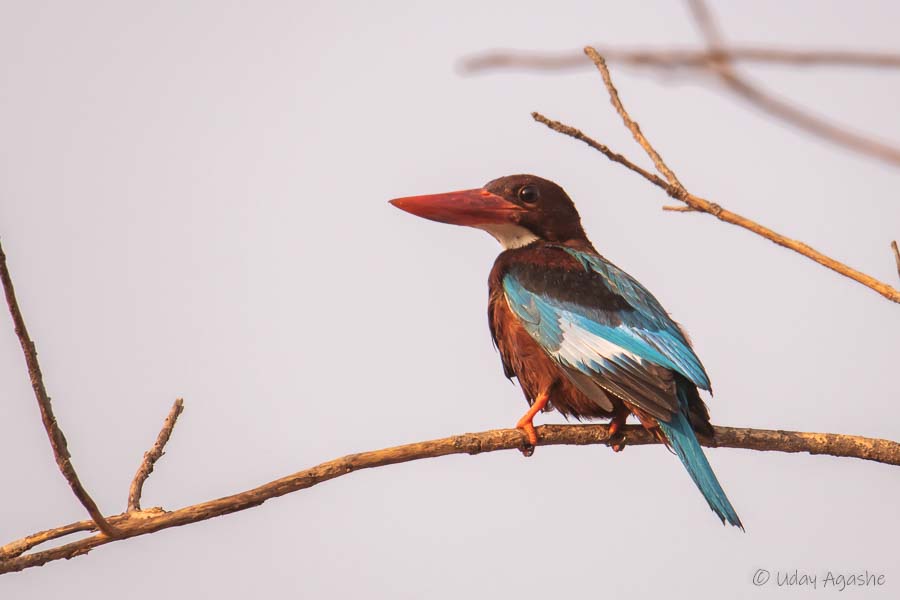 &nbsp White-throated Kingfisher &nbsp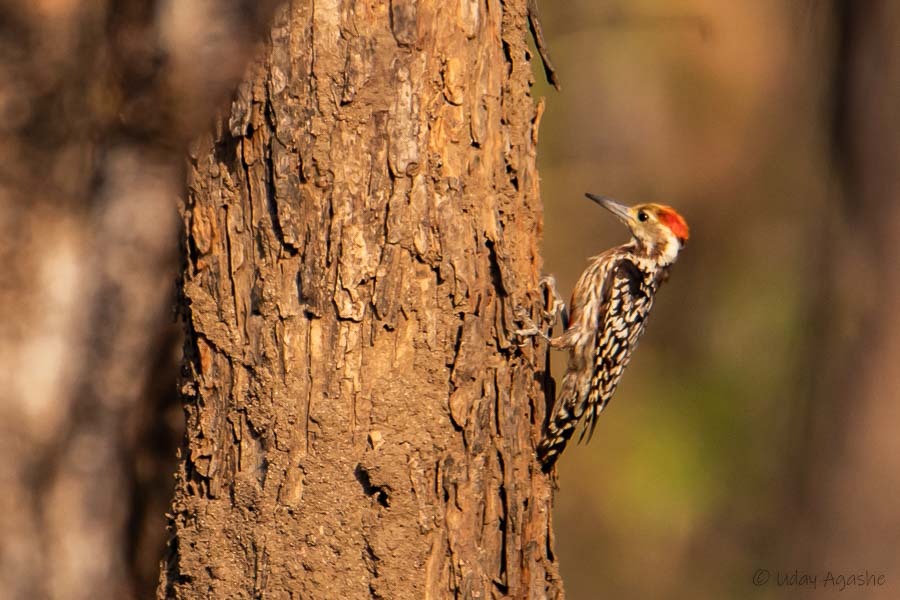 &nbsp Woodpecker &nbsp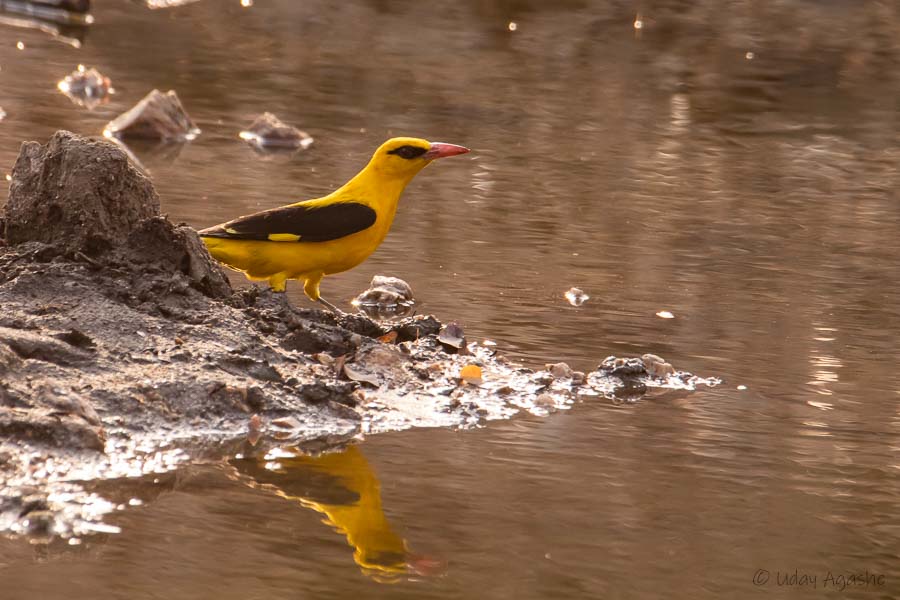 &nbsp Indian Golden Oriole &nbsp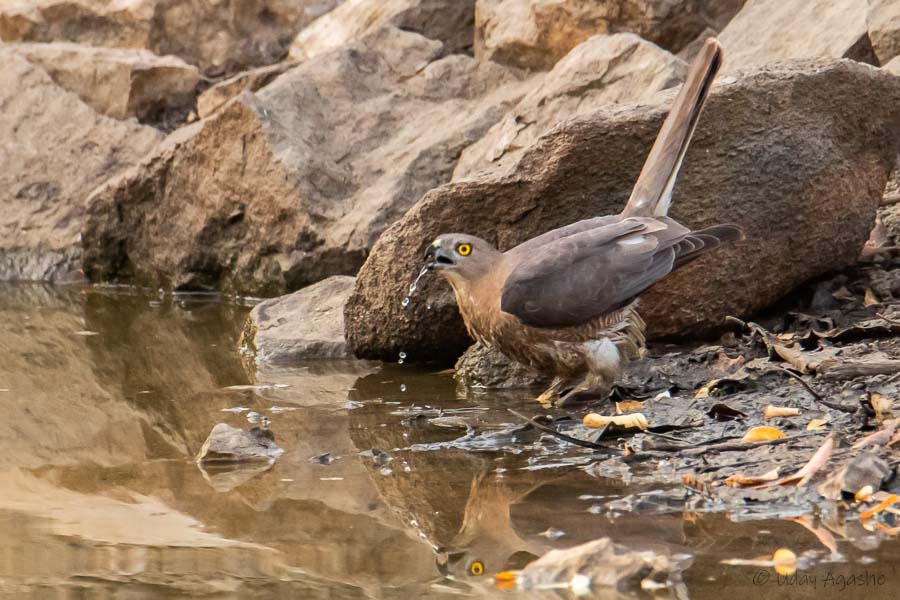 &nbsp Shikra at Water &nbsp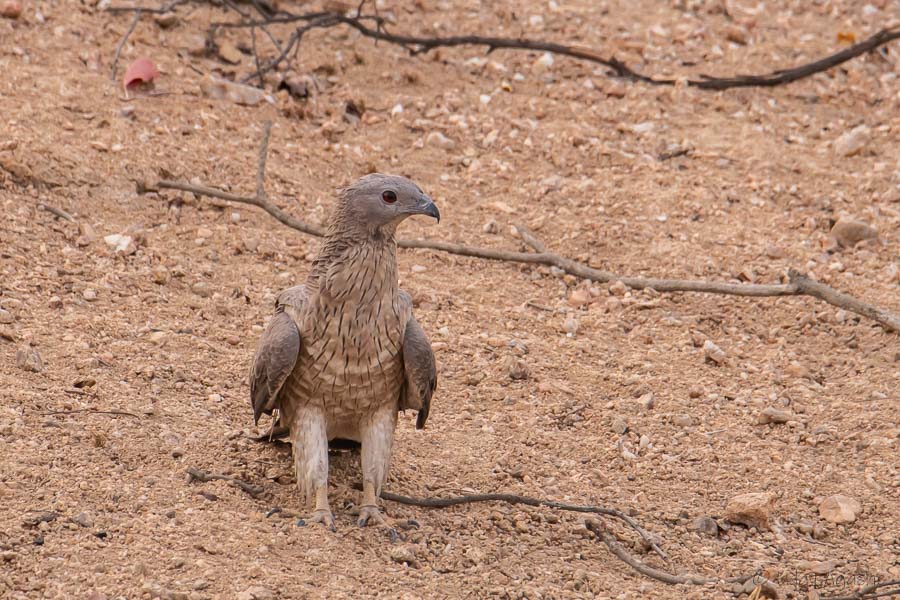 &nbsp Oriental Honey Buzzard (OHB) &nbsp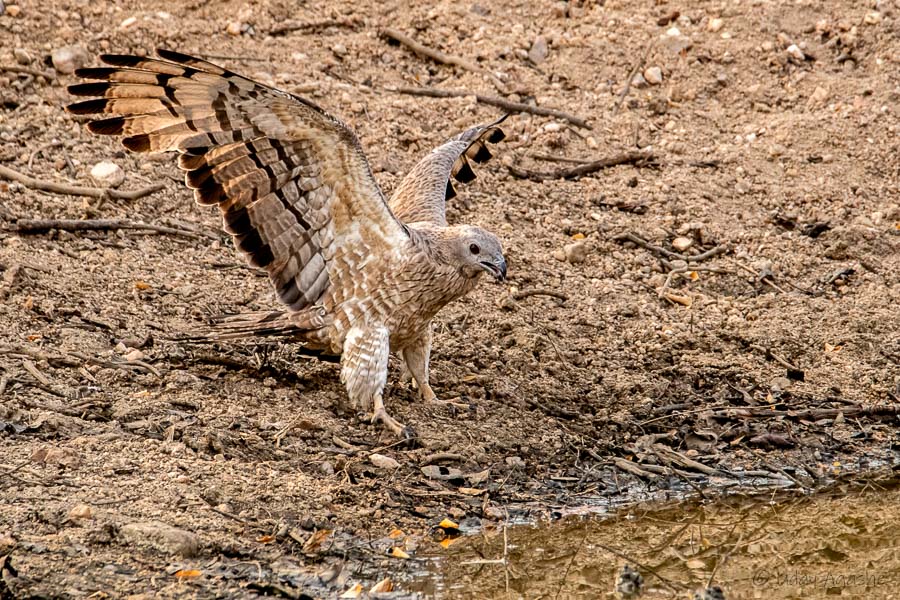 &nbsp OHB &nbsp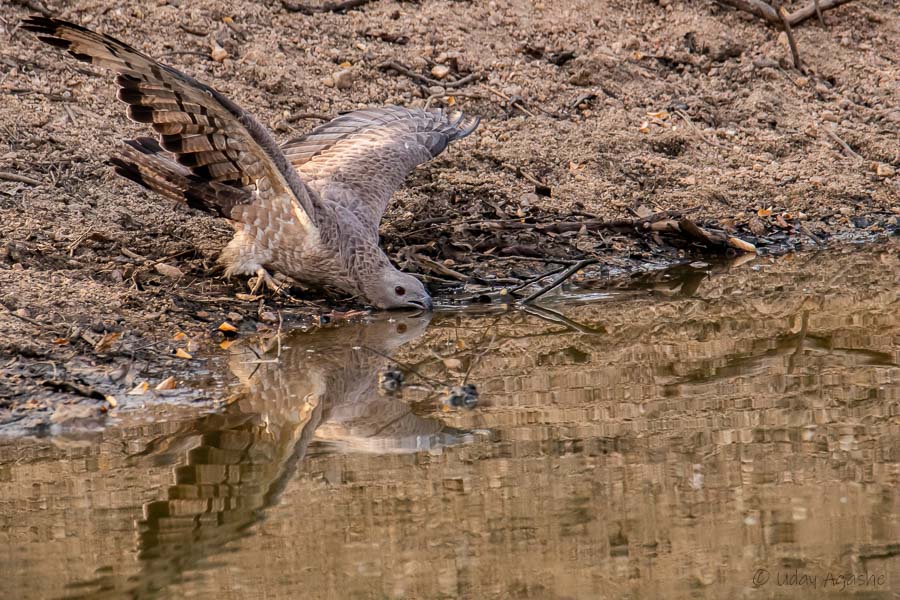 &nbsp OHB &nbsp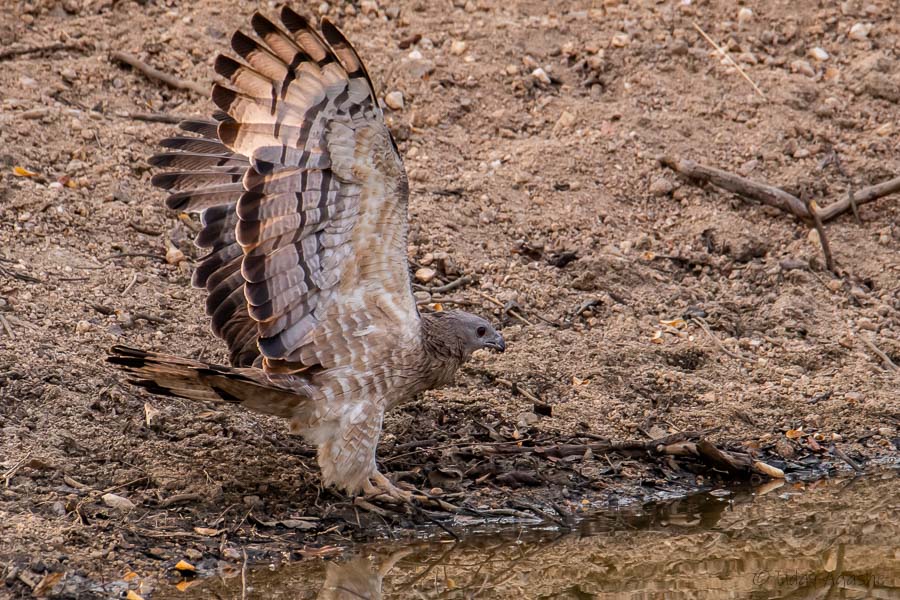 &nbsp OHB &nbsp
We were all happy with the birding, but Bharat still wanted to give one last try for tigers, so before moving out we did try 1-2 water spots where there was a possibility of sighting but with no luck.

Prior to that, we managed to catch some action with the fan-throated lizards. The males were standing on the ant-hill and fanning their throats to attract the females.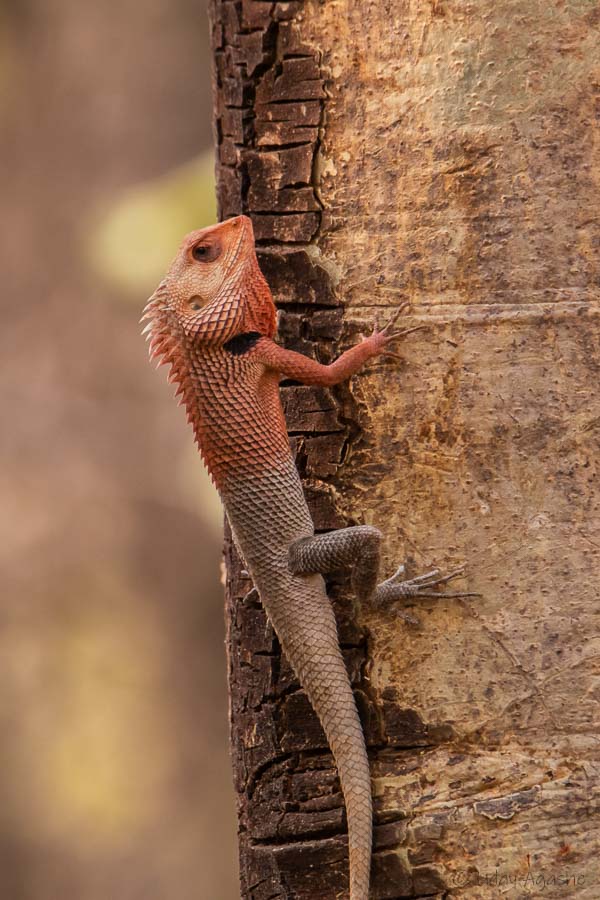 &nbsp Garden Lizard &nbsp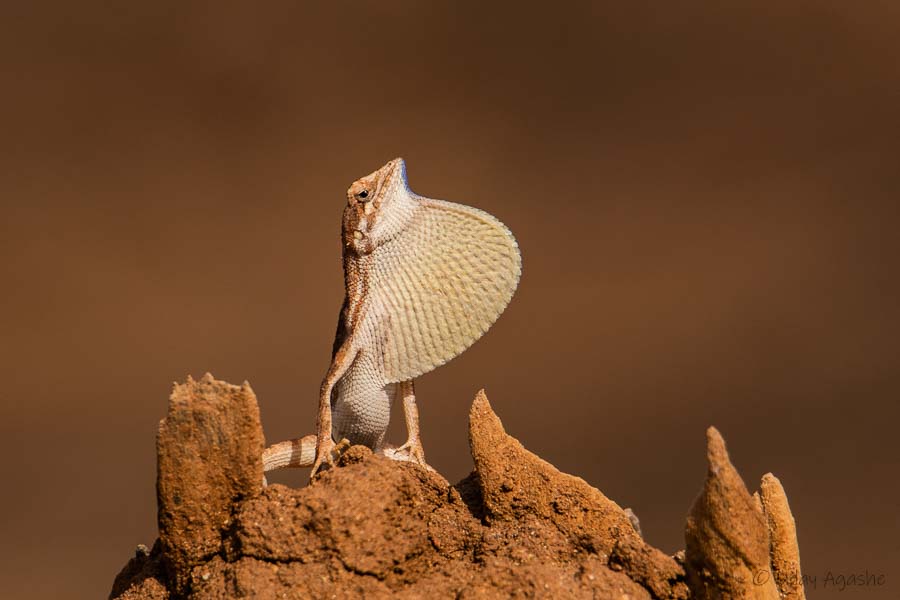 &nbsp Fan-throated Lizard &nbsp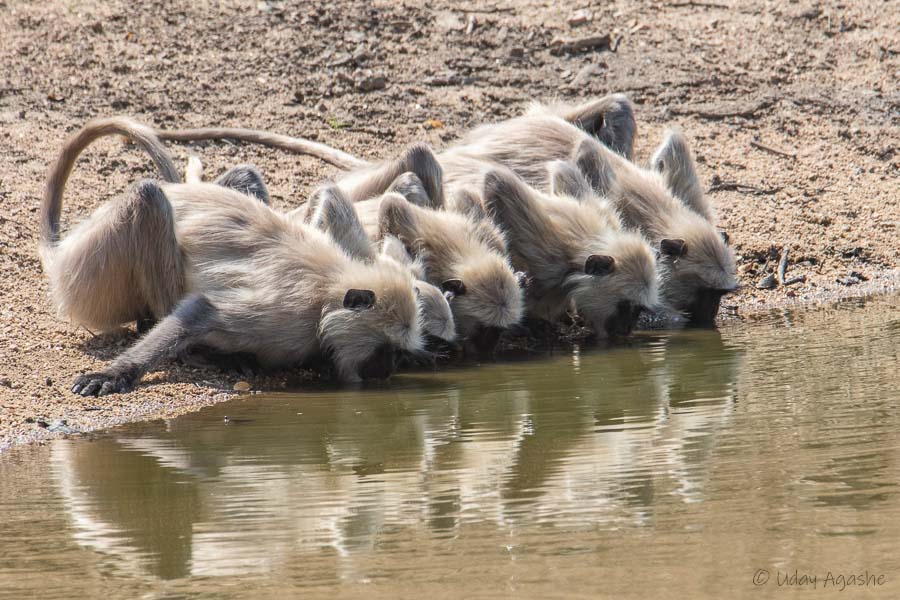 &nbsp Discipline &nbsp
That marked the end of a nice tiger-tour. There were lot of learning about the jungle, photography, post-processing and some plans for what can be done next year!

Return journey for each of us was from Nagpur, and we had the customary stop at Haldiram's before departing.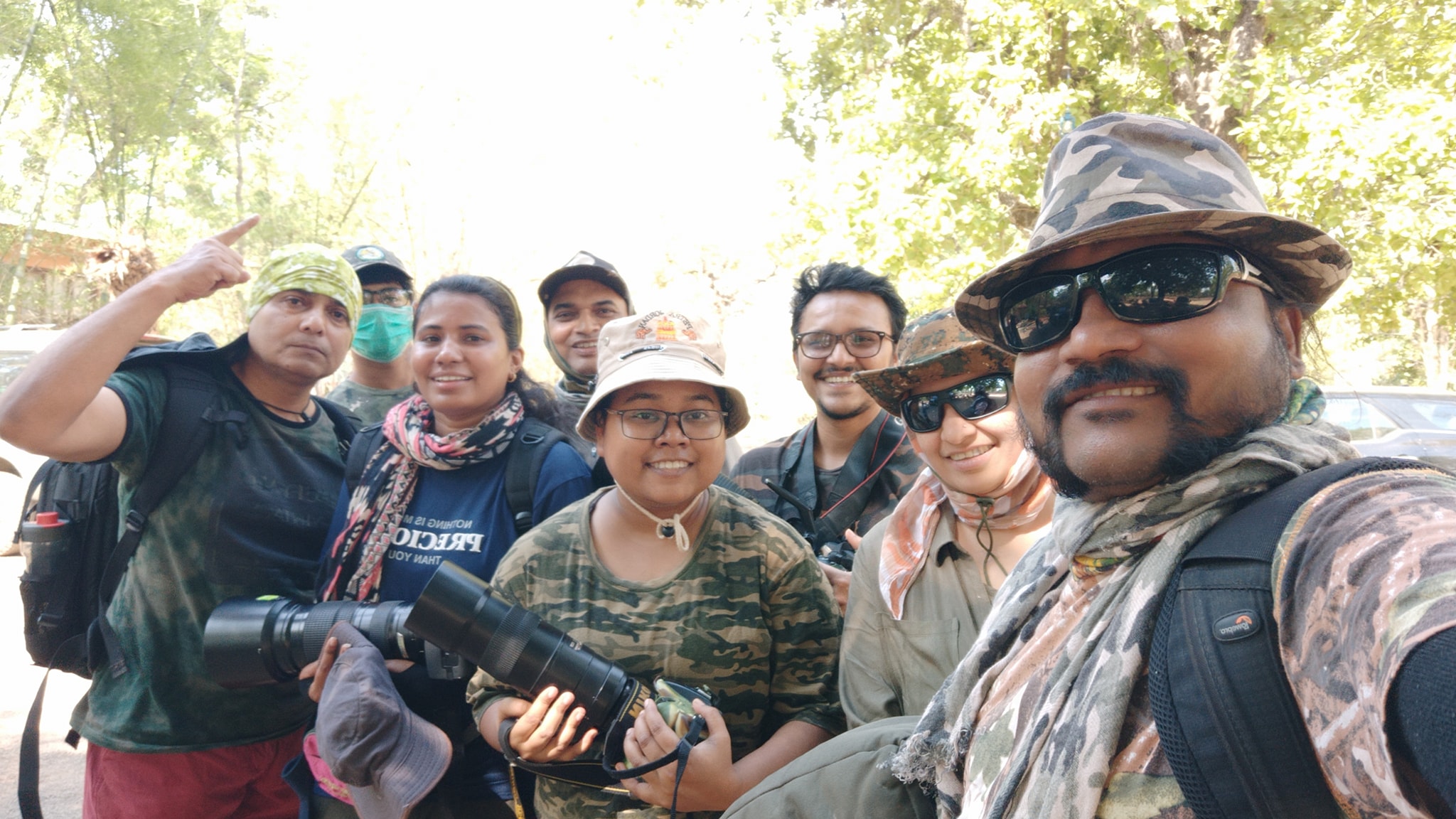 &nbsp Before First Safari &nbsp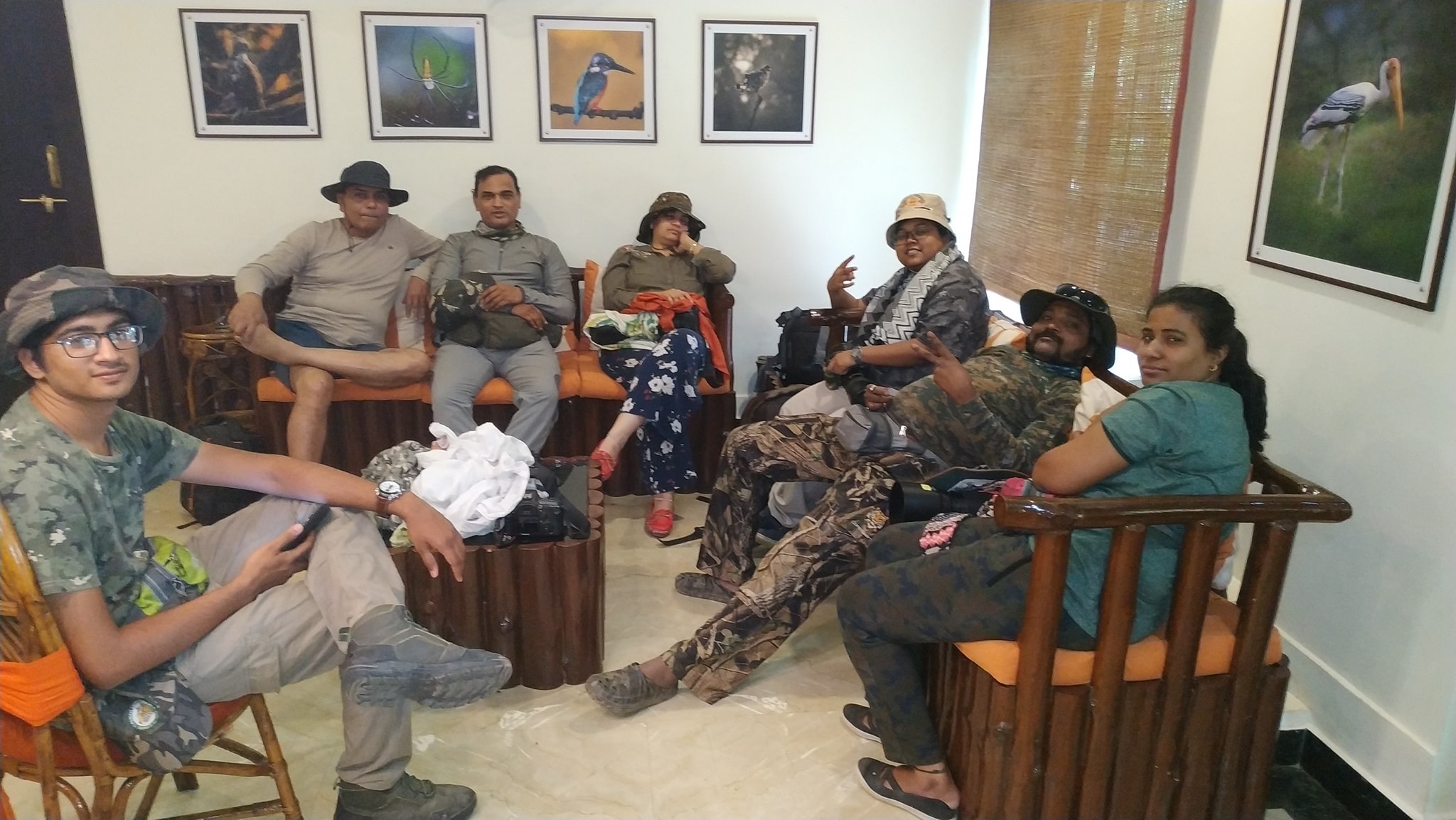 &nbsp Tired but Happy &nbsp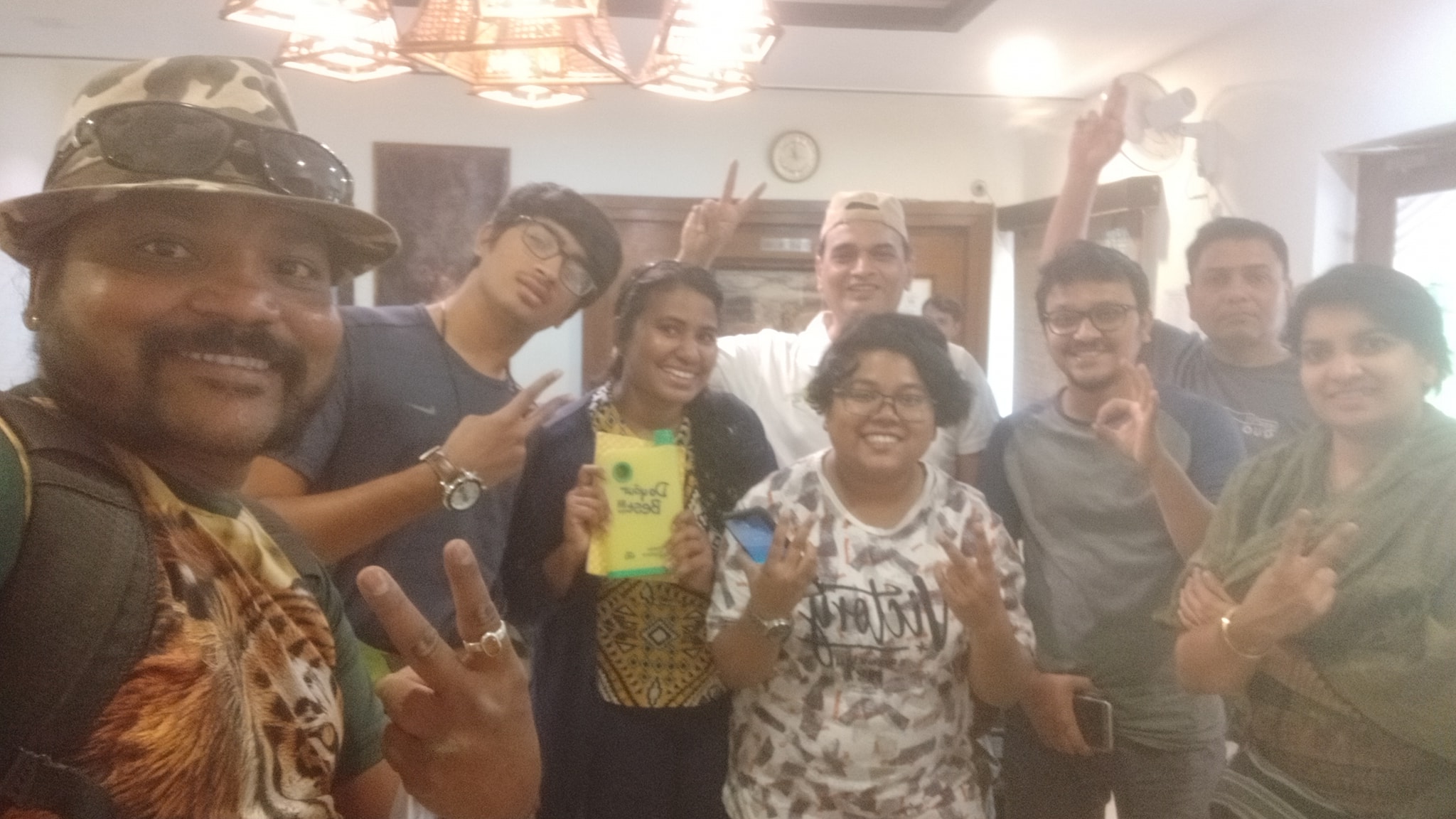 &nbsp In Pench &nbsp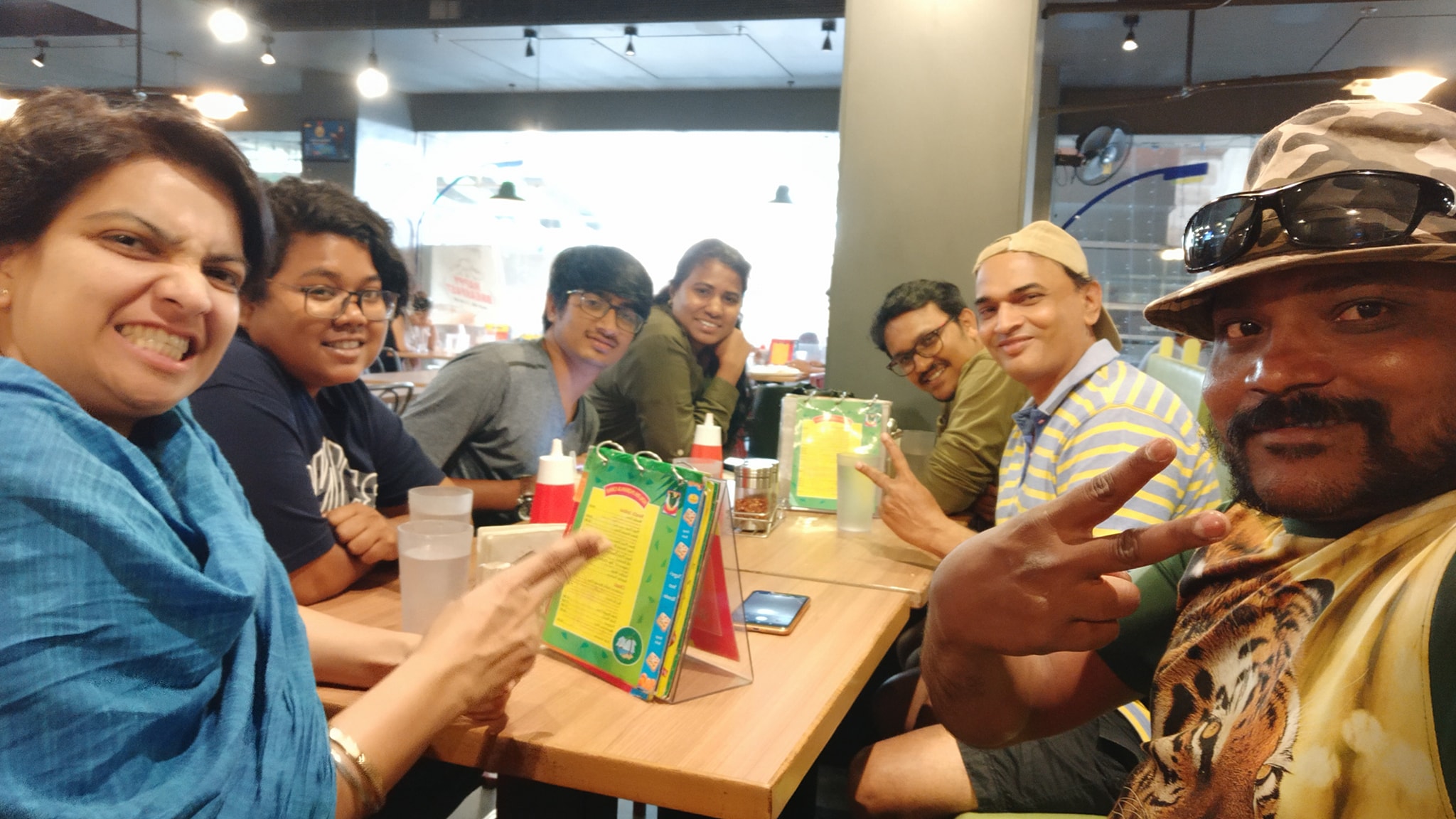 &nbsp at Haldiram, Nagpur &nbsp